Prince Harry and other celebrity claimants are a "long way off" proving Mirror Group Newspapers (MGN) unlawfully gathered information on them, the publisher has told a court.
Harry is among high-profile figures accusing MGN of various illicit practices including phone hacking.

Andrew Green KC, representing MGN, said the evidence was "slim" in some areas and "utterly non-existent" in others.

He spoke on day three of a highly anticipated hearing at the High Court.

MGN, which publishes the Daily Mirror, Sunday Mirror and Sunday People newspapers, vehemently denies the allegations.

During Friday's proceedings, Mr Green said the claims had been made with "no basis" and "a sense of outrage".

"The evidence in this case is slim in relation to one of the claimants and utterly non-existent for the other three," he told the court.

He also took aim at the newspaper articles that had been submitted as evidence, saying they offered a "breathtaking level of triviality".

Some 207 stories, published between 1991 and 2011, make up the bulk of the case's evidence. More than 60% of them are about Harry, Duke of Sussex.

As well as intercepting voicemails, the claimants have accused the publisher of using private investigators to illegally gather details about them to write stories.

David Sherborne, the lawyer representing the claimants, told the court that the board knew about the hacking and covered it up.

In response, MGN said the claimants were "smearing" executives, adding that there had been "extreme allegations of dishonesty".

Prince Harry phone hacking trial explained

Harry is among four people whose claims are being heard in the trial as "representative" cases of the types of allegations facing the publisher. They will also help the court set the level of damages MGN should pay if the claimants win.

Others involved are Coronation Street actors Nikki Sanderson and Michael Turner, known by his stage name Michael Le Vell, and comedian Paul Whitehouse's ex-wife Fiona Wightman.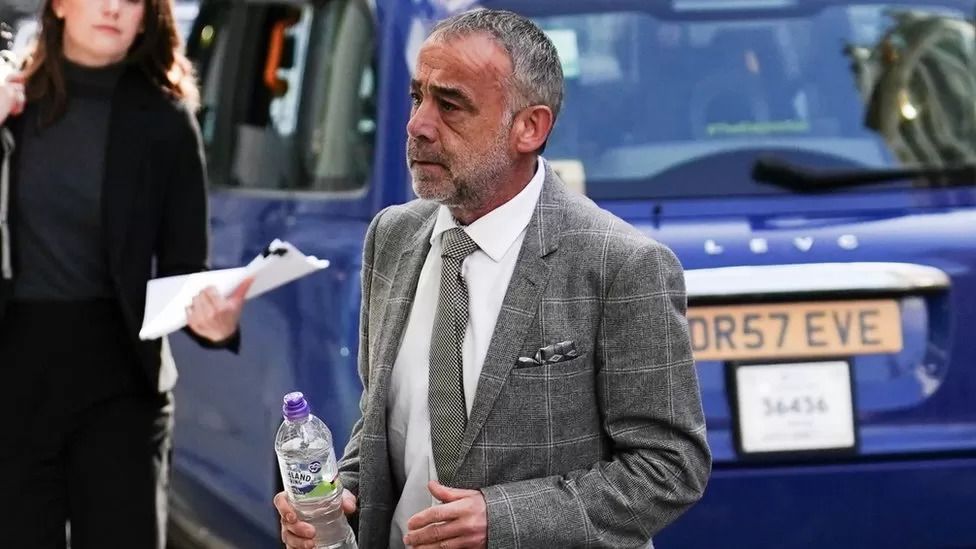 Michael Le Vell was pictured arriving at court on the first day of the trial

The publisher's lawyer argued that Ms Sanderson and Ms Wightman have run out of time to sue for damages, because these types of claims should be brought within six years of the alleged victim knowing what happened.

The Mirror Group's lawyer said phone hacking has been talked about for at least 20 years, with the publisher publicly apologising for its part in the high-profile scandal in 2014.

Therefore, he argued, any potential victims should have known long ago to get a case started.

But Mr Sherborne said the claimants would not have suspected they too were victims because MGN covered up their wrongdoings so well and for so long.

Mr Green compared this current case to the one in 2015, where MGN conceded that unlawful techniques were used to obtain private information, and was ordered to pay £1.25m in damages.

But he said this case is different, because back then, there was "direct evidence" from Dan Evans, a former Sunday Mirror journalist.

Mr Evans "has not said he hacked any of (the claimants)" this time around, Mr Green said.

Depending on the outcome of this case, the court could then consider cases from a range of celebrities including former Girls Aloud singer Cheryl and former Arsenal and England footballer Ian Wright.

During Thursday's hearing, Mr Sherborne told the court that one of the most "serious and troubling" features of the case included "the systemic and widespread use of PIs (private investigators) by MGN journalists to unlawfully obtain private information" of various individuals.

He referred the court to key senior MGN figures who he claimed "authorised" the unlawful obtaining of information.

He said this included former editors Piers Morgan, Neil Wallis, Tina Weaver, Mark Thomas, Richard Wallace and Bridget Rowe, and alleged that managing editors and senior executives also knew.

"Mr Morgan was right at the heart of this in many ways," Mr Sherborne told the court.

Mr Morgan, who edited the Mirror from 1995 until 2004, has repeatedly denied any knowledge of unlawful information gathering happening under his watch - in particular phone hacking.

The trial, which is expected to run for seven weeks, will continue on Monday, when Mr Evans will testify.