Grant Shapps has replaced Suella Braverman as home secretary, six weeks after being fired as transport secretary by Liz Truss.
Ms Braverman quit over two data breaches but launched an attack on Ms Truss's premiership in her resignation letter.

She accused the government of breaking "key pledges" and of "pretending we haven't made mistakes".

Labour said the government was "falling apart at the seams".

Ms Braverman said she had made a "technical infringement" of the rules by sending an official document from a personal email and was now taking responsibility.

"I have made a mistake; I accept responsibility; I resign," she told the PM in her letter, in a thinly veiled dig at Ms Truss.

She added: "Pretending we haven't made mistakes, carrying on as if everyone can't see that we have made them, and hoping that things will magically come right is not serious politics.

"It is obvious to everyone that we are going through a tumultuous time.

"I have had serious concerns about this government's commitment to honouring manifesto commitments, such as reducing overall migration numbers and stopping illegal migration, particularly the dangerous small boats crossings."

In response, Ms Truss wrote she was "grateful" to Ms Braverman adding: "Your time in office has been marked by your steadfast commitment to keeping the British people safe."

Speaking as he arrived at the Home Office to start work, Mr Shapps said it was a "great honour" to be home secretary and praised the work of Chancellor Jeremy Hunt but didn't mention the prime minister.

He acknowledged it was a "turbulent time for the government" but added that he was "looking forward to getting stuck into the role… regardless of what is happening in Westminster".

Mr Shapps has previously said he was fired by Ms Truss when she became PM because although he was an "effective" minister he had not supported her in the Tory leadership contest.

A veteran of successive Tory cabinets, and a former Conservative Party chairman, Mr Shapps is seen as being on the centre right of the party and was a supporter of former Chancellor Rishi Sunak.

Ms Braverman is the second minister to leave government during Ms Truss's premiership, after Kwasi Kwarteng stepped down as chancellor last week.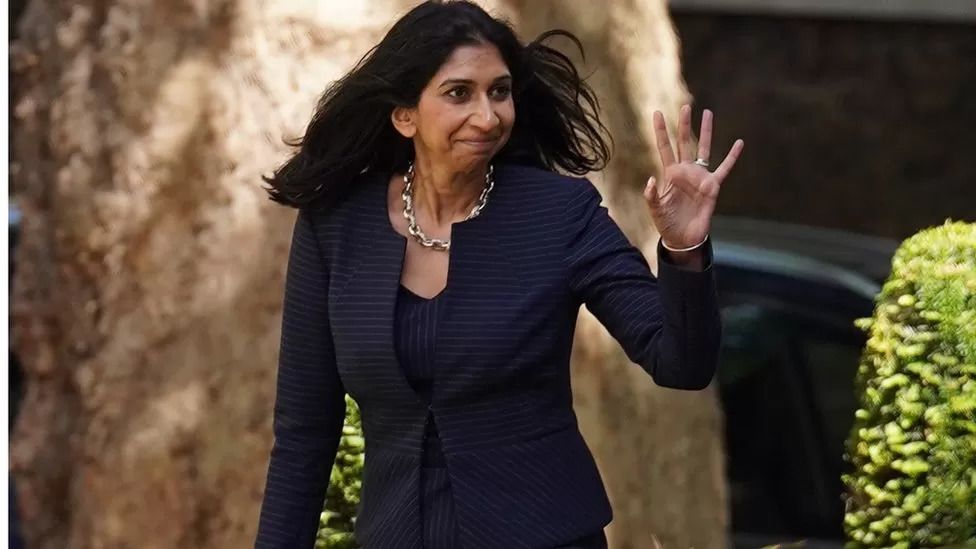 Her departure adds further chaos to the week for the prime minister, at a time when Downing Street was desperate to show unity and stability in government.

Ms Braverman was firmly on the right of the party, and her resignation may well trigger further upset from some of her political allies, such as those MPs who backed her to be the Tory leader.

She becomes the shortest serving home secretary since World War Two, having been in the job for only 43 days.

Responding to her resignation, Labour's shadow home secretary Yvette Cooper said the government was "falling apart", adding: "To appoint and then sack both your home secretary and chancellor within six weeks is utter chaos."

The SNP leader Westminster Ian Blackford said the government had "no vision other than a desperate and undying desire to stay in office".

Liberal Democrat MP Alistair Carmichael said: "The only solution now is a general election so the public can get off this carousel of Conservative chaos."
WATCH: I'm only 10 minutes into the job - Grant Shapps
WATCH: 'This is utter chaos' - Labour's Yvette Cooper