Records were broken, EGOTs were achieved and Adele has gone viral for her facial expressions once again. Here's what went down at the star-studded ceremony...
Last night's Grammy Awards proved that awards ceremonies are back in full swing with all the bells and whistles — and none of the Covid restrictions. There was no postponed start date, no Zoom acceptance speeches, no fears of BTS members being too ill with Covid to perform — and no plastic dividers in sight. Just like the good ol' days.

All of the world's biggest names in music were also in the same room, drinking, laughing and looking amazing. A seating plan brought together the likes of Harry Styles, Lizzo, Taylor Swift, Adele, Jay Z and Beyonce.

Speaking of Queen Bey, 41, she broke the record for the most Grammy wins ever. Her four Grammys took her awards haul to an astonishing 32.
Her awards for Best Dance/Electronic Album, Best R&B Song, Best Traditional R&B Performance and Best Dance/Electronic Recording meant she overtook Hungarian-British conductor Georg Solti, who won 31 Grammys.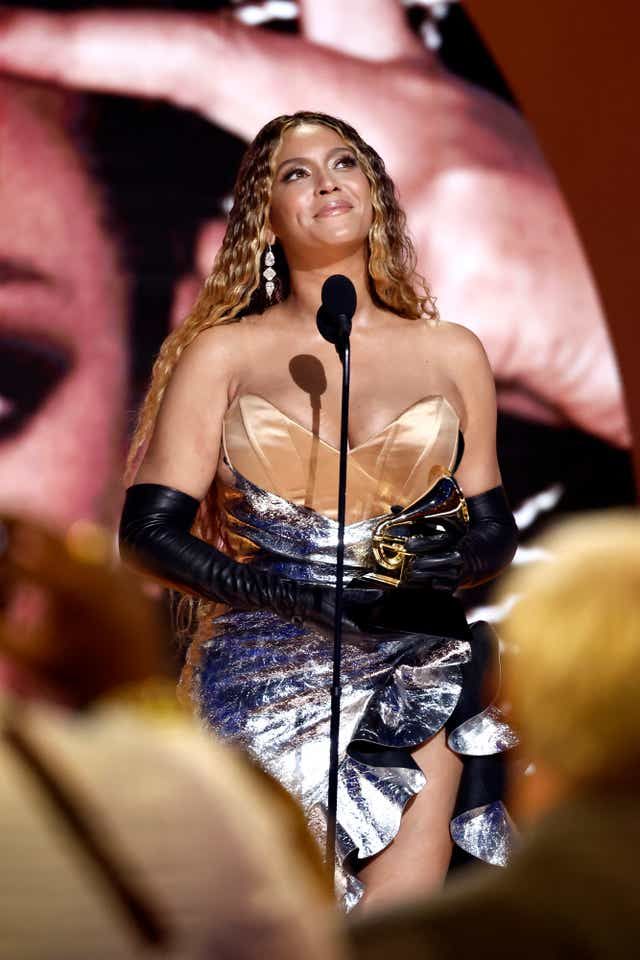 Beyonce is now the most decorated artist in Grammys history
Sadly, she missed out on the main award of the night, though, with Styles' third album Harry's House securing a controversial win for Album of the Year over Beyonce's campy dance LP Renaissance. This is Beyonce's third studio album in a row (Beyonce, Lemonade, Renaissance) to be nominated for AOTY yet fail to bag the award, with the singer having lost out to Beck and Adele in previous years.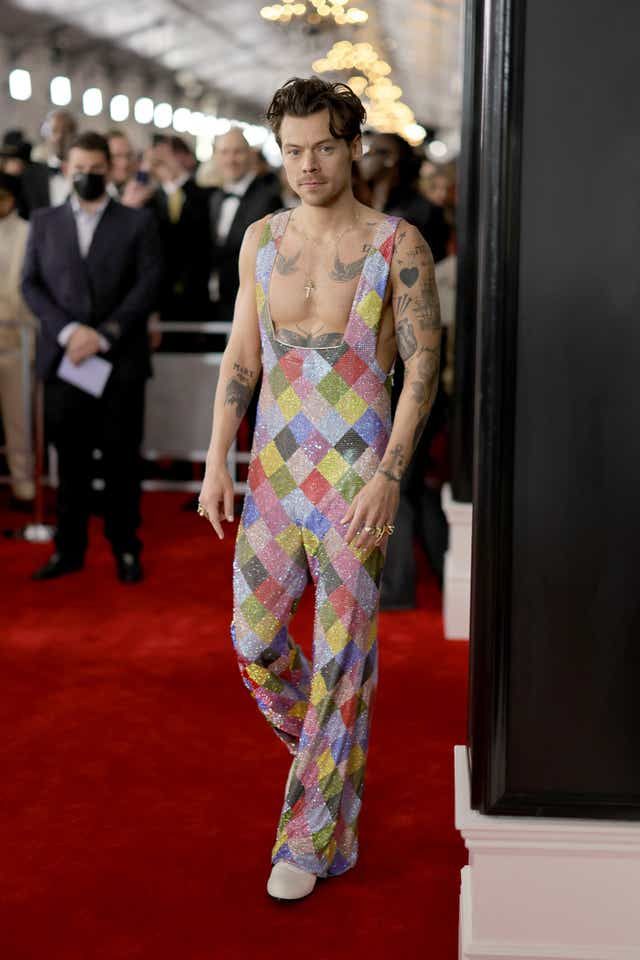 Harry Styles rocked up in one of his internet-breaking jumpsuits from the As It Was music video

It was a good night for Styles, though, who rocked up in one of his internet-breaking jumpsuits from the As It Was music video, to much thirst and appreciation. His look wasn't quite the same as it was in the video, though, with Styles bringing a new, multi-coloured harlequin dimension to his EgonLab x Swarovski one piece.

Styles also won the award for Best Pop Vocal Album, as well as Album of the Year. In his AOTY acceptance speech, Styles seemed to refer to the Beyonce snub, saying: "I've been so, so inspired by every artist in this category with me at a lot of different times in my life. I think, like on nights like tonight — it's obviously so important for us to remember that there is no such thing as best in music."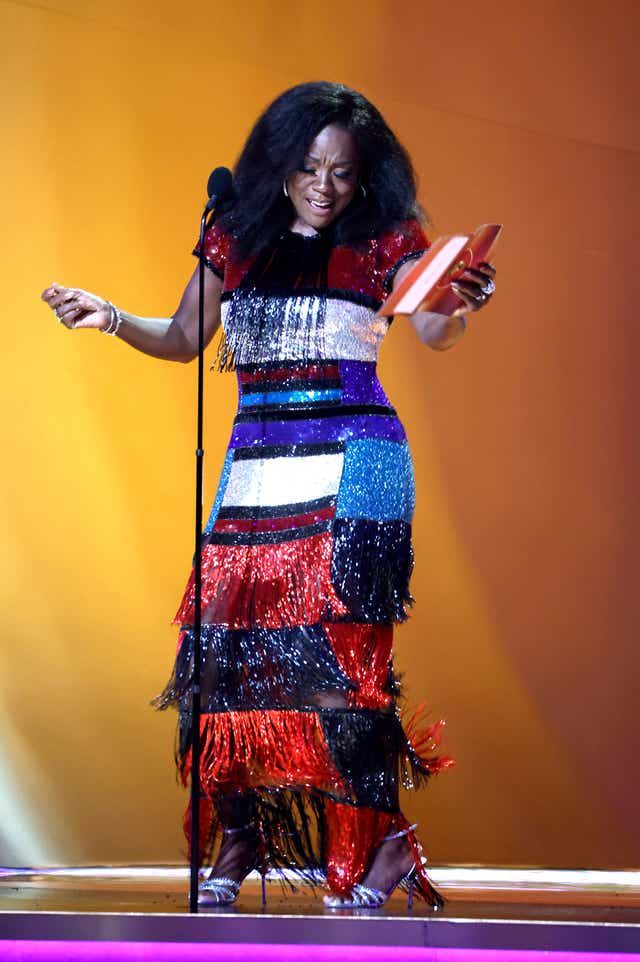 Viola Davis becomes an EGOT winner

However, there is such thing as an EGOT winner and thanks to last night's success, Viola Davis is now one of them. The actress became one of the select few to hold all four major entertainment awards (Emmy, Grammy, Oscar, Tony) when she won the Best Spoken World Album award for the audio version of her autobiography, Finding Me.

"I just EGOT!" Davis joked as she accepted her award: "I wrote this book to honour the six-year-old Viola. To honour her life, her joy, her trauma, everything."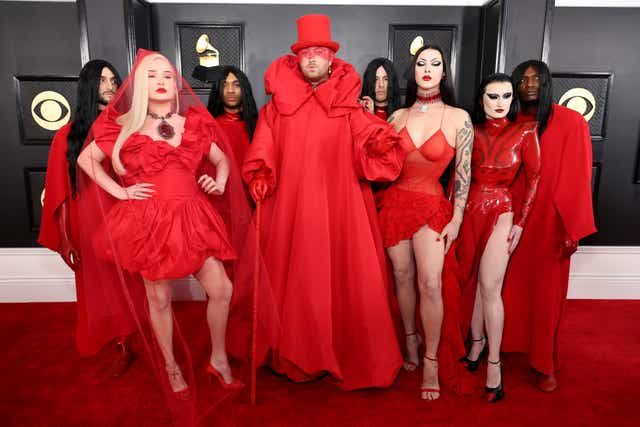 Kim Petras and Sam Smith scooped the award for Best Pop Duo

And even more history was made when Kim Petras became the first trans woman to win the Best Pop Duo/Group Performance award for Unholy, her chart-topping collaboration with singer Sam Smith. "Omg I'm a tranny with a grammy," Petras tweeted about her win.

Meanwhile, a few famous faces have gone viral yet again for their off-guard audience reactions. These included Adele's multitude of facial expressions as she struggled to understand the host's introduction of SZA. There was also Ben Affleck's sad clown frown as he sat next to wife J-Lo at the ceremony, looking like he'd rather be literally anywhere else.

Some looks of the stars also caused a stir. Beyonce turned heads in a thigh-split silver and champagne Gucci gown, while Adele also got her frill on in a red velvet Louis Vuitton look. Taylor Swift stayed true to her track Bejewelled in a starry blue two-piece made by Roberto Cavalli and J-Lo also went diamanté with her ruffled Gucci look. This had embellishments cascading down the dress in vertical lines.

Cardi B got architectural with her outfit made by Indian designer Gaurav Gupta, a cobalt gown with a swirling in-built headpiece. Sam Smith arrived in a puffy red cape dress, complete with a cane, lace eye covering and top hat, just in case anyone wanted to make any more comments about them needing to cover up.

All in all it was a good Grammys for looks, wins, memes and making history. Well done to all involved — but especially Beyonce, because, well, she's Beyonce.