Britain won three gold medals in under five hours on an astonishing morning at the Tokyo Olympics on Monday.
Adam Peaty, 26, began the gold rush when he became the first British swimmer to retain an Olympic title after a victory in the 100 metres breaststroke.

A bleary-eyed nation, who had stayed up past 3am to celebrate him entering the history books, only had to wait three hours and 41 minutes before diving sensation Tom Daley could finally put a Games gold medal around his neck.

Daley, 27, burst into tears of joy as he and partner Matty Lee, 23, won in the synchronised 10 metres platform.

The incredible Tokyo 2020 gold rush continued 27 minutes later when Tom Pidcock was victorious in the men's mountain bike race.

The 21-year-old from Leeds started on the fourth row of the race but quickly powered himself into the leading group to take control.
Team GB were on cloud nine as Alex Yee, 23, from Brockley, south-east London also won a silver medal in the triathlon on his Olympic debut.

Lauren Williams, 22, from Wales, is guaranteed either silver or gold later on Monday in the women's-67kg taekwondo final after a pulsating semi-final win this morning,

The overnight success saw Britain surge to fourth in the medals table behind China, USA and hosts Japan.

While Peaty was unable to break his own world record of 56.88 seconds, he stormed home in a time of 57.37secs — the fifth fastest in history.

He tweeted afterwards: "For my country, my son and my family.

"For those who stayed up through the night to watch me. For all those people who need a bit of light. You can get through this."

The double Olympic champion could be forgiven then for swearing on the BBC during a live interview at the Tokyo Aquatics Centre.

Peaty — who thanked his parents, girlfriend Eiri Munro and the nation for their support — said: "It takes an athlete to be the best person on the day and who f**king wants it more... I'm just so relieved!"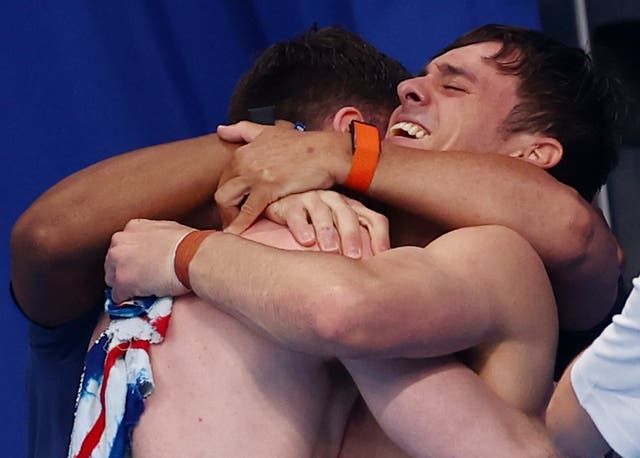 Tom Daley and Matty Lee embrace after winning gold in the synchronised 10 metres platform
Ms Munro watched Peaty from their home in Loughborough, enthusiastically tweeting: "That's my MAN". She was also seen cradling their 10-month old son George-Anderson, whose birth Peaty credits with spurring him on to achieve greatness.

Plymouth-born Daley, who lives in London, and Matty Lee, from Leeds, were nerveless as they triumphed ahead of China.

It is Daley's third Olympic medal after he won bronze at the London and Rio Games.

His three-year-old son Robbie and husband Dustin Lance Black were in in Calgary, Canada and watched him achieve his dream on TV.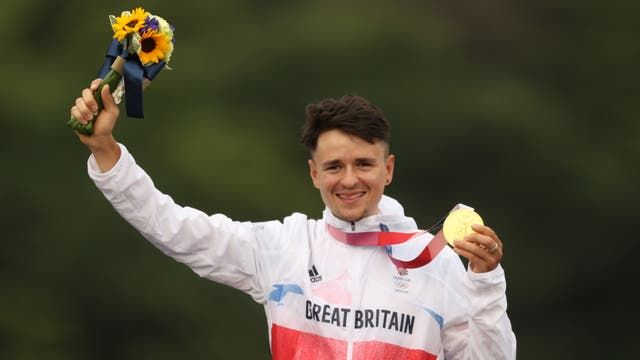 Tom Pidcock celebrates on the podium after winning the men's mountain bike race
"The fact that I can say my son watched me become Olympic champion, albeit on TV and they couldn't be here, is such a great feeling," he said.

He added: "You want to win an Olympic gold medal but never think you actually will. There are some beverages with my name on

them to celebrate with my husband and family.

"This means an incredible amount. To be an Olympic champion after four attempts at it feels extremely special."

Pidcock said his mother Sonja and girlfriend Beth were both crying at home after his phenomenal performance.

He added: "The Olympics just transcends any sport. You compete and represent your country and everyone in your country is behind you, no matter what sports they like. It's just national pride, it's unbelievable."

Having already collected junior or under-23 world titles in cyclo-cross, mountain biking and on the road, Pidcock took things to another level with an Olympic crown as he rode clear of the field, having time to grab a Union flag and hold it aloft as he crossed the line.