Gas prices are expected to continue easing, although modestly, unless "something shocks the market," according to AAA.

AAA spokesperson Andrew Gross told FOX Business Friday that prices at the pump have fallen every day for a week now, though the dip has been light.

Gross projected that will continue in the near term given the fact that the global price of oil is back in the mid-70s.

"This takes much of that upward pressure off things. So, for now, it looks like a slow drift lower unless something shocks the market," he said.

However, the daily price drops typically stop around March 14 as we start nearing driving season and spring break.

As of Friday, the national average price for a regular gallon of gasoline is sitting at $3.49, which is a few cents higher than a year ago.
Still, prices are still much lower than they were last summer when they reached an all-time high of $5.02 per gallon on June 14.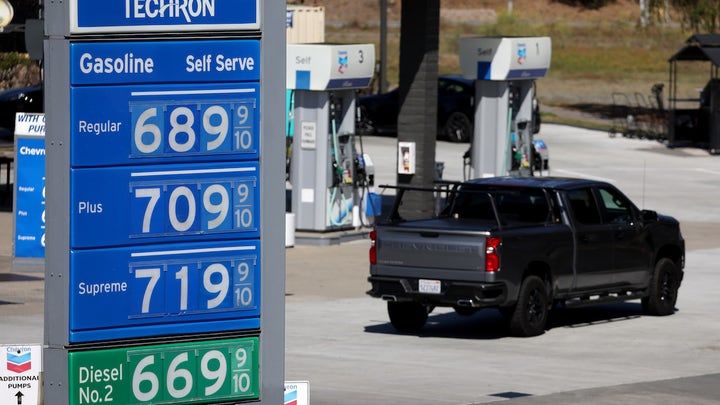 Gas prices over $7.00 a gallon are displayed at a Chevron gas station on October 03, 2022 in Mill Valley, California.
Here are the states that saw the biggest changes over the seven days in prices leading up to Thursday, according to AAA:
1. Utah +16 cents
2. Colorado +13 cents
3. Delaware −12 cents
4. Idaho +9 cents
5. Indiana −7 cents
6. California +6 cents
7. Ohio −5 cents
8. Florida −5 cents
9. Maryland −5 cents
10.Michigan −5 cents