Boris Johnson should recall Parliament to pass new laws to sort out fuel and food shortages, says Labour's leader.
Sir Keir Starmer says "emergency action" is needed to speed up visas for 5,000 extra HGV drivers.

The prime minister - who will be in Manchester next week at the Tory conference - said the UK supply chain was "very resilient".

And he accused the haulage industry of being too reliant on low-paid migrant workers.

There have been long queues at petrol stations this week after a shortage of drivers disrupted fuel deliveries.

Ministers have announced a temporary visa scheme for three months until Christmas Eve to make it easier for foreign lorry drivers to work in the UK.

Asked in a BBC interview about the shortages, the prime minister said: "This Christmas will be considerably more festive than last year."

He said the UK had "very resilient supply chains" and that he would not allow the UK to repeat the "failures" of the past, by allowing mass immigration to create a "low-wage, low-skill economy" for British workers.

He accused campaign groups representing the food sector of wanting go back to a system of "unskilled, mass immigration" that people "had voted against".

"The solution is to make sure these jobs are properly paid, that we attract people into them and that we invest in automation, facilities and plant because this country has lagged behind competitors for over a decade."

Downing Street has been approached for a comment on calls for Parliament to be brought back from party conference recess to tackle the crisis.

Sir Keir told BBC News MPs should sit for "one day, maybe next week" to approve temporary visas for foreign lorry drivers.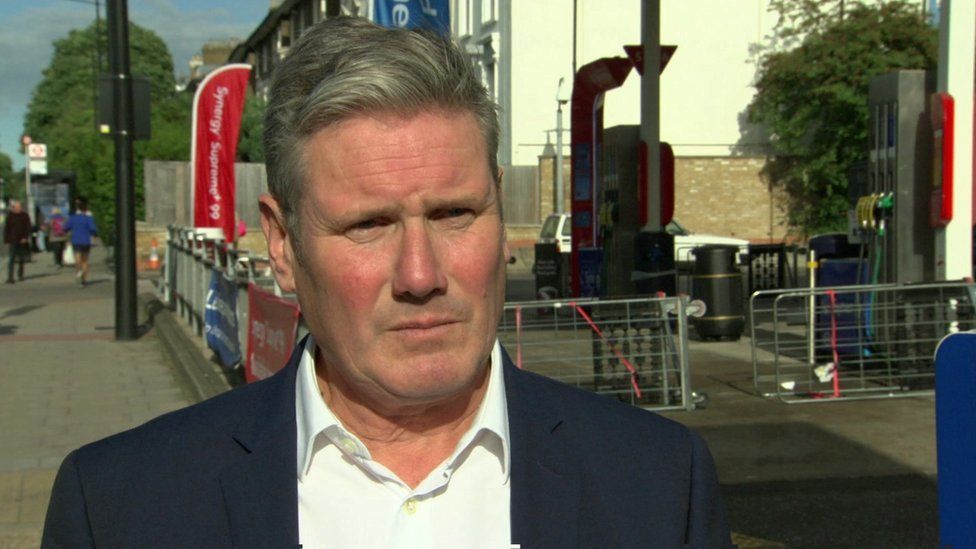 Speaking outside a petrol station in north London, he said "at this garage there's no fuel and it's typical of garages across the country."

"The government has said we need visas. There's no sign of any visas."

He accused Mr Johnson of "burying his head in the sand" over the crisis, adding that Labour would vote for whatever legislation is needed.

The Lib Dems are also urging a recall, with the party's business spokesperson Sarah Olney saying the country can not "wait any longer for Boris Johnson to realise there is a problem to solve".

"Care workers can't get to their patients, schools buses are being cancelled, and millions of drivers are left stranded in endless queues.

"Enough is enough. If the government can't do their job, then MPs should be able to do it for them."

The SNP did not rule out backing a recall. The party's Westminster leader, Ian Blackford, said: "At the very least we there should be cross-party discussions this weekend.

"We're certainly in the teeth of a crisis and we would welcome an early opportunity to debate it."