England will see all lockdown restrictions lifted on Monday, despite rising Covid cases and a growing "pingdemic" that critics say threatens the economy and a true return to normal.
From midnight, all remaining legal lockdown restrictions will be lifted in England in a move that has been dubbed "Freedom Day."

Prime Minister Boris Johnson is forging ahead with long-standing plans to move England to Step 4 - the end of legal lockdown curbs.

That means the last remaining businesses still closed, including nightclubs, can finally reopen - some for the first time since March 2020.

Critics say the strategy will not only cause deaths but also debilitating long COVID in many, while increasing risks to the clinically vulnerable.

Last week, more than 1,000 scientists signed a letter to condemn the government strategy as "unscientific and unethical."

Meanwhile, on survey revealed on Thursday two thirds of people in Britain think at least some restrictions should stay in place after July 19.

Freedom Day comes amid soaring Covid cases in England. On Sunday, government data showed there had been 48,161 lab-confirmed Covid-19 cases in the UK, with a similar figure recorded on Saturday.

Furthermore, it has been predicted that millions of people will be forced to isolate due to the so-called "pingdemic" - or people being ordered to isolate by NHS Track and Trace.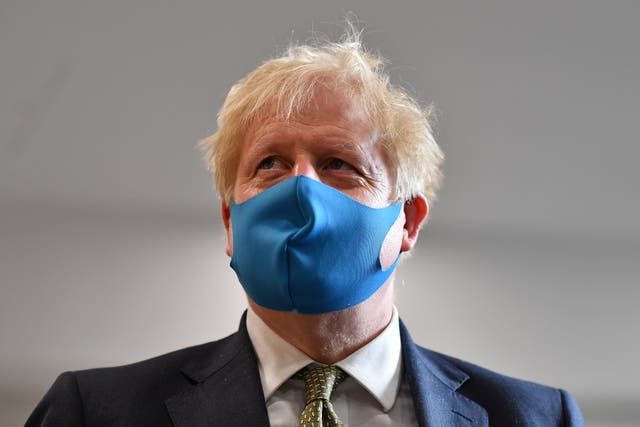 Prime Minister Boris Johnson

Business leaders have warned workers having to isolate will have a crippling impact on the economy.

The Government is coming under pressure from businesses and unions to tackle the growing worker self-isolation crisis amid warnings that Freedom Day will turn into "Chaos Day".

There are fears of transport problems on Monday morning because of the number of workers being pinged by the NHS Test and Trace app, as well as warnings of shortages of goods in supermarkets and cuts in production at factories.

The Rail, Maritime and Transport union said Saturday's closure of London Underground's Metropolitan Line due to key staff being pinged by track and trace showed how transport services were "on a knife edge."

Meanwhile, retailers have warned of a "massive disruption" to food supplies ahead of the easing of all remaining restrictions on Monday.

A senior M&S executive told the Sunday Times that there may not be enough staff to open stores because of increasing infections and the number of people self-isolating.

Richard Walker, managing director of Iceland, said: "We are in the unprecedented position of having to close stores due to staff absences – not because of Covid-19, but because of a broken and disruptive Track and Trace app.

"Staff absences rose by 50% last week and the trend is sharp and quick, not just affecting our own colleagues but those throughout our supply chains and logistics networks."

Mr Johnson himself will spend so-called "freedom day" self-isolating after being "pinged" by Test and Trace following a meeting with Health Secretary Sajid Javid, who has tested positive for Covid-19.

The Prime Minister and Chancellor Rishi Sunak – who also met Mr Javid on Friday – initially tried to get round the requirement to quarantine by saying they would join a workplace testing scheme.

But after a furious outcry with accusations of hypocrisy at a time when staff shortages due to people being forced to self-isolate were threatening supply chains, the two men hurriedly agreed to do so.

In a video statement posted on his Twitter feed, Mr Johnson said they had "briefly" looked at joining the daily contact testing scheme which is being trialled in the Cabinet Office and a number of other public and private sector organisations.

However, he added: "I think it is far more important that everybody sticks to the same rules and that's why I'm going to be self-isolating until July 26.

"I know how frustrating it all is but I really do urge everybody to stick with the programme and take the appropriate course action when you are asked to do so by NHS Test and Trace."

Mr Johnson has acknowledged that a wave of infections when restrictions end and more deaths are inevitable, but said worse harm would come from keeping the economy shut and a successful vaccine rollout has cut the number of serious cases.

Prof Neil Ferguson from Imperial College London and a member of the Scientific Advisory Group for Emergencies (Sage), said infections will "almost certainly" reach 100,000 daily cases, with the potential for double that figure.

Speaking to the BBC's Andrew Marr Show on the eve of Covid measures being relaxed in England, Prof Ferguson also warned that half a million more people could develop long Covid in the future.

Answering questions on the trajectory of the pandemic, he said: "It's very difficult to say for certain, but I think 100,000 cases a day is almost inevitable."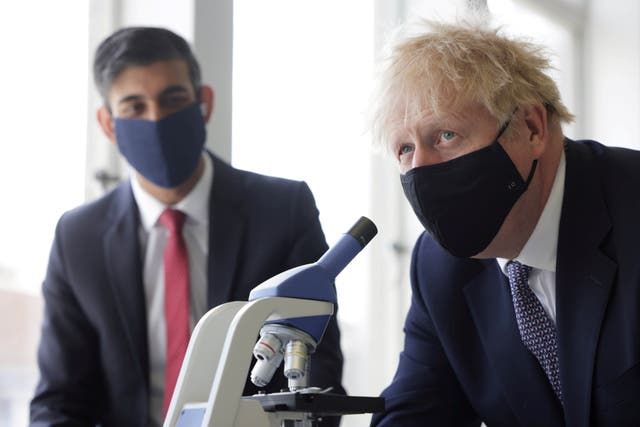 Rishi Sunak and Boris Johnson

Prof Ferguson, who was nicknamed Professor Lockdown last year, highlighted that the relaxation of measures coincided with the start of school holidays, which will probably see contact rates among teenagers "tick down".

While emphasising it was "very difficult to make precise predictions", he added: "I think it's almost certain we'll get to 1,000 hospitalisations per day.

"It'll almost certainly get to 100,000 cases a day. The real question is, do we get to double that or even higher? And that's where the crystal ball starts to fail. We could get to 2,000 hospitalisations a day, 200,000 cases a day, but it's much less certain."

Professor Neil Ferguson also said high levels of infection rates could push up the number of people suffering from long Covid.

"We know now that probably around a quarter of people who get symptomatic Covid – get symptoms – have those symptoms for a long period of time," he said.