Flooding is expected in parts of Scotland after an amber weather warning was issued for heavy rain.
The Met Office alert, covering Dumfries and Galloway and the Borders, forecasts 40-50mm of rain on Friday and warns flooding could pose a danger to life.

Yellow alerts are also in place for rain in central Scotland and for snow and ice in northern areas.

The Scottish Environment Protection Agency (Sepa) has issued flood warnings in central and southern areas.

The amber warning runs from 03:00 until 12:00 GMT on Friday.

People in Dumfries and Galloway and the Borders have been told to expect flooding in homes and businesses, with a "good chance some communities will be cut off by flooded roads".

Car parks next to the River Nith in Dumfries, including the Whitesands, were closed on Thursday evening amid flooding concerns.

Travel disruption is also said to be likely.
Transport Secretary Jenny Gilruth said: "The conditions could potentially bring disruption to the transport network, so it's important people plan their journeys before they set off - particularly if they're looking to use the trunk roads or travel by rail.
"Motorists should make sure their routes are available, follow travel advice from Police Scotland and drive to the conditions. The Traffic Scotland website - traffic.gov.scot - offers the latest information on the trunk roads, and you can also follow @TrafficScotland on Twitter which is regularly updated.
"If you are planning to travel by rail, please check with your operator ahead of your journey to see if your service is affected."
Superintendent Stewart Mackie, of Police Scotland's road policing division, said people should consider delaying their travel plans until conditions improve.
"If your journey is essential, please plan ahead by making sure you have sufficient fuel and supplies in your vehicle, a charged mobile telephone and always drive as the conditions allow," he added.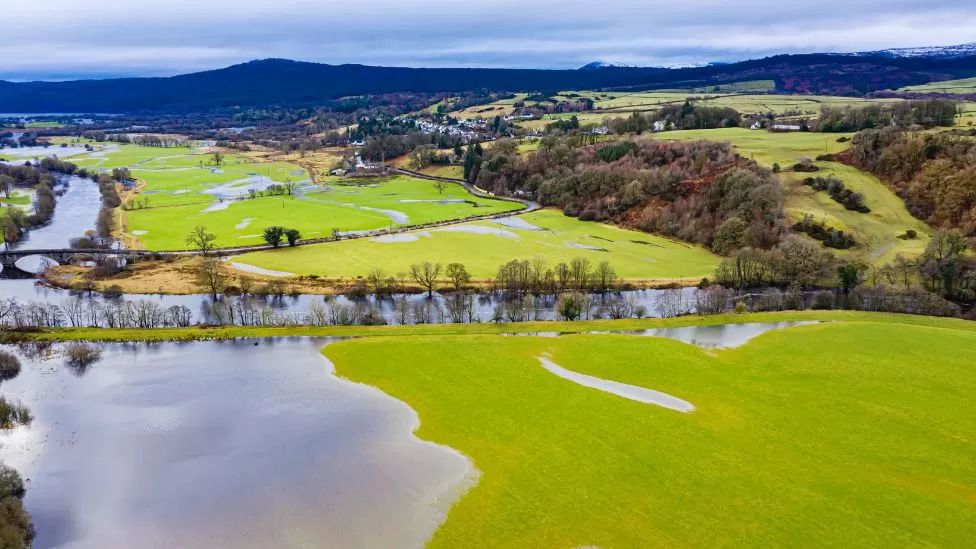 Flooding is expected in Dumfries and Galloway
The Met Office has also updated a yellow weather warning for heavy rain on Friday which now runs from midnight and expires at 14:00 GMT on Friday. The alert covers Central Scotland, Tayside and Fife, south west Scotland, Lothian and Borders and Strathclyde.
A further yellow warning of snow and ice covers northern Scotland, apart from Orkney and Shetland, from midnight until 21:00 GMT on Friday.
The Scottish Environment Protection Agency (Sepa) has also issued flood alerts for Argyll and Bute, Ayrshire and Arran, CentralScotland, Dumfries and Galloway, Dundee and Angus, Edinburgh and Lothians, Fife, the Borders, Tayside and west central Scotland.
Jet stream

The wet and windy weather in the UK is being linked to a massive winter storm in North America, during which 60 people died in eight states over the Christmas weekend.

Met Office meteorologist Simon Patridge said the impact on Scotland would be "nowhere near as dramatic".

And BBC Scotland Weather's Christopher Blanchett explained the link with the US storm - known as a bomb cyclone - was not clear-cut.

"It's difficult to trace the overnight rain tonight, directly to the US bomb cyclone system," he said.

"It looks as though that particular system actually went north, though other systems developed in the Atlantic and came towards our shores - which it may have had an impact in helping to create. So it's not a simple clear-cut picture.

"However, the severe cold plunge we saw across the USA in the run up to Christmas, did energise the jet stream - which in turn is giving us the current unsettled spell of weather here in Scotland."