Fewer than 100 people who crossed the English Channel in small boats have been arrested for arriving illegally in the UK under a new power to deter them.
The figure represents 0.3% of those who have crossed since the law was changed.

Under the new law, anyone who arrives in the UK without proper permission or good reason commits a crime that can lead to up to four years in prison.

The BBC sought the figure under freedom of information laws after the Home Office declined to disclose it.

A spokesman for the department said there has been a further 180 arrests since the summer under different immigration laws.

The new offence of knowingly arriving without permission was part of a package of measures in the Home Office's Nationality and Borders Act, passed earlier this year.

Its creation coincided with ministers increasingly referring to illegal migrants crossing the Channel - a claim hotly disputed by refugee groups. They say the term is misleading and fails to acknowledge the complex reasons for crossings and the legal right to seek protection.

The government had said the law would deter migrants from risking their lives and help to secure the country's borders.

In November, the BBC asked the Home Office how many of the migrants were suspected of arriving illegally under this new offence.

It refused to say - but has now disclosed the figures following a Freedom of Information request.

The new offence came into force on 28 June.

That means anyone turning up in Kent after that date could in theory face arrest and prosecution for illegal arrival.

Between then and mid-November, when we asked for the figures, approximately 29,400 people arrived in small boats.

Of those, the Home Office has now confirmed that:

* 96 were arrested on suspicion of committing the new crime of illegal arrival - 0.3% of the total.

* Some 78 were later charged with the crime

* So far, 56 of them have been convicted.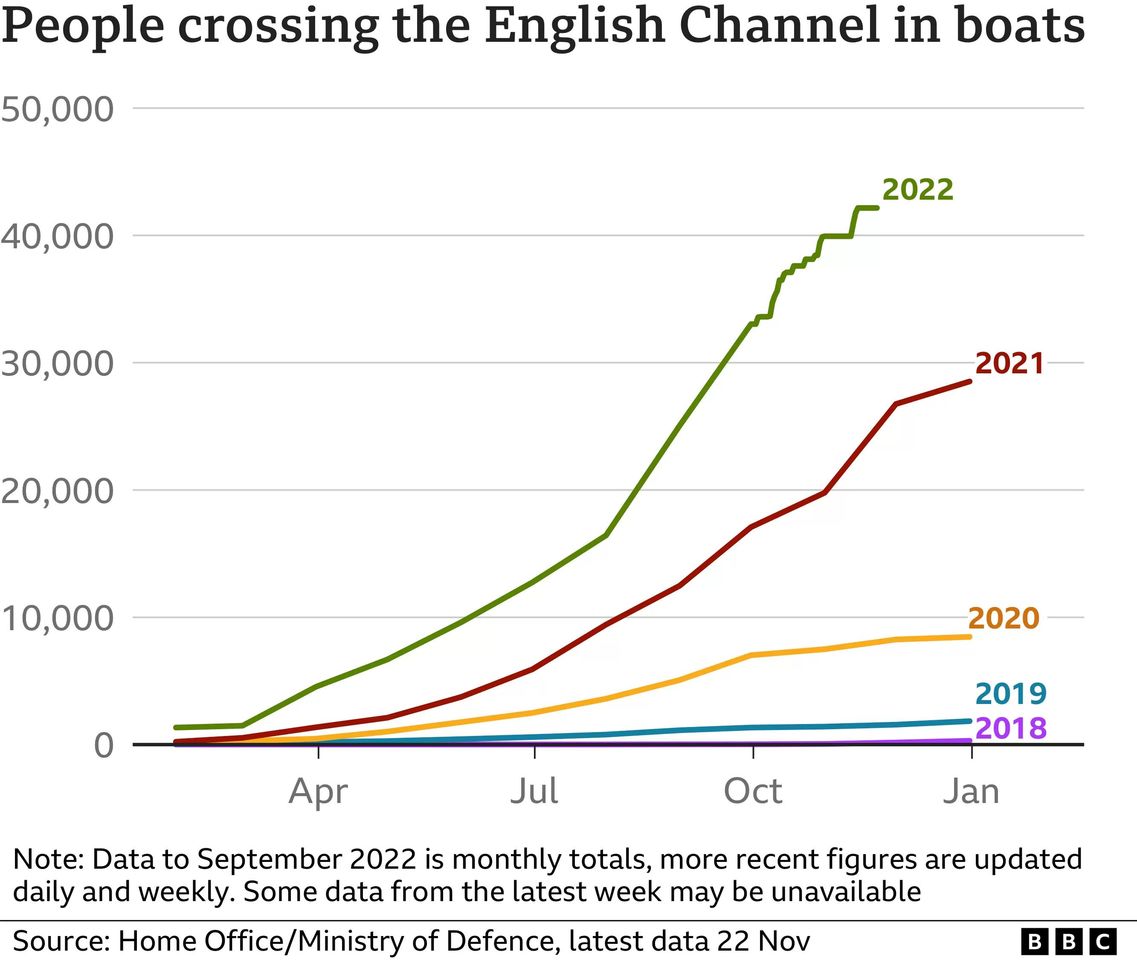 New crime to 'deter' migrants

During the law's passage through Parliament, ministers told MPs that the new crime would "deter migrants from risking their lives" and help to take back control of the borders.

At the same time, Parliament was told the new crime would not target people who were "genuine refugees" - and over the course of the year almost 90% of those who have arrived have sought asylum.

A spokesman for the Home Office said the new illegal arrival offence was just one important tool to combat people smugglers.

"Our Nationality and Borders Act is beginning to break through this exploitative business model, with more than 280 people already arrested since it became law.

"The figures referenced only detail those arrested for illegal arrival not illegal entry or anyone arrested for a breach of a deportation order under the new act."