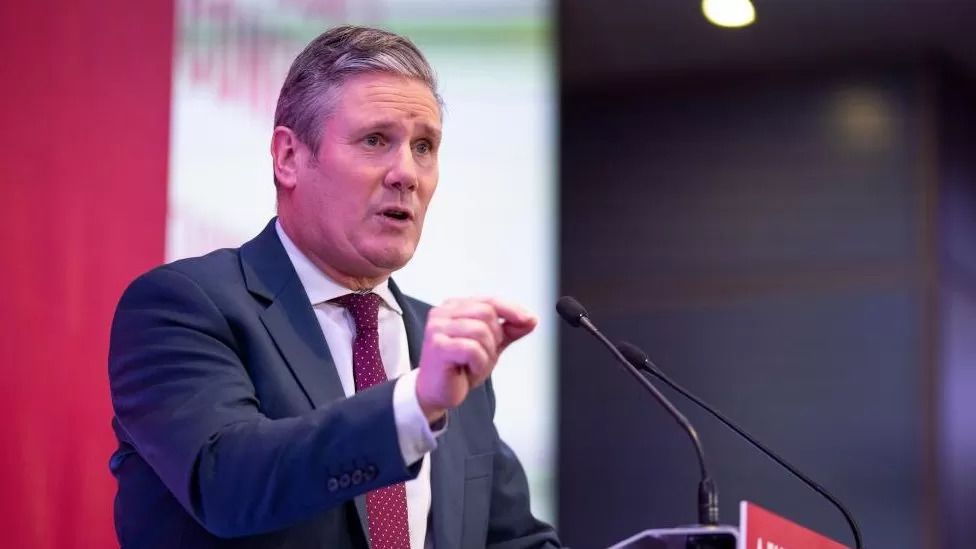 Ex-leadership let hate spread within Labour - Starmer
Labour's previous leadership allowed "hate to spread unchallenged", party leader Sir Keir Starmer has claimed.
In an address at London Labour's annual conference, he said work to tackle discrimination "never stops".

The party was plagued by antisemitism scandals under Jeremy Corbyn, with a 2020 report finding Labour to be in breach of the Equality Act.

The former leader acknowledged antisemitism in the party but said it was overstated for political reasons.

Mr Corbyn was suspended from Labour over these comments and readmitted a month later - although not to the parliamentary party. He continues to sit in the Commons as an independent MP.

Sir Keir said he would make tackling antisemitism - prejudice or hostility against Jewish people - a priority after taking over in 2020.

In Saturday's speech - which came a day after Holocaust Memorial Day - he said the issue had again been on his mind recently.

He pointed to wider changes that had been made within the party, accusing the previous Labour of being a "party of protest not public service".

But, speaking to around 600 supporters in the capital, he said there was no room for "complacency" if they hoped to win the next election.

Labour had to show it was "different to the party Britain rejected in 2019", said the MP for London constituency, Holborn and St Pancras.

The party was resoundingly defeated in that year's general election.

Antisemitism was generally not regarded as a big problem for Labour before Mr Corbyn's election as leader in 2015.

But, as the balance of power shifted within the party, attention focused on what activists and representatives had said about Israel and Jewish people.

There followed a string of high-profile suspensions over alleged antisemitic comments - and several high-profile MPs walked out over the way the scandal was handled.

Mr Corbyn repeatedly insisted that anti-Jewish hate would not be tolerated in the party, but faced accusations that he was not doing enough to root out the problem.

In 2020, a report by the UK's human rights watchdog found Labour to have been responsible for "unlawful" acts of harassment and discrimination during his four-and a-half year tenure.

Mr Corbyn expressed the hope that the report's recommendations would be "swiftly implemented", though said he did not accept all of the findings - comments which got him suspended.

In Saturday's speech, Sir Keir said the party's "commitment to fighting all forms of hate and discrimination never stops".

Sir Keir sought to draw other contrasts between his leadership and the previous one. He said he had shown he understood the importance of "sound money".

But he acknowledged that there were "good Labour things" that he could be unable to implement if he entered 10 Downing Street, owing to the UK's economic situation.

He attacked the Conservatives over crises within the NHS, and accused the Tories of "sticking plaster politics" that threatened to "destroy" the health service.

Government minister Oliver Dowden hit back at the Labour leader, saying his "empty slogans ring hollow", including over the economy.

The chancellor of the Duchy of Lancaster accused Labour of making unfunded spending promises and failing to "stand up to their union paymasters" amid widespread strike action.

Mr Dowden added: "Starmer is too weak and too indecisive to make the hard decisions needed to strengthen the UK.

"All Labour propose are the same old ideas, more spending and more borrowing - it's their one answer to everything."