A man with a giant Swedish flag around his shoulders is hunched over next to McDonald's in Liverpool city centre, surrounded by discarded fries.
He lets out a loud groan.

He's OK. But after Sweden's Loreen was crowned this year's Eurovision Song Contest winner in the city, the night's excitement, emotion and alcohol seem to have taken their toll.

It's gone midnight, and around him the streets fill up as people flood out of the venue, fan village and bars that were showing the event.

It is a stream of sequins, flags, face paint and sparkly costumes, all a little more dishevelled than they were when the evening began.

The city's huge Eurovision party extended well beyond the televised celebrations, and well into the night.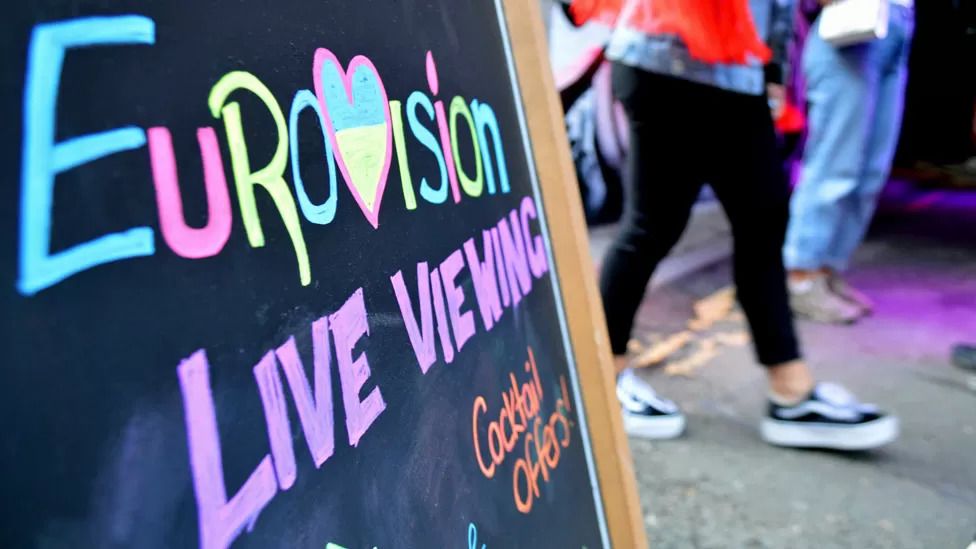 Many pubs and bars in Liverpool showed the contest on their screens

In fact, the party went on for a whole week, with concerts, club nights and cultural events building up to Saturday's main event. The Eurovision logo and colours took over the city, and the (mostly) beautiful weather gave it a festival feel.

While the final was on at the M&S Bank Arena, dozens of other venues hosted viewing parties - from the neoclassical St George's Hall to LGBT bars and a Mersey ferry.

The biggest gathering was at the official fan village next to the river, where the grand final was shown on big screens.

After a build-up that included Claire from Steps performing a cover of Loreen's 2012 winning song Euphoria, the crowd was indeed euphoric by the time the final began.

There was a huge roar when Scouse Spice Girl Mel C announced that "this is the grand final of the Eurovision Song Contest 2023". One young woman looked like she couldn't believe it was finally here - and that it was here.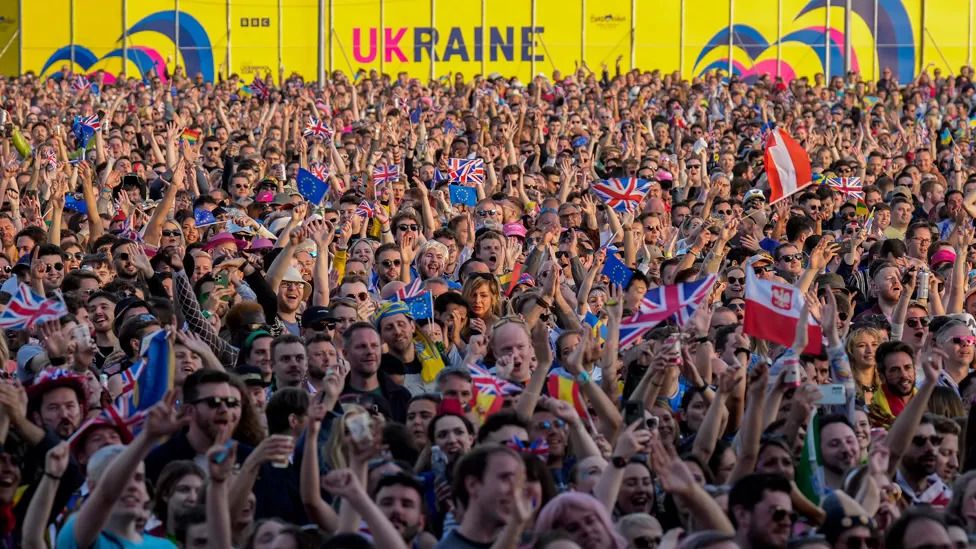 The fan village contained twice as many people than the contest's main arena

The first country to perform was Austria, with a song inspired by US writer Edgar Allan Poe. Fifteen thousand people wildly chanting "Poe, Poe, Poe, Poe" is the kind of bizarre brilliance that could only happen at Eurovision.

But there was more happening elsewhere in the city.

At a street party outside the Masquerade drag bar, Joe from Cork said coming to Eurovision had been a dream since he watched Dana win for Ireland in 1970, when he was 10.

"I wish I had done it years ago," the 63-year-old said, with actual tears in his eyes.

"The atmosphere is electric. I want to thank the people of Liverpool for being so welcoming to us. It's my first time in the city. Everyone has been so nice to us. It's a fantastic city and they should be very proud."
Joe (left) came from Ireland to get into the Eurovision spirit with his friend John

He made a new friend in Cara, from Liverpool, who - with a string of European flags around her neck - said she was "so proud".

It felt like the city had "come alive again", she said. "We know how to put on a show, and boy have we put on a show. I am so proud to see that we have welcomed everybody.

"Next week is going to be so dull, because it's just been so exciting all week."

She tried to get a ticket for the ceremony. "But, you know, I'll probably have more fun walking the streets of the city tonight than I would do in the arena anyway."

Daniella Mantrapp, one of the bar's drag queens, assembled flamboyant plumage in the colours of the Ukrainian flag - the country on whose behalf Liverpool is staging the contest.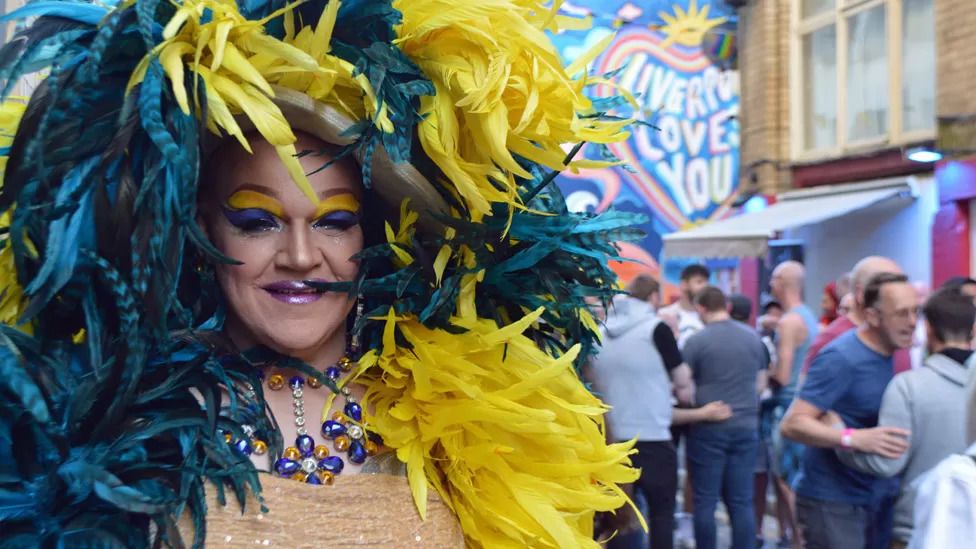 Drag queen Daniella Mantrapp went for a blue and yellow colour scheme

"I've seen Pride and all sorts of events like that," she said. "But Eurovision does bring the whole world right together. It's fantastic. No-one cares who's from where, they just want to enjoy themselves and party."

The only downside is that she's now sick of hearing Euphoria on repeat. "I live above a bar. Literally that's my flat there. Other than that, it's been fantastic."

Across town at Yates's wine lodge, Daniel from Stockholm made friends with Laura from Wolverhampton, and they had a good-natured argument about whether Loreen's new song Tattoo was as good as Euphoria. Daniel said it was. Laura was not convinced.

Daniel also went to last year's contest in Italy. "When you're walking around the city here, you have the flags, the signs, you have everything, so you can see [Eurovision] everywhere," he said. "In Turin, it wasn't as in your face."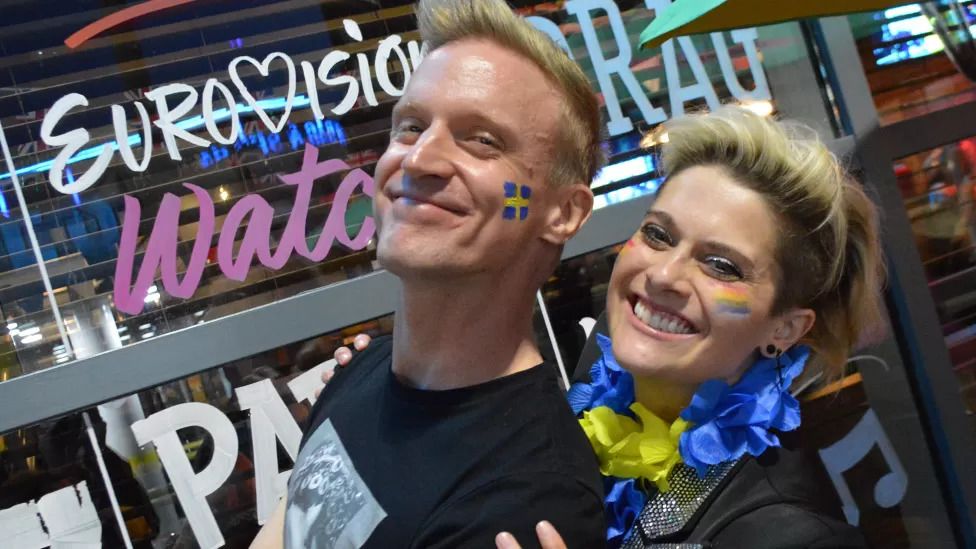 Daniel from Stockholm and Laura from Wolverhampton - instant Eurovision buddies

Going into the Poste House pub, the contest was paused on the big screen, apparently because the landlady was fed up with one overenthusiastic superfan.

She unpaused it just in time for Estonia, prompting the young woman to emit an ear-piercing scream, jump up and hold her scarf above her head as if she was on the Kop.

Outside, Melissa from Durham was taking a break. "I'm not a massive Eurovision fan but my friend booked an Airbnb yesterday and said, 'Do you fancy it?'" she said.

"And I said, 'Absolutely.' He's trying to educate me. It's going to be a good night. Party till closing time."

Other pubs took less interest. The Saddle Inn had flags and signs up, but Eurovision was on one screen in a back room, muted, with one bloke half-watching.

Eurovision couldn't dislodge Ste's Disco and Karaoke as the main event on a Saturday night. It seemed the clientele would rather listen to a punter murder The Whole of the Moon.

"Is this the Eurovision Song Contest final?" a regular asked drily. "Same quality of music."

Other bars carried on with their usual Saturday night entertainment, too.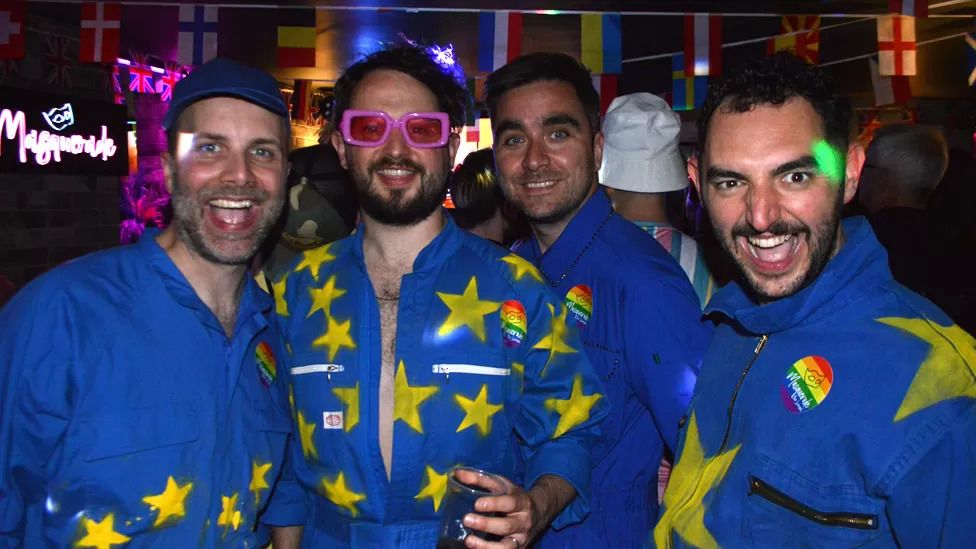 Revellers in European flag-themed boiler suits at the Masquerade bar

A stroll down Mathew Street brought the sounds of Kasabian, Guns N' Roses and the Proclaimers, rather than Loreen, Käärijä and Mae Muller. Another had The Whole of the Moon, again.

McCooley's had Eurovision on the screens, but generic dance music on the speakers. Across the dancefloor, a hen party was in full swing. That is presumably why giant inflatable male genitalia was being waved in the air.

Eurovision was not the only party in town.

The bridesmaid of another hen group booked to come here from Northamptonshire a year ago, before Liverpool was chosen to host the contest.

"We just thought it was a great city," she said. "Then Eurovision came along and made it better."

Liverpool was, of course, only hosting Eurovision because it was too dangerous for last year's winners Ukraine to do so, and the city has tried to reflect Ukraine and its culture.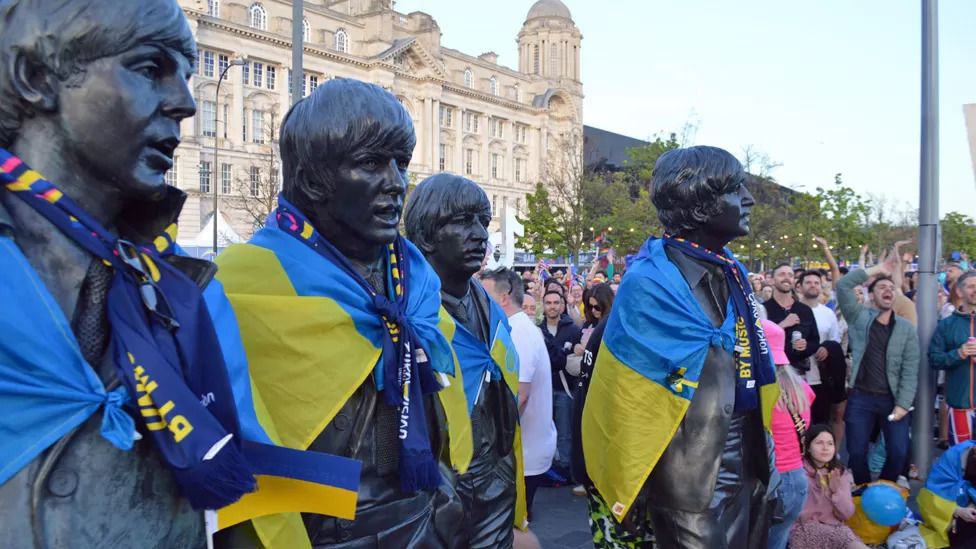 The Beatles statues in the fan village were given Ukrainian flags and Eurovision scarves

The contest also provided an opportunity for the Ukrainian community in Liverpool, including many who moved to the UK because of the war, to stage their own party down the road from Liverpool FC's Anfield stadium, which was lit in blue and yellow.

"For people that are here, they're enjoying themselves," said Kristina Gren, who has been in the UK for 23 years and runs the charity Direct Aid Ukraine.

"But your mind, your heart, it's still somewhere there. But it's nice to be together with people who are going through something similar. The atmosphere has been great."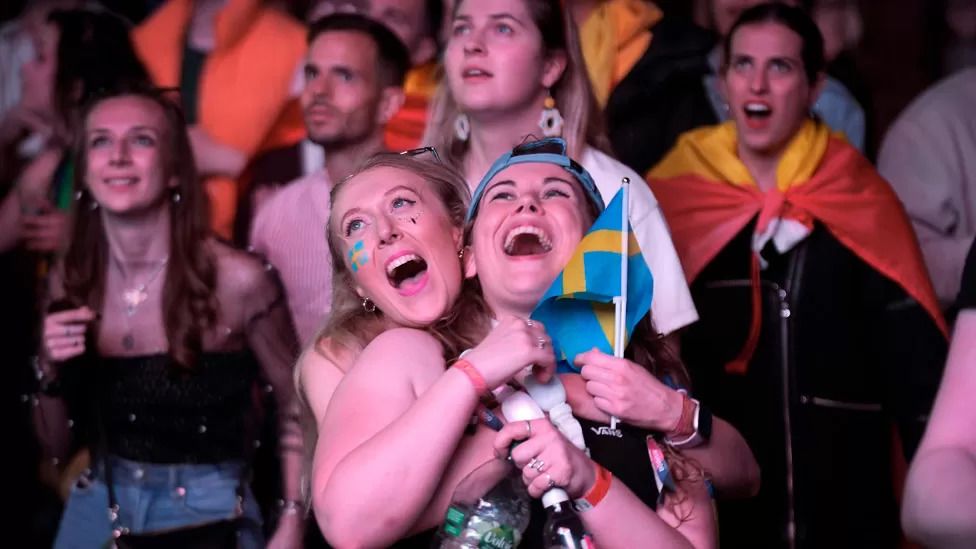 Swedish fans were happy to see Loreen triumph for a second time

Back in the city centre, cheers came from pubs and clubs as each Eurovision result was announced, and as Loreen was crowned Eurovision queen again.

Two women waited outside the Lobster Pot fish-and-chip shop in long blue dresses with yellow trim and yellow feathers in their hair. Their colour scheme was now "Sweden meets Ukraine", one said.

Around the corner, a woman who seemed to be dressed as Cheryl Baker from Bucks Fizz, or maybe Jay Aston, was slumped against an advertising display board, while Bobby G or Mike Nolan helped her.

Some Eurovision fans made their way home, while others queued up for clubs to keep the party going for just a little bit longer.