Police said a small number of ticketless fans broke into Wembley Stadium for the Euro 2020 final, after videos showed crowds pushing through barriers.
Fans fought with stewards and police as they attempted to break through the gates.

The Metropolitan Police said it worked with security staff to prevent further breaches.

Police said they also supported officials in ejecting ticketless fans.

The statement from police came after Wembley Stadium initially denied that anyone without a ticket had gained entry, saying: "There were no security breaches of people without tickets getting inside the stadium."

In a later statement, a stadium spokesperson said: "There was a breach of security and a small group of people got into the stadium.

"We are now working closely with stadium stewards and security to remove these people. Anyone inside the stadium without a ticket will be instantly ejected."

Footage from inside Wembley showed fans fighting, apparently after some had forced through a door.

And the BBC's Howard Nurse said it took until half-time for stewards to clear the gantry section meant for disabled spectators at Wembley.

"The area was rammed with people who should not have been there and it was quite an edgy situation," he said.

A large crowd was also trying to enter the fan zone in Trafalgar Square without tickets shortly before kick-off, the Met Police said.

Police said they were "engaging with the crowd and telling them to disperse".

At Wembley, a man was taken to hospital after he was hit by a bus on High Road. Police said the bus driver stopped at the scene and the man's injuries are not said to be life-threatening.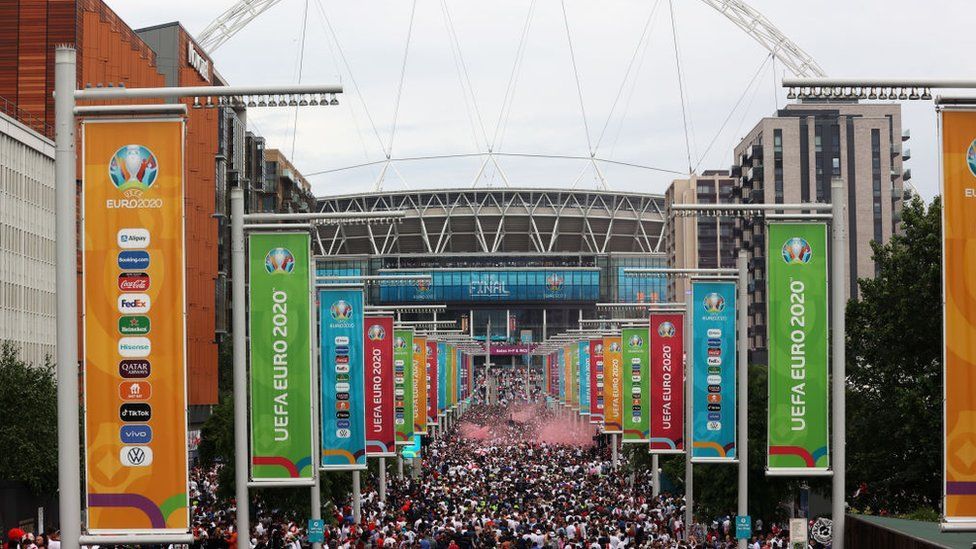 In footage taken at Wembley Stadium and posted by video blogger Paul Brown, fans could be seen jumping over barriers and grappling with stewards and police, as some of them were ejected.

Mr Brown said there were not enough police to deal with the size of the crowd.

BBC News producer Warren Moran said he saw people without tickets forcing their way through the turnstiles, but could not say whether they were later ejected from the stadium.

He said dozens of people were pushing through the gates for disabled people, which were open.

A video posted by Sky Sports reporter Michelle Owen showed several fans streaming over barriers as stewards looked on.

She said: "If this is even crossing your mind, don't. You don't get far. Please don't ruin it for everyone at Wembley."

In addition to videos of crowds pushing past barriers, some witnesses said they had seen people getting in by "tailgating" behind ticket-holders through the turnstiles.

The Daily Telegraph's Ben Rumsby posted on Twitter that he and others had seen examples of this in the build-up to the final.