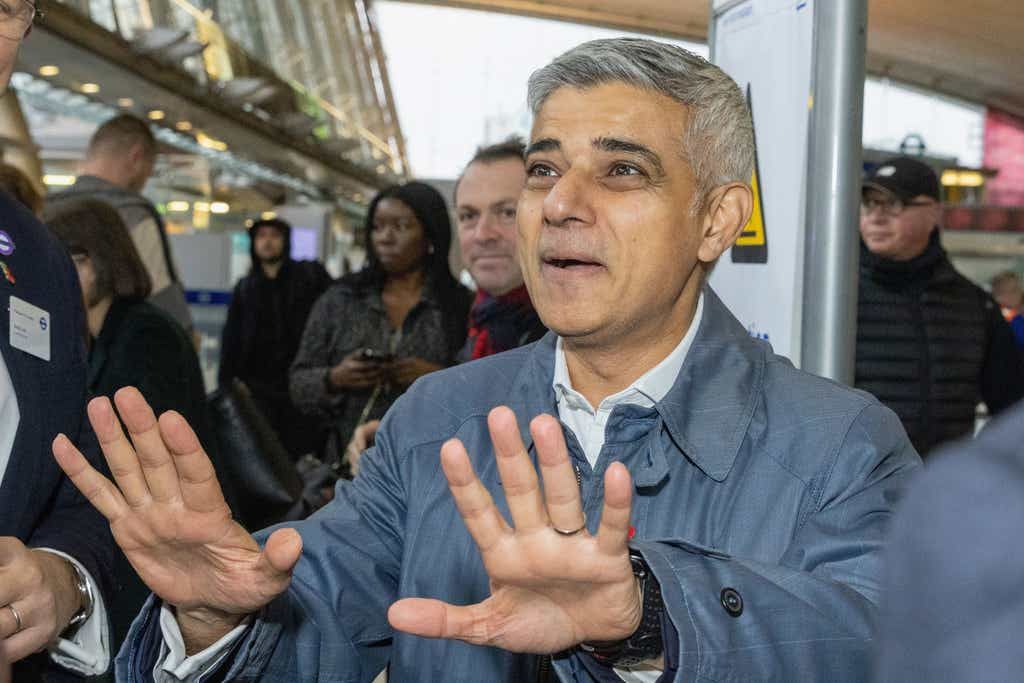 London council tax hike shock as Sadiq Khan set to add nearly £40 to bills
EXCLUSIVE: The rise would mean typical households would pay just over £434 to the Greater London Authority
Sadiq Khan is set to hike his share of council tax bills by the biggest amount since he became mayor, it can be revealed.

The mayor is expected to add £38.55 to average bills - a rise of 9.7 per cent in his "precept" - after the Government increased the amount that local authorities can charge residents.

This would mean that typical households would pay just over £434 to the Greater London Authority, mostly to help fund the Met police and London fire brigade, in addition to the amount they pay to their borough council for local services.

The rise would be a fresh blow to Londoners who are already struggling amid the cost of living crisis, with high inflation, surging energy bill costs and increasing prices at supermarkets.

It would be the second successive year in which Mr Khan has broken his own record for council tax rises.

Last year, he increased his share of bills by 8.8 per cent, adding £31.93 for a household paying the benchmark Band D rate.

The latest increase, which is due to come into force from April, would mean that total annual bills will move closer to £2,000 for an increasing number of London households.

The City Hall precept was £276 when Mr Khan became mayor in 2016.

Peter Fortune, deputy leader of the GLA Conservatives, said: "Londoners will be deeply concerned about the rising cost of Khan this year, as once again he hits people with extortionate tax rises.

"Sadiq Khan will have increased council tax by 57 per cent since he was elected, an eye-watering and unaffordable cost of living burden for so many people."

Johnny Thalassites, Tory lead member for finance at Kensington and Chelsea council, said: "I understand the pressures we are all under in London but believe the increase is much too high given the current challenges our residents and Londoners in general are facing."

Three boroughs – Kingston, Harrow and Richmond – already charge in excess of £2,000 for Band D bills when the mayor's precept is included.

Last month Mr Khan said his "working assumption" was for a £27.89 increase.

But just before Christmas, the Government said he could raise an additional £15 – rather than the £5.50 he planned – for the police, and increase the remainder of his precept by 2.99 per cent, rather than 1.99 per cent.

The increase also includes a further £20 for Transport for London – the second of three annual £20 levies – to help fund the cost of free travel for teenagers and people over 60.

Mr Khan is due to confirm his precise council tax demand for the 2023/24 financial year in the next fortnight.

Asked by the Standard how he could justify a near 10 per cent increase during a cost of living crisis, he said: "I have got to be honest with Londoners.

"Unless we increase the precept to the maximum the Government is telling us to do so, we will have less money for police, less for the fire service and we will have to remove free travel for children and free travel for over 60s."

He described council tax as "regressive, outdated and not fit for purpose" and "one of the unfairest ways to raise revenues".

But he said the GLA would lose Government funding over the long term if he failed to increase council tax bills by the maximum permitted.

"What this Government has done is combine austerity with cost shunting," he said. "They are saying, not just to regional government like me, but to councils: 'You have got to replenish some of the money we are cutting by raising council tax.'

"If we don't increase council tax by the amount the Government has given us discretion to do so, the Government punish us in two ways. They reduce the amount of revenue we receive next year… and it also reduces the [funding] base we have in subsequent years.

"That is why you are going to find the vast majority of councils and metro mayors having to increase the precept by amount allowed. I have not made my decision yet but that is the reality of the last few years."

Mr Khan's spending priorities included tackling violent crime and violence against women and girls, and helping the post-pandemic recovery.

He has been legally summonsed to appear before the London Assembly on February 21 to answer further questions on his budget after a "polite" request to reappear was declined.

Ken Livingstone holds the record for the biggest mayoral council tax rise – the £50.52, or 29 per cent, that he imposed in 2003.