A photo of the Duke of Cambridge grinning with his children on a family holiday in Jordan has been released to celebrate Father's Day.
It shows a relaxed Prince William with his arms around Prince George and Princess Charlotte, with Prince Louis on his shoulders.

The high-spirited four are caught mid-laughter against the rocky landscape.

Posting it on Twitter, the duke and duchess wished a Happy Father's Day to the world's fathers and grandfathers.

The duke, who turns 40 on Tuesday, wears a casual, khaki-coloured outfit in the photo, taken in autumn last year.

The younger children are dressed in navy and white tops, while eight-year-old Prince George - who is third in line to the throne after his father - wears a camo print T-shirt and shorts.

The setting for the photograph, thought to be at Petra, will be familiar to film fans as the backdrop for adventure epic Indiana Jones and The Last Crusade.

The Cambridges used a similar photograph for their official Christmas card last year.

Catherine lived in Jordan as a child for three years when her father worked for British Airways in Amman.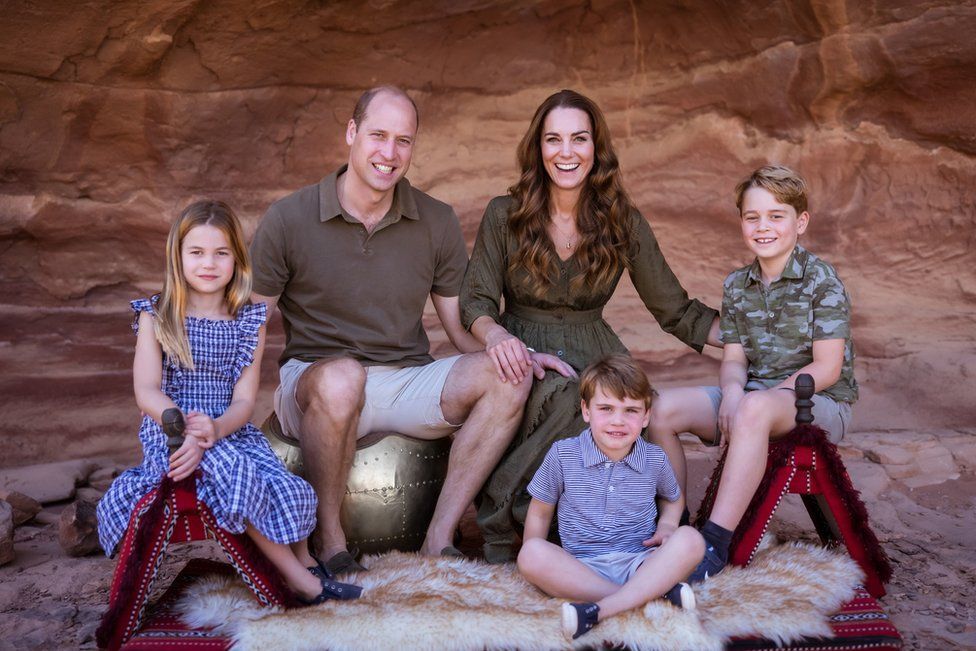 This family snap, also taken in Jordan, was used on the Cambridges' Christmas card last year

It comes as the Duchess of Cornwall spoke candidly about her life and marriage in an extended interview with British Vogue magazine.

Camilla, who turns 75 next month, said that being scrutinised by the press has not been easy and "that you just have to find a way to live with it".

She also revealed she completes the Wordle puzzle each day in competition with her granddaughter.

"She'll text me to say, 'I've done it in three', and I say, 'Sorry, I've done it in two today," the royal said. "It's very satisfactory when it tells you how brilliant you are."