A divisive driver has insisted he was right to barrel down a bus lane to jump a traffic jam.
The motorist, who goes by the name @TheAmazingrMan on TikTok, posted a video of himself overtaking cars on a busy Bristol street this month.

Dashcam footage on Wells Road – all to audio of F1 analysis on Sebastian Vettel outfoxing Lewis Hamilton – shows the bus lane to the left completely empty.

The man glides past the nearly two dozen cars with ease, with the 30-second clip ending before he reaches the traffic lights.

In the caption, he said: 'This is what happens when 20+ cars can't read road signs, I'd complain but gets me home faster.'

The post, uploaded on March 11, has since gone viral and accumulated half a million views, 17,400 likes and nearly 300 comments – not all positive.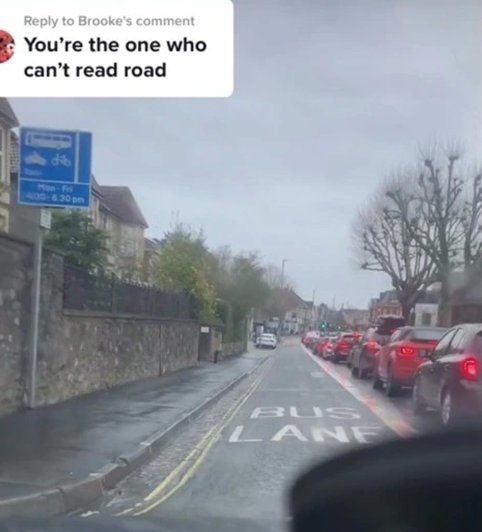 The motorist posted a second video zooming in on the restriction times for the bus lane

Road rage can certainly get the best of us – especially when it comes to a lengthy logjam on the way to work – so not everyone was surprised he resorted to this.

Yet, as others stressed, it doesn't mean he was right to do it.

'You're the one who can't read signs,' Brooke said.

Another added: 'Guarantee everyone in their cars is saying, "he's getting a ticket".'

A third: 'You're the one who can't read road.'

But the sneaky driver posted a second video zooming in on a sign as audio repeatedly says, 'Are you dumb?', to defend himself.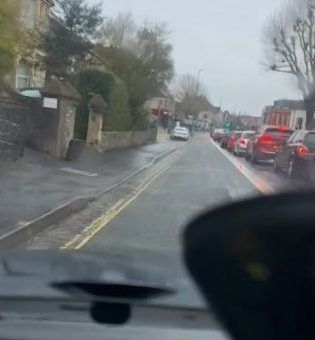 The dashcam video showed the driver zip past the traffic jam

The sign says the lane is only meant to be used by buses, motorcycles, cycles and taxis between 4-6pm (Monday to Friday).

As Adam said: 'Haha, I do this all the time, people don't realise that they are only part-time bus lanes. I've had a few arguments because people can't read.'

Sam said: 'I was told I'd (fail) my test if I didn't use the bus lane when it says you can.'

While Laura Morris added: 'I'm local and always use this bus lane, the people down at the merge bit hate me.'

All users stressed the importance of, simply put, reading road signs.

And it comes with a price for drivers who don't – it's a £70 fine for those who illegally drive on a bus lane.