As the annual meeting of the World Economic Forum comes to a close, Anne McElvoy shares a behind-the-scenes look at the most in-demand party guests, and what everyone's really talking about
When Klaus Schwab founded the annual gathering of the World Economic Forum at Davos in 1971, the young Swiss entrepreneur was fascinated by the potential of globalisation against the backdrop of the Cold War and events leading up to the oil-price shock. More than 50 years later, many preoccupations at this year's annual meeting echo similar uncertainties — the risks of inflation, pros and cons of engaging with autocracies, how to deal with a "hot" war in Ukraine and the patchy outlook for the world's leading economies.

Schwab, now a spry octagenarian, created a behemoth which brings attendees from across the world via private jet or slow mountain train to an Alpine town for purposes which blend the specific and the vague, and the "spirit of Davos" — a mix of high-minded commitment to improve the state of the world and a lot of downtime for networking and catching up. For a group of "inner Davos" players — including Marc Benioff, the founder of software company Salesforce, former Bank of England boss Mark Carney and the Blairs — Davos is the religious pilgrimage that kicks off the year.

Since the financial crash there has been a more testy mood towards elites. Knocking Davos is as fashionable as attending it, and a lot of people do both. The Semafor newsletter columnist Liz Hoffman wrote this week that the Davos consensus (liberal-progressive, pro-capitalism while espousing concerns about the environment) is "almost always wrong. Despite its global attendance list, it missed the rise of nationalism and... it's vulnerable to groupthink."

Not half. The charge of being an in-crowd with an in-view is so frequently levelled at the World Economic Forum's gathering that Davos Man and Woman have become caricatures —well-connected, a bit lofty and unlikely to have voted for Donald Trump or even Boris Johnson.

In truth, the real reason so many business titans, campaigners, philanthropists and the moving swarm of interconnected international politico-business folk attend is because so many other people like themselves do too. But the clue is in the official title of World Economic Forum (and Davos is a place where being a big player in the global economy is like being Kate Moss at a fashion event). The European Central Bank boss and former French finance minister Christine Lagarde is unofficial matriarch of the place — and a favourite to replace Schwab. The intersection with turbulent global geopolitics makes for the frisson among a pot of frankly indistinguishable panels on the potential of AI, carbon capture and "tech game changers".

But there are Davos "moments"— this year when Olena Zelenska, Ukraine's first lady, had tears streaming down her face as her husband held a silence to commemorate colleagues, including the country's interior minister, killed in a helicopter crash.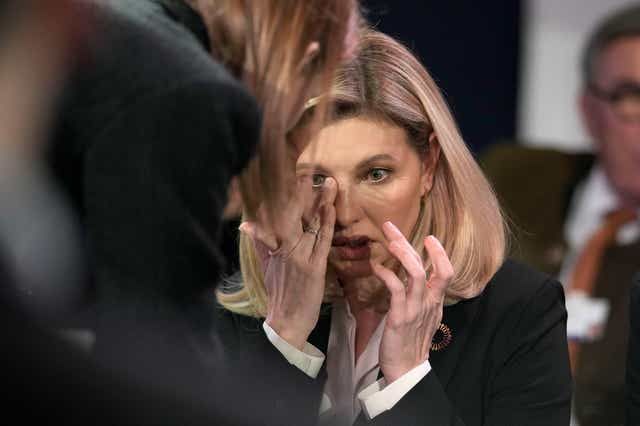 First Lady of Ukraine Olena Zelenska reacts after a helicopter crash in Ukraine, where Minister of Internal Affairs Denys Monastyrsky died among others
My modest chairing role is a session bringing education reformers, funders and advocates together to address a troubling lag in children's schooling worldwide. It is also a place where you can find rockstar attire — the rapper and now tech-and-education reform advocate will.i.am sat through an entire presentation in designer shades — and the remarkable Angelique Kidjo in a bland room in a converted sports centre, trading ideas and arguments alongside NGOs, ministers and corporate giants who can unlock money to fund transformations in health education and climate remedies.
Formally, the meeting has some 2,700 direct participants who are here to reflect on an agenda this year entitled, "co-operation in a fragmented world". Really, people bring their own agendas, preoccupations and metrics for having "a good Davos".
Davos 2023 is different from the pre-Ukraine war iteration — the Russians are no longer invited and with their disappearance has gone the "outer Davos" penumbra of Moscow oligarchs, including Oleg Deripaska, who used to hold the week's most blingful party on the final Friday.
There's always an argument about which countries should be admitted as formal members at an event preaching progress and often accused of hypocrisy for inviting autocracies to take part — and no doubt about it, Davos is window-dressing for countries (and some companies) polishing tarnished public images.
But it is also a global event, which reflects capital flows and charts the rise of emerging powers. This year, Saudi Arabia has a shiny house on the promenade, in competition with the Emirati house, which dispenses free hot chocolate. Post-
Covid
, China is a small presence, but significantly vice premier Liu He spoke of China's openness to foreign investment and no return to a planned economy.
Everyone wants to rub shoulders with the Zelenskys and the conversation can range from their indignation over Germany's foot-dragging on supplying tanks to turn the tide in the war with Russia, to Olena's wardrobe.
It is a place you might well meet someone you've been trying to talk to for years as a journalist — the former Austrian chancellor Sebastian Kurz who has entanglements with controversial investments in Israel, and Beatrice York (formerly known as Princess Beatrice) chatting in a small hotel bar before a dinner hosted by the serial media boss Will Lewis.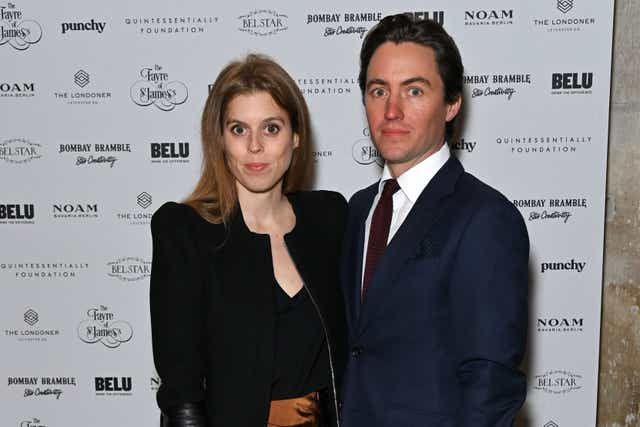 Princess Beatrice and Edoardo Mapelli Mozzi
The main stage is a launch pad for politicians looking for profile (or in the case of Rishi Sunak, dodging criticism for not attending to focus on strike-bound Britain). A "Davos secret", jokes one maven, is something you hint at to one person after a glass of extra wine — and find told back to you as a certain truth the next morning as you queue for organic beetroot juice in the Congress cafe.

Media CEOs also love Davos, not least because they like talking to other media bosses. The Wall Street Journal hosted its annual party, a de facto farewell bash for its editor Matt Murray, shortly to be replaced by News UK's Emma Tucker. It's also a shindig which charts hanging trends and breakthroughs, with newcomers like Goli Sheikholeslami of Politico hosting the final night party at the top of the "Magic Mountain" and — sobering note — unseasonable weather making it impossible to add the intended sleigh ride down the slopes afterwards.

Of course, there's gossip aplenty. This year the succession plan for Schwab is the hot topic, with enough leaks, rumours and back-biting to echo the TV show Succession. Angela Merkel, previously a queen on the Davos chess board, is out of favour after the sundry mess-ups in German politics. Lagarde talks privately about "our Forum" — which suggests that she might one day fancy ditching her job overseeing Europe's interest rates and take over from Schwab.

My bet is that when Greta is a pensioner and the 25-year-old tech titan Alex Wang has added more billions to his pile, the odd but compelling Davos show will roll on, because for all the events which want to be the new Davos, there is really only the Swiss original — and there is always a new group of the high-minded, ambitious or just curious who want to join it.