The Welsh NHS is experiencing its "most challenging period" since the start of the pandemic, according to its chief executive.
Dr Andrew Goodall said attempts to deal with the backlog in planned treatments were still being hampered by the prevalence of Covid-19.

He said numbers in hospital with Covid are still at a "significant" level.

Measures in hospitals to stop it spreading are also adding to the delays in planned treatments.

Speaking on BBC Radio 4's Today programme, Dr Goodall said: "Even with all of the extraordinary efforts that have taken place over the past 20 months, this is the most challenging period of time.

"We've actually seen months where high, if not record numbers of patients, are coming into our system.

"The numbers are increasing. We are probably at the fullest that we've seen across our system in the past 20 months at this stage."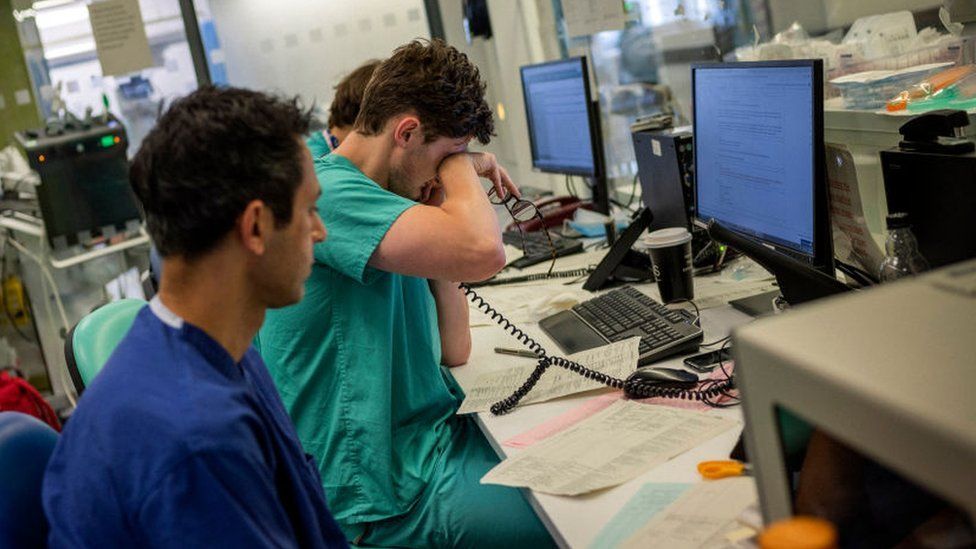 He said healthcare providers were still dealing with "significant numbers" of Covid-19 patients amid high levels of the virus within communities.

"Whilst the number of patients being hospitalised [with Covid] are much lower than we've seen over the last 20 months or so, it still means that we have patients who are affected by lots of the precautions that would take place within our hospital and our healthcare environments," he said.

Asked why patients awaiting planned surgery in Wales were five times more likely than those in England to have to wait more than a year for treatment, Dr Goodall said it was vital to do more to improve access to care.

"Before we came into the pandemic, we had some issues around our waiting times and have been focusing on actions to improve that", he said.

"We have had too many patients not able to access our services.

"We have got a responsibility to make sure that we can speed up the access to care and make sure that we have other plans."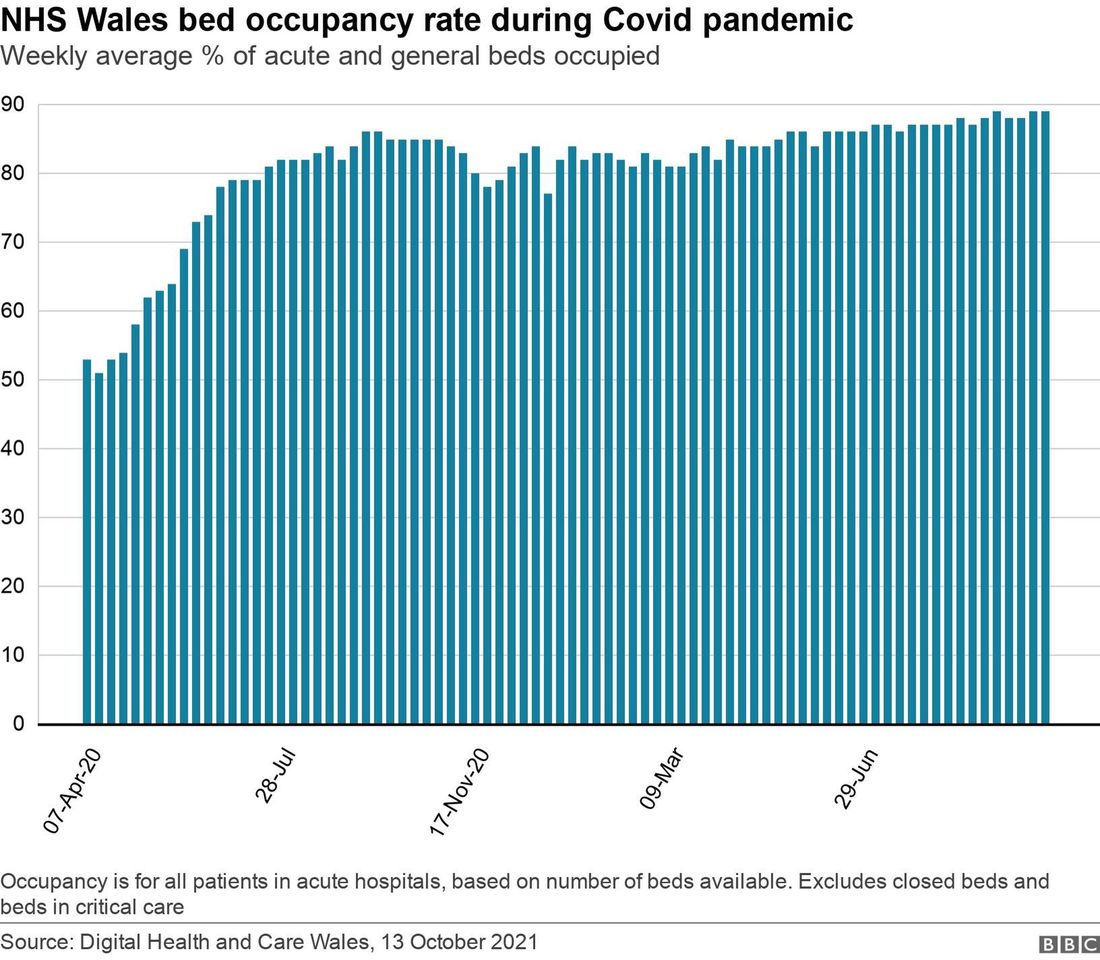 How many people are in hospital?

Acute hospitals in Wales have more patients in their beds than at any time since the pandemic began.

In the past week, there were, on average, 5,762 patients in general and acute beds each day.

Bed occupancy - the proportion of beds with patients in them compared to beds available - is also at its highest level.

Over the past two weeks, it has been at an average of 89%, hitting 90% on some days this week.

Hospitals are trying to deal with a backlog of patients, to eat into waiting times, as well as dealing with Covid patients.

The first wave of the pandemic saw surgery cancelled to help free up beds and while the third wave has brought fewer Covid patients, they still add to pressures.

On Tuesday, the daily average of patients with confirmed Covid was 432 - the highest figure this month so far, although well below numbers seen in previous waves.

More than 50 of these patients are in critical care or on ventilation - the most since 19 September - although non-Covid patients are still outnumbering Covid patients.

Including suspected Covid and recovering patients, Covid patients of all types totalled 656 patients on Tuesday or 7.7% of all hospital patients.

There has been no dramatic rise in Covid admissions, which remain at an average of 35 a day - 3% of all hospital admissions. This is within a similar range we have been seeing for the last six weeks.

Scientific modelling for the Welsh Government suggests we're heading for a peak in the next few weeks in terms of Covid hospital cases although a new report said the "exact turning point is not clear".