All over-40s in the UK will be offered a third dose of a Covid vaccine, after advice from the government scientists.
The move would top up protection and help limit the spread of the virus over winter.

Three doses cuts the risk of infection by more than 93%, according to new data from the UK Health Security Agency.

The Joint Committee on Vaccination and Immunisation also said 16- and 17-year-olds, initially offered only a single dose, should now receive a second.

So far, 12.6 million people have had a booster dose.

They have been given to the over-50s, front-line medical staff and people with health conditions that put them at greater risk.

Prime Minister Boris Johnson said it would be an "utter tragedy" if double vaccinated people became seriously ill or died "because they allowed their immunity to wane".

He said there was "nothing in the data" to suggest a lockdown or Plan B was needed at the moment; despite "storm clouds" gathering in Europe, where cases are climbing.

Yet he warned "clearly we cannot rule anything out".

Cases have started to tick up in the UK after the lull caused by the half-term holidays - the latest daily figure for number of people testing positive is 39,705.

Mr Johnson said it was "increasingly obvious" that we will "have to adjust our concept of what constitutes a full vaccination" to include a booster. He said the third dose would probably make foreign travel easier and there were plans to add it to the NHS Covid travel pass.

People aged 40-49 will be boosted with either the Pfizer-BioNTech jab or a half dose of the Moderna vaccine, which still gives a potent immune response.

This should be offered six months after the second dose.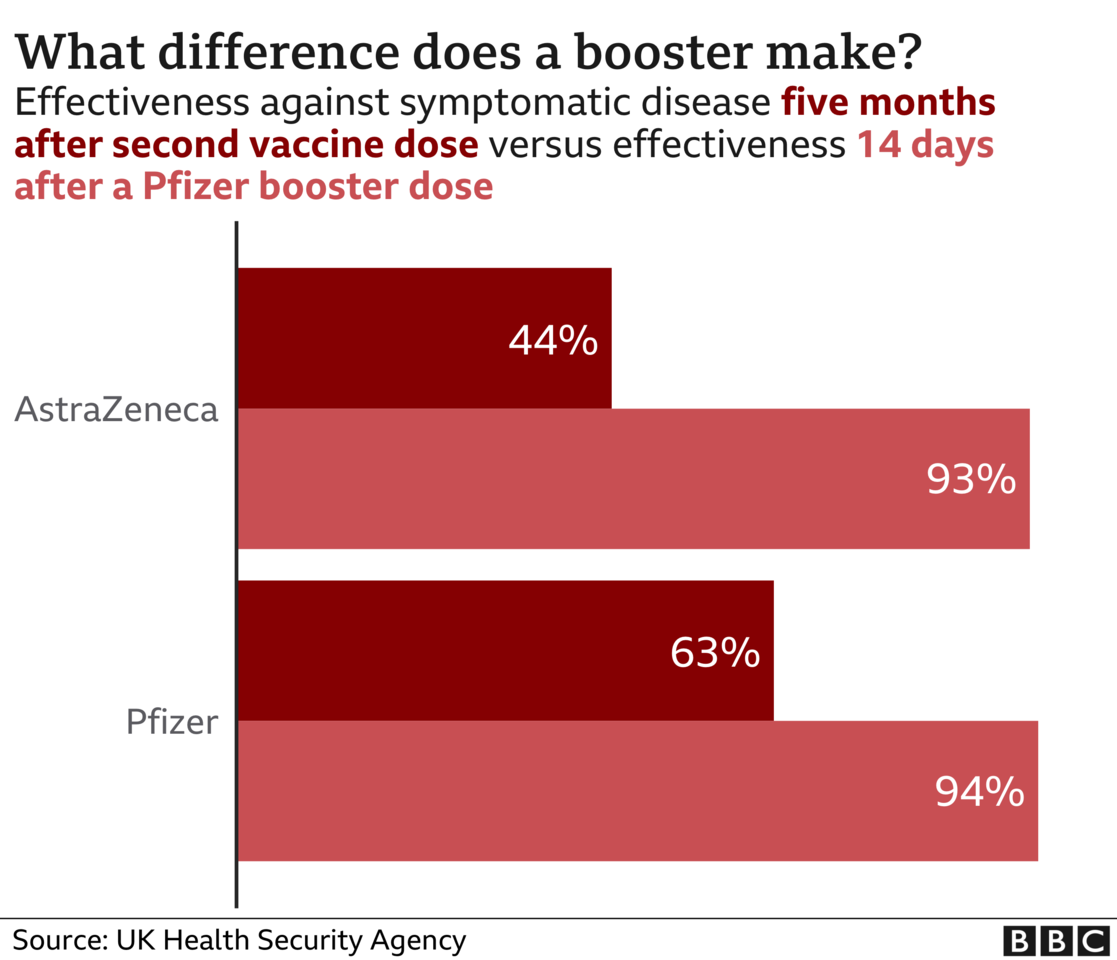 Deputy chief medical officer for England Prof Jonathan Van-Tam said: "If the booster programme is a success and we have very high uptake, we can massively reduce worry about hospitalisation and death this Christmas and this winter for millions of people.

"It is as simple and decisive as that."

The coronavirus remained "unpredictable" and "there just isn't a second to waste now", he added.

Flu-like symptoms

Experts anticipate a booster would reduce the risk of death, or severe disease needing hospital care, by even more than the 93% cut to the chances of catching Covid.

Each nation in the UK has formally accepted the vaccine scientists' advice.

Health and Social Care Secretary Sajid Javid said: "I have asked the NHS to prepare to offer those eligible a vaccine as soon as possible."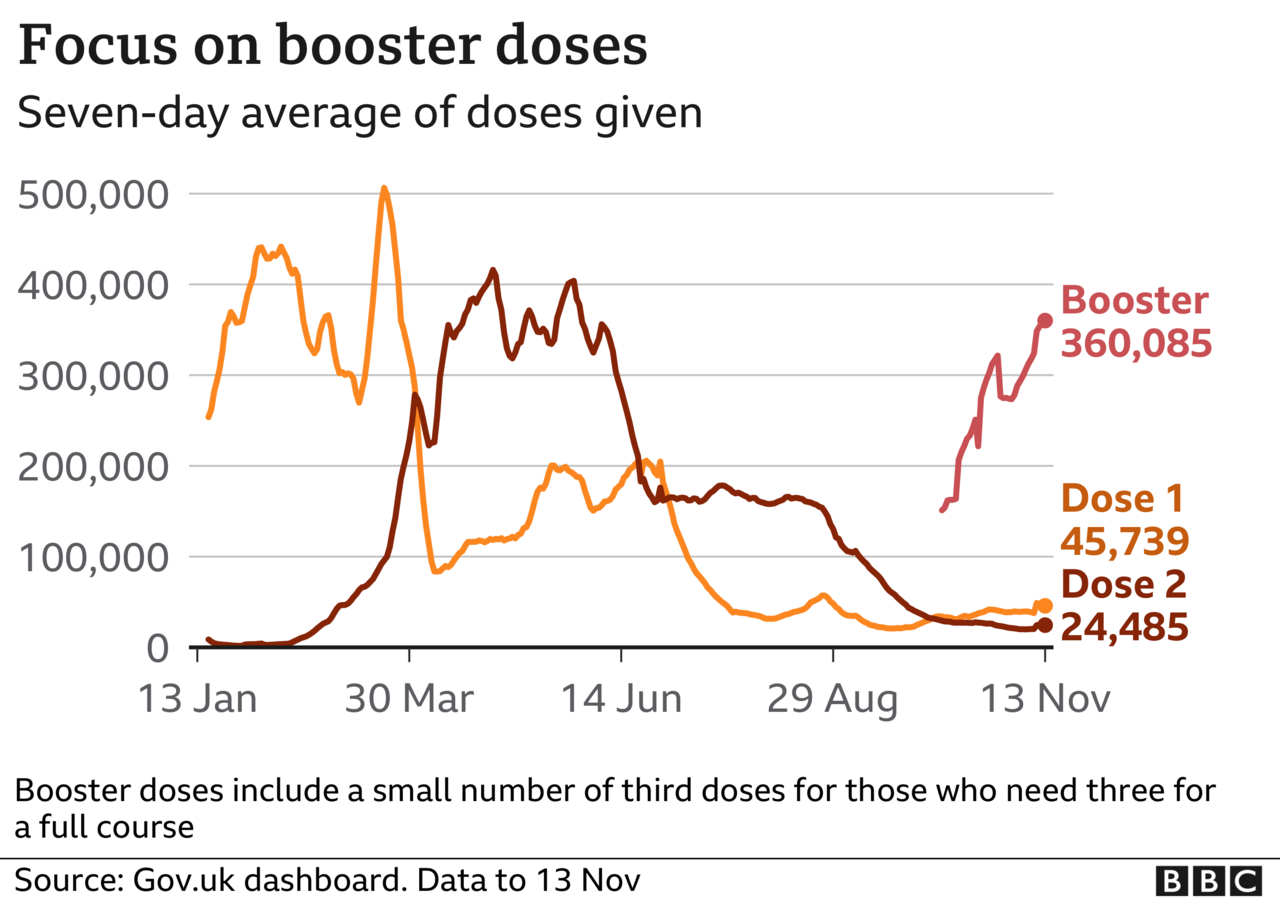 Chart showing that while the number of first and second vaccine doses being administered is now low in England, the number of daily booster doses is rising quickly

The Medicines and Healthcare products Regulatory Agency said the booster doses were safe and side effects mostly either a sore arm or flu-like symptoms.

The MHRA had identified "no new safety concerns" during the booster campaign, chief executive Dr June Raine said.

"This further strengthens our ability to ensure people are protected against Covid-19 and saves lives," she said.

Vaccine protection does fall after the second the dose.

And Prof Wei Shen Lim, from the Joint Committee on Vaccination and Immunisation, said all adults under 40 "may well be" offered a booster dose eventually.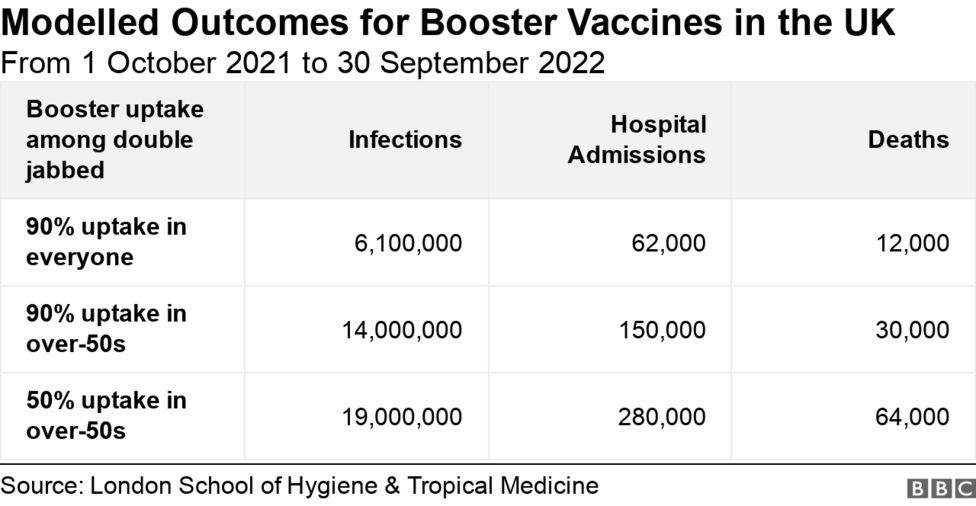 Concerns about the risk of heart inflammation, known as myocarditis, meant 16- and 17-year-olds were initially offered only one dose of a Covid vaccine.
But Dr Raine said the MHRA was "not detecting any increase in risk with the second dose" and young adults should now "come forward for their second dose".
Watch: Professor Van-Tam said a Covid booster was necessary due to "waning protection"