The Health Minister Robin Swann has said he is still waiting to receive legal advice about removing Northern Ireland's remaining Covid regulations.
The Department of Health is due to review the measures in the absence of the Northern Ireland Executive.

Mr Swann has indicated he wants to lift most of, it not all, of the remaining rules and replace them with guidance.

They include the wearing of face coverings and track-and-trace requirements.

The executive - Northern Ireland's government - was due to discuss removing restrictions on Thursday, but it can no longer meet after the Democratic Unionist Party's (DUP) Paul Givan resigned as first minister last week.

"Thursday 10 February is the legal review point," the health minister said.

"My department must make a review of current regulations that are in place but I haven't received the legal advice up to date yet.

"I'll hopefully have an update on Thursday."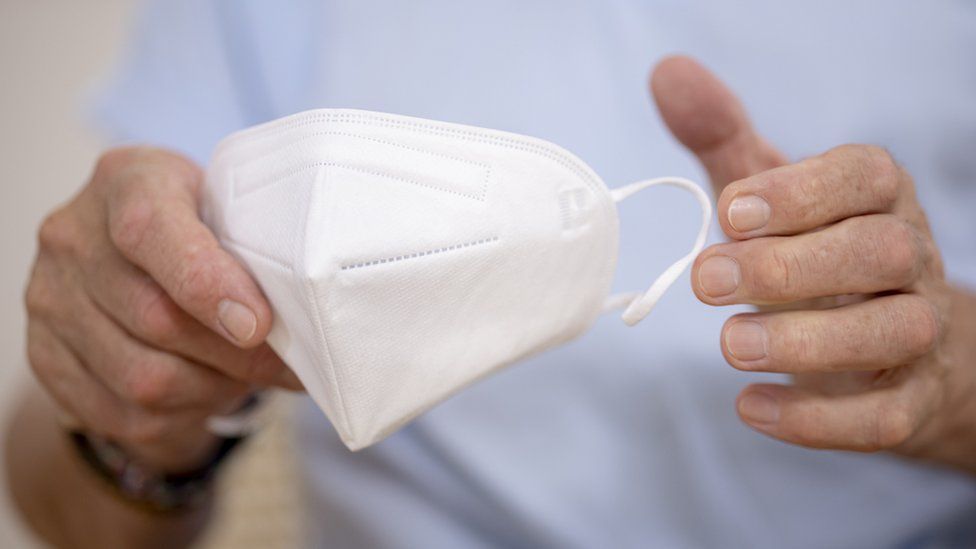 It is still a legal requirement to wear face coverings and for businesses to take measures to ensure people comply
What Covid restrictions remain?

So-called Covid passports remain in place for nightclubs, as well as for indoor unseated and partially-seated events with 500 or more people in attendance.

A maximum number of 30 people are permitted to gather.

The minimum self-isolation period for people testing positive for Covid-19 is five full days, subject to negative lateral flow tests on days five and six of a person's isolation.

Other rules still in force include:

* the legal duty on retail to take reasonable measures to reduce the risk of transmission

* the legal requirement to wear face coverings and the associated duty on businesses to take reasonable measures to ensure compliance

* the legal requirement for risk assessments in prescribed settings

* the legal requirement for recording visitor information in prescribed settings

* the remaining legal requirements in relation to Covid-status certification

* the guidance on the regular use of lateral flow testing, and in particular before meeting up with others.

On Monday, Mr Swann said he was not "prepared to allow a failure of politics to get in the way of lifting unnecessary restrictions" as he confirmed he was seeking legal guidance.

He said the virus "remains unpredictable", but that "we'll take on a day at a time".

"We need to start getting normal back and that means moving cautiously out of the current legal phase of the Covid response - I hope this will be a permanent decision," he added.

Some of the restrictions brought in in December due to the Omicron variant were relaxed last month.