It is the afternoon of a hot day in May, and Brian Turner has foregone breakfast and lunch. He might, he says, eat something this evening.
The 49-year-old lives with his Jack Russell-poodle cross-breed dog in a cosy, ground-floor flat in the south-west of Ipswich.

Six-year-old Rocky is central to Mr Turner's life.

He was bought as a puppy by Mr Turner and his partner Paula Macintosh. Mr Turner, a fully qualified silver service waiter, put his career on hold in 2009 to care for Ms Macintosh, who had severe mental health issues.

Then, one night in February 2019, Ms Macintosh died in her sleep from a previously undiagnosed heart condition. She was 54 years old.

A few months later, Mr Turner's mother Maureen died. Then came the global Covid-19 pandemic.

"It has been tough," said Mr Turner.

Photographs of Ms Turner take pride of place on a side table and a small wicker basket containing Mr Turner's ashes stands on the windowsill.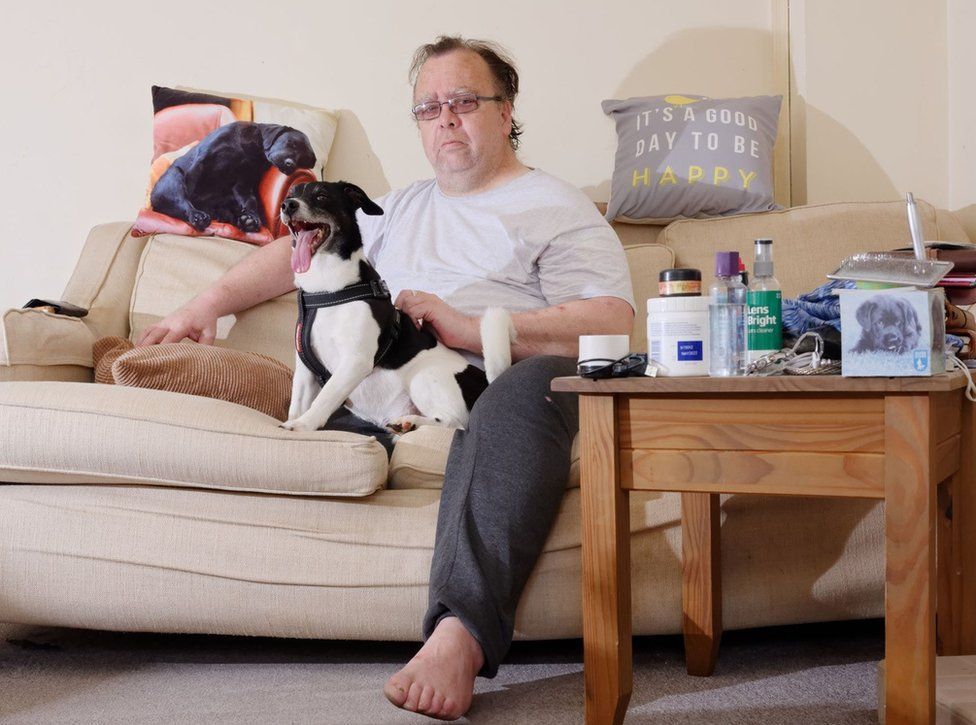 Mr Turner is on universal credit and lives with his dog Rocky in a ground-floor flat

For years Mr Turner has managed to get by with very little money.

He monitors prices across various shops assiduously, trawls the discounted foods sections of supermarkets and buys in bulk when possible.

Since his partner's death, he has managed to buy enough food for himself and Rocky with just £40 a month.

Mr Turner's finances

He gets £642 a month in universal credit, the government payment to help with living costs. His monthly outgoings are:

*  £316 in rent for his council-owned one-bedroom flat

*  £100 on electricity and gas

*  £25 on water

*  £100 on Rocky's food, veterinary plan subscription and pet insurance

*  £100 for food, clothing, travel and any other costs he might need to meet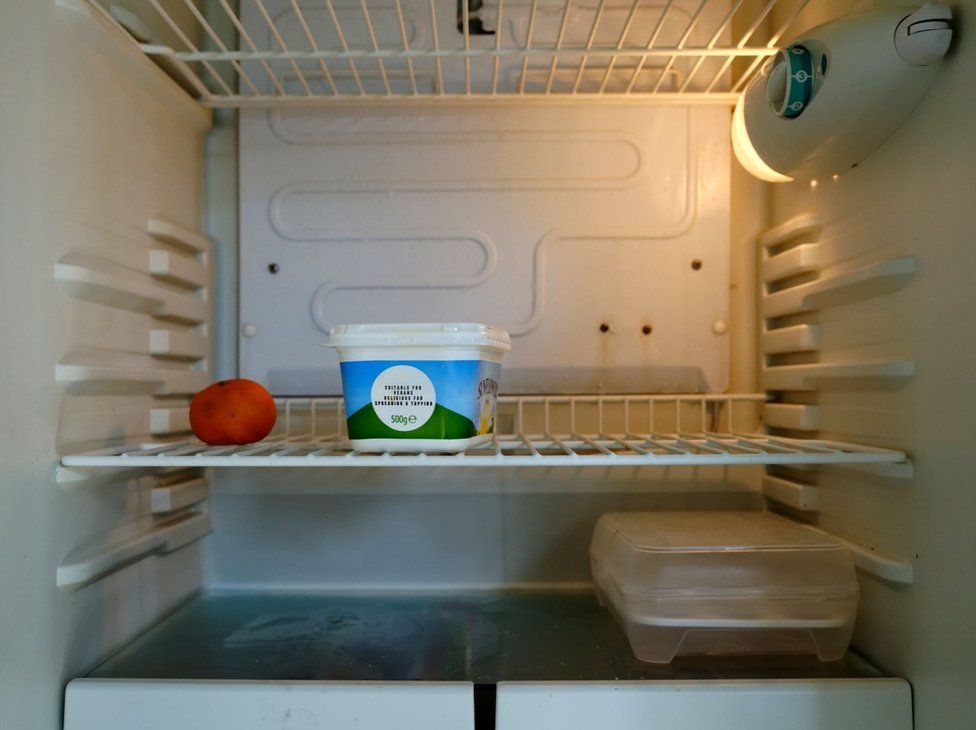 On the day the BBC visited Mr Turner, his fridge contained a few vegetables in the lower drawers, a tub of margarine and a satsuma

But faced with rising food prices and increasing bills, that is no longer possible.

"Since we came out of lockdown the costs have just tripled," he said. "The cost of living has gone through the roof.

"I am having to ask neighbours, friends and family for help.

"I've used food banks quite a few times.

"When I go to Citizens Advice for food parcels, they are telling me they are limiting how many food parcels I get to make sure it is fair for everybody, so that it is not like a weekly shop for anybody.

"Sometimes I have to scrounge and scavenge."

And because he is far from alone in struggling financially, competition at the discount food sections has become fierce.

"Other people are in the same boat, the same as me," he said.

Diagnosed with epilepsy and on migraine medication, Mr Turner's attempts to get a job have not borne fruit.

At one point he was filling out up to 15 applications each day for all manner of roles, from catering to office jobs, but none was successful.

"I have spoken to a few employers and they have turned around and said because of liability insurance they couldn't take me on because of my health conditions," he said.

"Part of me does want to get back to work because of the cost of living and everything.

"But the other part of me says I would rather be safe than sorry."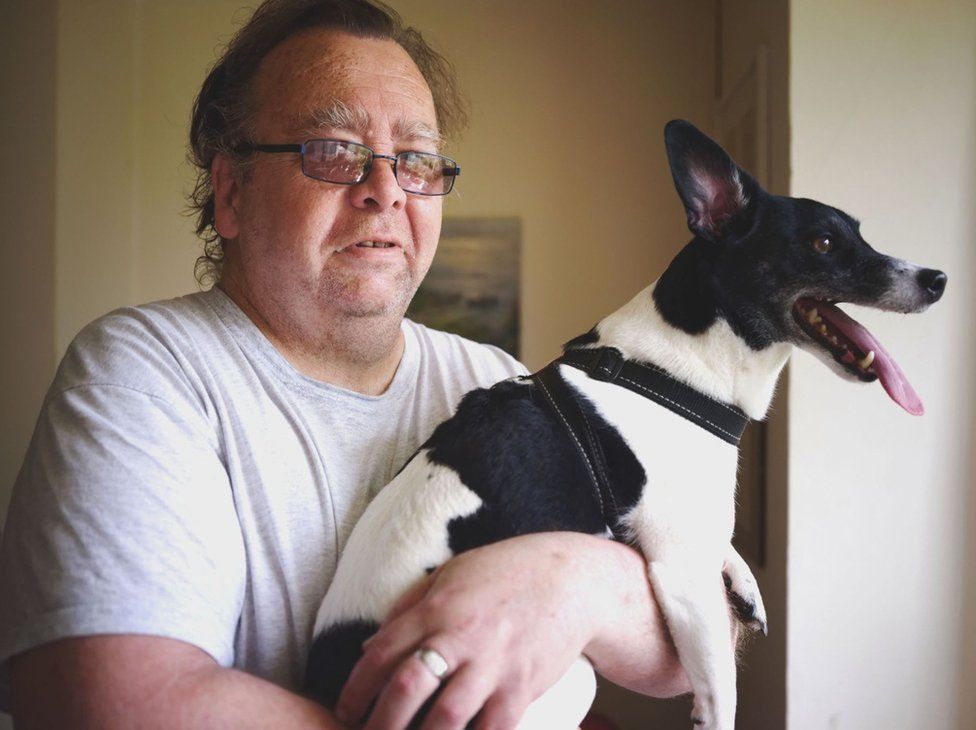 Rocky costs more than £100 a month in food, a veterinary plan subscription and pet insurance

Nearly all of the money he has left when his bills are paid goes on food.

But the monthly food shop that just a year ago cost him £40 now costs £80, he said.

As a result, he only has enough cash to buy a week and a half's worth of food each month.

"There are days when I am only having one meal a day - I am not supposed to because of the medication I am on, which is supposed to be consumed with food or around meal times. Sometimes it does have an impact on the medication."

Rocky's feeding routine, however, has not been affected by the rising costs.

"Sometimes I would rather feed my dog than myself."

Asked whether he would ever give Rocky up to save costs, he said: "He is the only one who keeps me going.

"He is the kind of dog that if you want and need a cuddle, he will come and give you a cuddle.

"I have to go without food to afford to pay for his food and I have got enough for him at the moment to go a good couple of months. After that, I don't know what to expect.

"If it had not been for him I would definitely have lost my sanity."

"Many people I have spoken to are struggling drastically.

"I would like the MPs to try living on universal credit for three months - they would end up realising that it is not enough to survive."

The government said it understood the pressures people currently faced with the cost of living.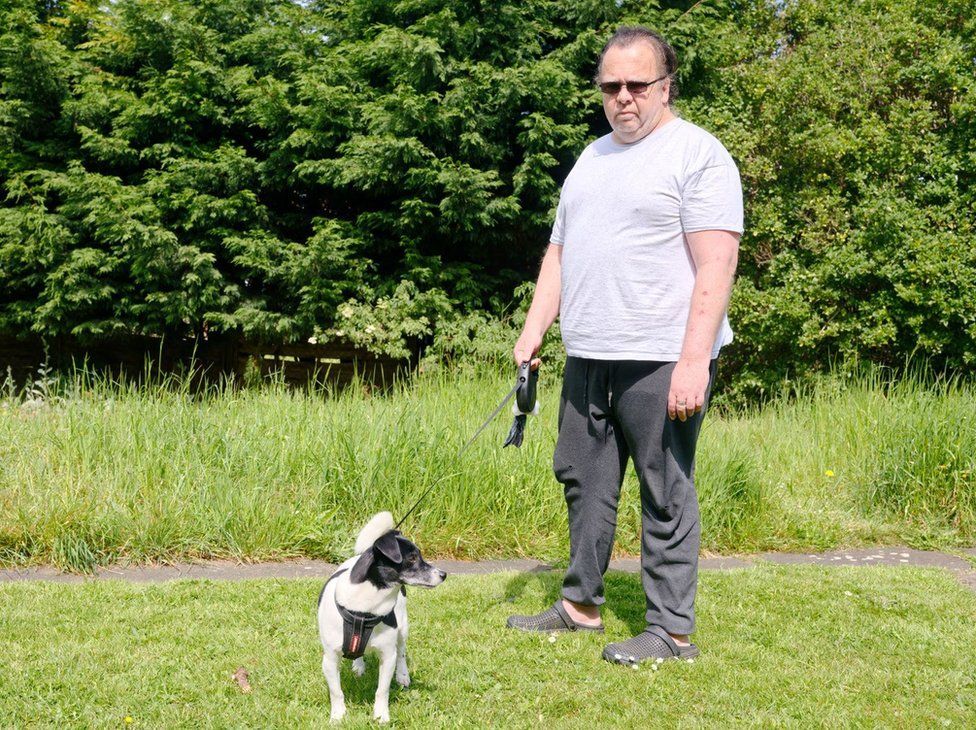 "Sometimes I would rather feed my dog than feed myself," said Mr Turner

Like an increasing number of people in Ipswich and across the UK, Mr Turner's worries about his finances have become "constant".

Sally Harrison, professional services manager at Ipswich Citizens Advice, said: "People are increasingly relying on us on a regular basis.

"It used to be that they would come to us for a one-off food bank because they were having a particularly difficult month.

"It is now becoming the norm. They are coming to us month-on-month because they cannot meet their bills.

"People are worried and they are panicking because they have seen the huge price rises in their fuel payments."

What does the future look like for Mr Turner?

Asked how he would afford the travel costs to spend a day out of Ipswich purely for fun, he said: "That's not happening."

The last holiday he had was in 2015, when he went on a long weekend to catch up with family members.

He cannot afford to hop on a bus into the centre of Ipswich for just a single task, he said. He needs to have various reasons for going into town to justify the expenditure.

Before her death, Paula had told Mr Turner said she wanted her ashes scattered at sea.

Her last request remains at the front of Mr Turner's mind.

The truth is, he said, he just cannot afford the costs of hiring a boat or travelling to the coast at the moment.

"I can't do that just yet," he said.

"When things settle down we will think about it again and go out to scatter her ashes."