Lots of us have been cutting down on treats as the cost of living has continued to rise.
It's meant luxuries like takeaways have become a rarity for many, and you might be more likely to catch the bus than take a taxi.

And this is having a knock-on effect on the people who'd usually deliver that pizza or drop us off after a night out.

Deliveroo rider Atlanta Martin says she's noticed people ordering less and has had to adapt to limit her costs.

"I delivered in a car for three years and now I've swapped to an e-bike," the 22-year-old says.

"Our pay hasn't gone up, sadly.

"So being on a bike, obviously I'm not spending on fuel, insurance, all of that."

Atlanta started riding in Worthing, near Brighton, during lockdown, sharing her trips on TikTok and YouTube, where she's grown her following to more than 50,000.

"Lockdown was great because it was so busy and the pay was slightly higher then, but it's dropped since," she says.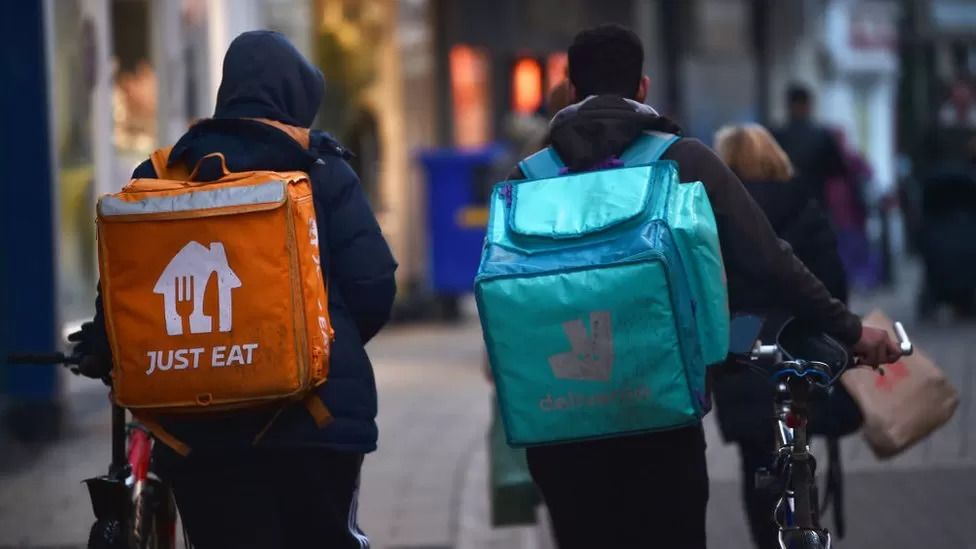 The TUC estimates more than 4 million people in the UK work in the gig economy
The Trades Union Congress (TUC) estimates that about 4.4 million people in the UK are platform gig economy workers - people who find jobs on apps like Deliveroo and Uber.
One of the main advantages these companies advertise is that working for them is like being your own boss.
You get to choose which jobs you do and when.
It can provide flexibility and you're in control of how much you earn based on how many deliveries or pick-ups you do. At least, that's the theory.
But there is a downside too - workers aren't paid expenses such as fuel, or for the time they spend waiting outside restaurants to pick up your meals.
Often, that can mean what drivers and riders earn falls below the UK National Living Wage, which is currently set at £9.50 an hour.
Atlanta lives with her partner which she said has cushioned the impact of rising prices.
Although her hourly rate can sometimes be as little as £3, she says it often balances out during busier times.
During the World Cup, for example, an increase in demand meant she could earn up to £35 an hour.
"You can make the money, I think you've just got to put in the hours," says Atlanta.
"And being on a bike now, obviously not having the extra expenses, has really made a difference."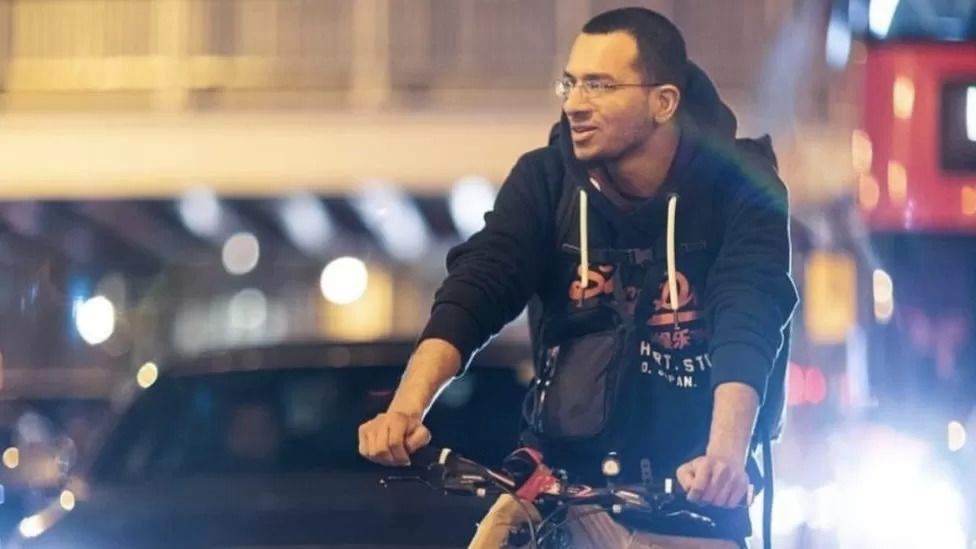 Shaf Hussain says couriers have to take more risks to earn the same pay they got last year

Shaf Hussain has been working for Deliveroo and Uber Eats since he was 21, delivering takeaways and shopping.

"Most people, they have fun in their 20s, being like: 'Let's go out partying, let's go enjoy life," says the 28-year-old Londoner.

"I was working as a courier most of my 20s, and now I haven't had a holiday in seven years."

Since the cost-of-living crisis hit, "we're working a lot more for a lot less," he says.

Like Atlanta, he's noticed fewer orders being made, meaning less work is available to him.

Depending on how busy it is, Shaf says he can make anywhere between £6 to £15 an hour, "but there's always a cost for that".

He lives with his parents to save money but hopes to one day soon have a place of his own.

He says he puts pressure on himself to work a lot more - often meaning he has to weigh up his safety and wellbeing against his need for income.

After several accidents over the years, Shaf has avoided working in poor weather.

But, due to rising prices, he's now having to reconsider.

"Working in the snow, working in bad weather conditions is a risk," he says.

"And for us to take a day off, that means the next day we have to then go even harder than what we would normally.

"To take one day off we need to work two days essentially."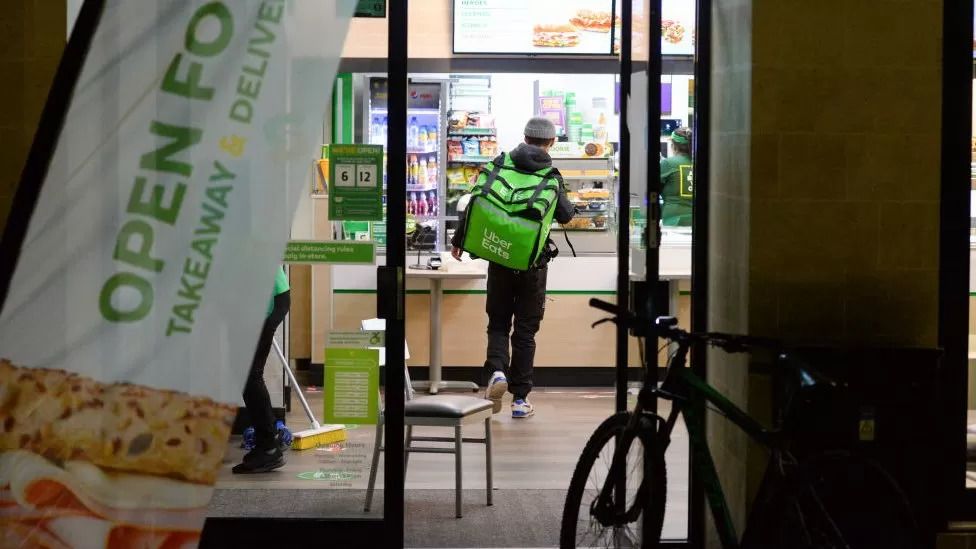 Unions want to see greater support for gig economy workers

The TUC and other unions want to see greater protections for workers like Shaf and Atlanta who they say miss out on basic working rights.

These include things like holiday pay, sick pay and pensions.

One of those joining the calls is the IWGB, which describes itself as the union for people in insecure jobs.

It found three quarters of platform gig economy workers were having to increase their working hours due to the cost-of-living crisis.

Its research, based on a small survey of 266 gig workers, suggests that about half of respondents had seen a reduction in their monthly pay.

Among those who responded, some said they were earning hundreds of pounds less each month.

The TUC says it is difficult to obtain data about gig economy workers because they're described as self-employed, making understanding the problems facing the workforce a challenge.

Deliveroo says there has been a small decline in the number of orders on the app towards the end of 2022.

Shaf and Atlanta both say on their current pay they'd struggle to afford to live on their own, but neither plan to leave the industry any time soon.

Last year, some couriers held a demonstration calling for better pay and safety and Deliveroo responded to say the vast majority were happy with the firm.

A spokesperson told BBC Newsbeat it was proud to offer flexible work to 90,000 riders in the UK and that it had recently signed an agreement with the GMB Union to guarantee riders the national living wage.

The BBC also contacted Uber, which said the "vast majority" if its couriers were satisfied with their experience on the app.

"However we regularly engage with couriers to look at how we can improve their experience," the company added.