Whole genome sequencing of the patient's sample by a public laboratory found a match with a sub-lineage of the Delta strain, known as AY.4.2.
Health authorities have reported Hong Kong's first coronavirus infection involving the "Delta Plus" strain, which experts warn may be more transmissible than the original variant.

While overseas evidence suggests the latest version of the virus may spread more easily among household members, local public health experts urged residents not to panic, with authorities stressing the strain was not significantly more resistant to Covid-19 vaccines.

The Delta Plus diagnosis, involving a 62-year-old man who arrived from Britain on Monday via British Airways flight 027, was revealed by the Centre for Health Protection on Friday. Whole genome sequencing of the patient's sample by a public laboratory found a match with a sub-lineage of the Delta strain, known as AY.4.2 to the medical community.

The patient, who lives in Block 21 of Baguio Villa in Pok Fu Lam, had travelled to Britain on October 16. The airport testing centre detected his infection upon arrival, and the man's sample was sent for full sequencing analysis.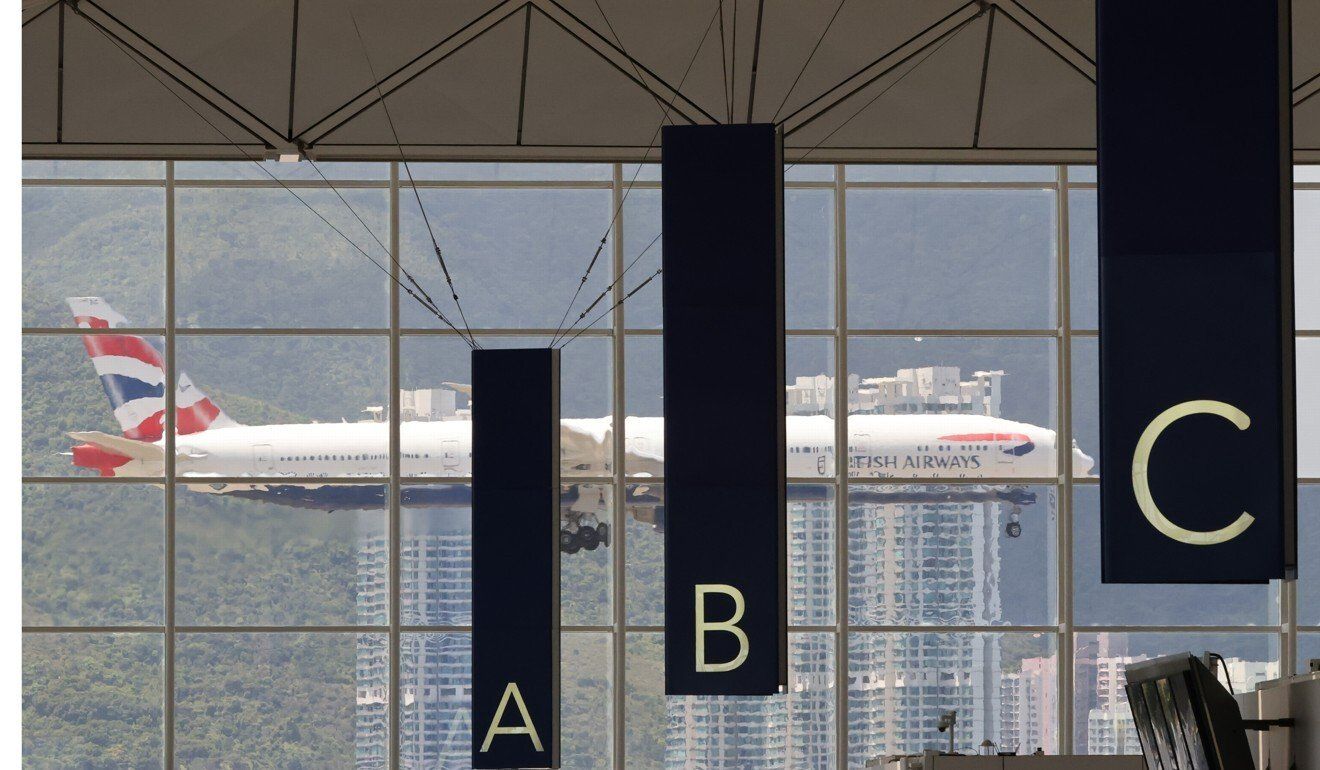 The man arrived in Hong Kong via a British Airways flight.

The patient, who is employed at the Hong Kong Football Club in Happy Valley, last went to work on October 14, according to the centre. His workplace and residential block, as well as locations he visited during the virus incubation period, have been issued with a mandatory testing notice. No local cases have been found so far.

Experts said detection of the Delta Plus case was unlikely to thwart the city's long-running bid to convince Beijing to restart quarantine-free cross-border travel.

Earlier on Friday, city leader Carrie Lam Cheng Yuet-ngor struck a confident note when she told business leaders at a forum that major cross-border business events could be held by February next year. She revealed to the Post on Thursday that a preliminary reopening starting with Shenzhen could come as early as next month.

Asked whether the Delta Plus case would affect the prospect of the border reopening, government pandemic adviser Professor David Hui Shu-cheong said: "Not unless it leads to community outbreaks, which is unlikely."

He also said the current restrictions placed on UK arrivals – 21 days of hotel quarantine along with six Covid-19 tests – were sufficient, despite Delta Plus cases rising in the country. "Don't panic," he said.

Respiratory medicine specialist Dr Leung Chi-chiu also cautioned against overreaction.

"The additional mutations were found in other variants and do not appear to confer too much survival advantage for the virus," he said. "[We] just need to observe at the moment."

The single new infection confirmed on Friday involved an arrival who travelled on the same flight as the Delta Plus case.

The 46-year-old woman, who received BioNTech jabs in Hong Kong on March 19 and April 24, had been quarantining at the Nina Hotel Island South in Wong Chuk Hang since her arrival.

Investigations were continuing into whether she was also a Delta Plus case. The city's overall infection tally now stands at 12,360, with 213 related deaths.

Last week, the World Health Organization warned that AY. 4.2 had been detected in at least 42 countries and said it was closely tracking the subvariant to determine whether it was more transmissible than the original strain.

The sub-lineage has three additional mutations compared with the original Delta variant, including two in the spike protein – the part of the virus that latches on to human cells – which could affect transmissibility.

Some 93 per cent of all detected cases are in Britain, according to data uploaded to the GISAID global science initiative.

"It was reported that AY.4.2 might be more transmissible than other Delta strains, especially among household members," the centre said. "So far, preliminary analysis in the United Kingdom does not find significant reduction in vaccine effectiveness for AY.4.2 compared with other Delta strains."

Leung said it was not yet a certainty that Delta Plus would become the dominant strain globally, replacing the original Delta variant. "Even if it does, it is not likely to occur in a short time."

Meanwhile, the government said 24,500 people, or 1.3 per cent of the 1.86 million given priority access as elderly and vulnerable groups for a third dose of a Covid-19 vaccine, had signed up on Friday, the first day bookings opened.

Inoculations will begin on Thursday after officials this week adopted recommendations by expert committees to boost waning immunity levels of some recipients after six months.