The nightclub where a 23-year-old footballer died in a knife attack has had its licence suspended for 28 days.
Birmingham City Council held an urgent meeting earlier after police said there had been "serious management failings" at the Crane venue.

The West Midlands force said Cody Fisher had died during "a fight on the dance floor" and officers had then faced "a scene of chaos and drug use".

The suspension is pending a full review hearing to take place at a later date.

Managers of the Digbeth club said they were cooperating with authorities following events on Boxing Day (26 December).

One sergeant's account said the club's security guards had asked officers to help them with crowd control following the stabbing, while other "oblivious" staff members were "wandering around all over the place" and began cleaning up the crime scene.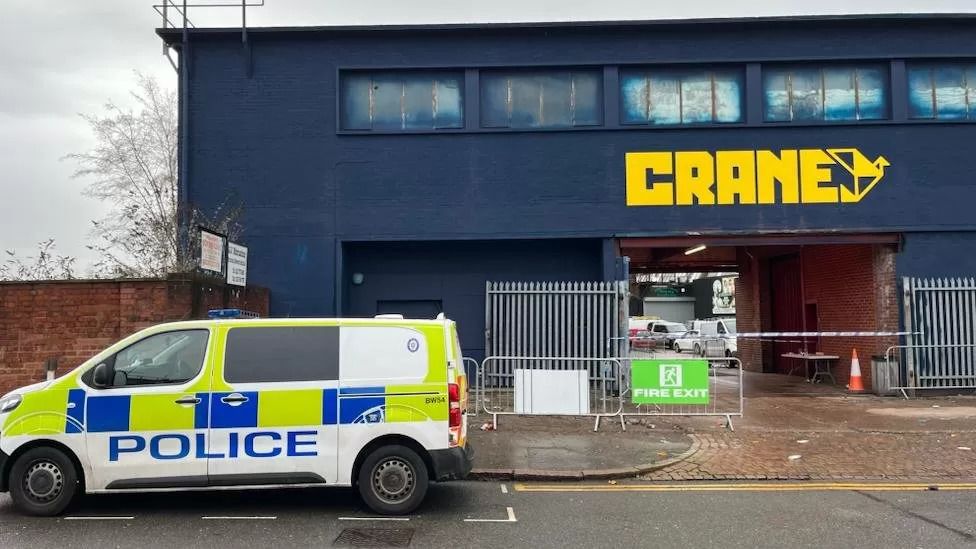 The nightclub says it recognises its security measures must come under close scrutiny
"They have started to clean the dance floor further down from where the deceased was; officers shouted at them to stop," the sergeant said.
"While officers are doing CPR, you can see people are just wandering around in the scene freely. As soon as we had more officers on the scene they were removed and the whole dance floor was cordoned off and the area was made sterile.
"There were hundreds of small drugs bags and nitrous oxide canisters all over the dance floor. These include the small and the very large nitrous oxide canisters with balloons."
In a statement issued after the hearing, the nightclub said it was focused on "helping support the fullest possible investigation".
"It cannot be business as usual at the Crane and we have not opposed the temporary licence suspension requested by the police," it said.
"It is much too early to comment on details or individual anecdotal accounts surrounding this appalling event; these must be sifted and assessed with care, and we welcome that.
"We recognise that issues such as checks and security facilities employed at the venue on that evening must come under close scrutiny, and whilst our contracted security staff are qualified professionals licensed by the SIA, this will nevertheless be the subject of a careful and detailed review."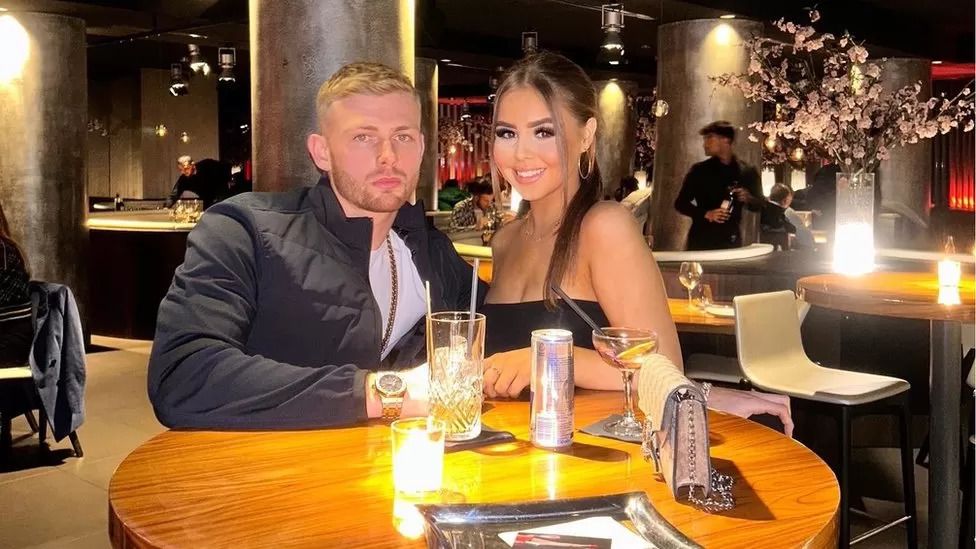 Tributes to the player, pictured here with girlfriend Jess Chatwin, have been posted on social media

Officers said they had arrested a 22-year-old man in London at about 03:00 GMT on Thursday in connection with the stabbing.

He is the third person to be arrested on suspicion of murdering Mr Fisher, a left-back for Stratford who previously played for other non-league clubs including Bromsgrove Sporting and Stourbridge. The sportsman also worked as a coach at a school in Redditch, Worcestershire.

Detectives were given more time on Friday to question the first two people after magistrates granted them an extension.

Four others were arrested on suspicion of assisting an offender with two released on bail and two remaining in custody, police said.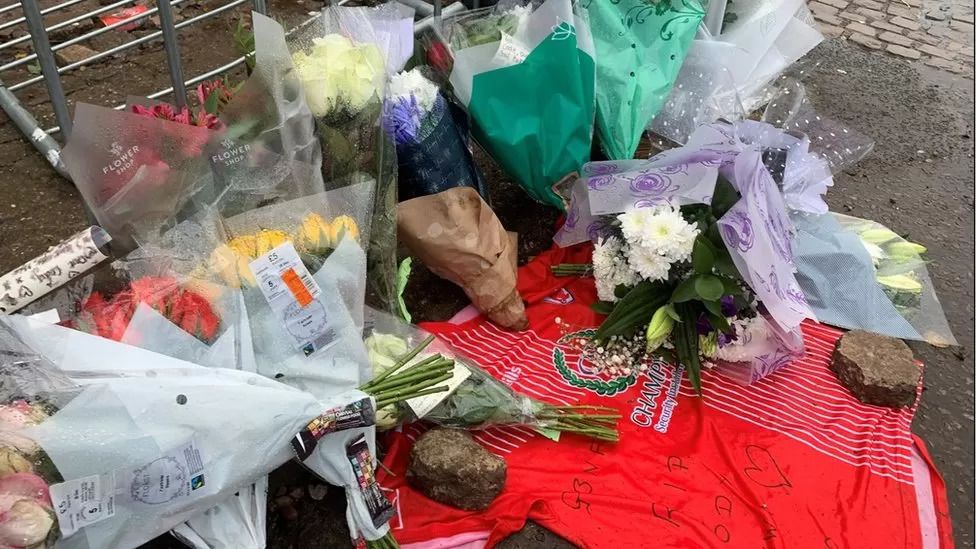 Flowers in memory of the 23-year-old have been left outside the nightclub

Police recovered a knife from the scene and a post-mortem examination confirmed Mr Fisher died of a stab wound.

Meanwhile, four men have been arrested in Birmingham on suspicion of attempted robbery by police using Section 60 powers - granted following the death of Mr Fisher and another fatal stabbing in the city.

Officers stopped and searched a vehicle spotted outside a club on Trent Street and detained the men aged between 18 and 24.

Birmingham City, where Mr Fisher was part of the academy, held a minute's silence ahead of kick-off in their home match against Hull on Friday. Players, officials and staff members also wore black armbands as a mark of respect.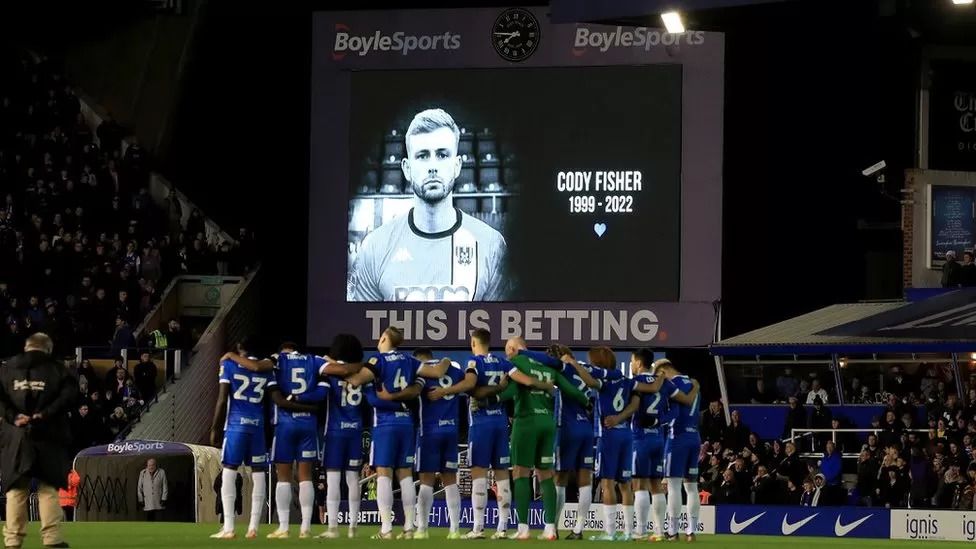 Players from both teams observed a minute's silence for Cody Fisher at Birmingham City's match on Friday with Hull

A match on Monday between Bromsgrove Sporting and Stratford Town, for whom Mr Fisher played more than 50 times, has been postponed.

A statement from the Southern League on Stratford Town's website said: "The cruel and savage events of Boxing Day that resulted in the fatal stabbing of Stratford Town's Cody Fisher has brought hurt and pain to so many.

"Stratford Town [is] advising the league that players, management, staff and supporters are struggling to overcome the incident and request time to seek professional help for those that need it and as such, as a club, are in no fit state to fulfil the fixture.

"The league and its board sends its best wishes to all those affected, hoping that the pain begins to heal."

In a statement on its website, Bromsgrove Sporting said: "A request was made to the league by Stratford Town to postpone the match as their players, some of whom were with Cody on that night, will need more time and support to come to terms with what has happened.

"We at Sporting fully understand and support Stratford's players' feelings.

"Some things are more important than football."