Difficult decisions will be needed "across the board" on tax and spending, the new chancellor has told the BBC.
Speaking in his first interviews since replacing Kwasi Kwarteng, Jeremy Hunt said some taxes will go up, while government spending may need to fall.

Cutting the top rate of tax and not independently costing measures were mistakes being "put right", he added.

He also insisted he had a "clean slate" after Liz Truss sacked Mr Kwarteng on Friday.

Mr Hunt, a former foreign secretary who had not been part of Ms Truss's cabinet, was made chancellor on Friday as the prime minister sought to restore confidence in her government.

In another dramatic day in Westminster, the PM also scrapped the plan to freeze corporation tax - set out in the 23 September mini-budget - in another major U-turn.

Speaking to the BBC, Mr Hunt signalled a big shift away from the economic policies of Ms Truss and Mr Kwarteng.

"Taxes are not going to come down by as much as people hoped, and some taxes will have to go up," he said. "I'm going to be asking all government departments to find additional efficiency savings."

While he did not say where taxes could rise or public spending be reduced, Mr Hunt did not rule out cuts to NHS spending or rowing back on Ms Truss's pledge to increase defence spending to 3% of GDP.

The chancellor, a Rishi Sunak supporter in the leadership contest, said the government needed to "show the world we have a plan that adds up financially".

Ms Truss, prime minister for just 39 days, is already facing pressure from within her party following September's mini-budget, which included £45bn worth of tax cuts and sparked turbulence in the financial markets.

Mr Hunt said Ms Truss's administration had made "mistakes", adding: "It was wrong to cut the top rate of tax for the very highest earners at a time where we're going to have to be asking for sacrifices from everyone to get through a very difficult period."

And he also said it was wrong to "fly blind" and announce the mini-budget without a forecast from the Office for Budget Responsibility (OBR).

He said both of these were now in the process of "being put right".

The chancellor made a series of other points about the government's mini-budget and discussed possible plans for his new role in his interviews with the BBC:

*  He said he hoped to keep the 1% cut to the basic rate of income tax, but that no decisions had yet been made

*  He said he would keep the energy price guarantee and praised the former chancellor for implementing it

*  He is asking government departments to find "efficiencies", meaning possible cuts to spending

*  He also refused to commit to a pledge by Boris Johnson's government to raise benefits in line with inflation, though he said he was mindful of the needs of the most vulnerable

Meanwhile, Bank of England Governor Andrew Bailey said there had been a "meeting of minds" when he held discussions with Mr Hunt on Friday.

Mr Bailey made the comments after hinting at impending fresh interest rate hikes.

"Inflationary pressures" meant a "stronger response" could be needed from the Bank than previously thought in August, the governor said.

And the Institute for Fiscal Studies warned Mr Hunt had inherited a "difficult and tricky situation", with the public finances "very stretched".

The think tank's director Paul Johnson said: "I think we're going to see even further reversal of tax cuts that we've had, and in addition probably some very tight spending rounds."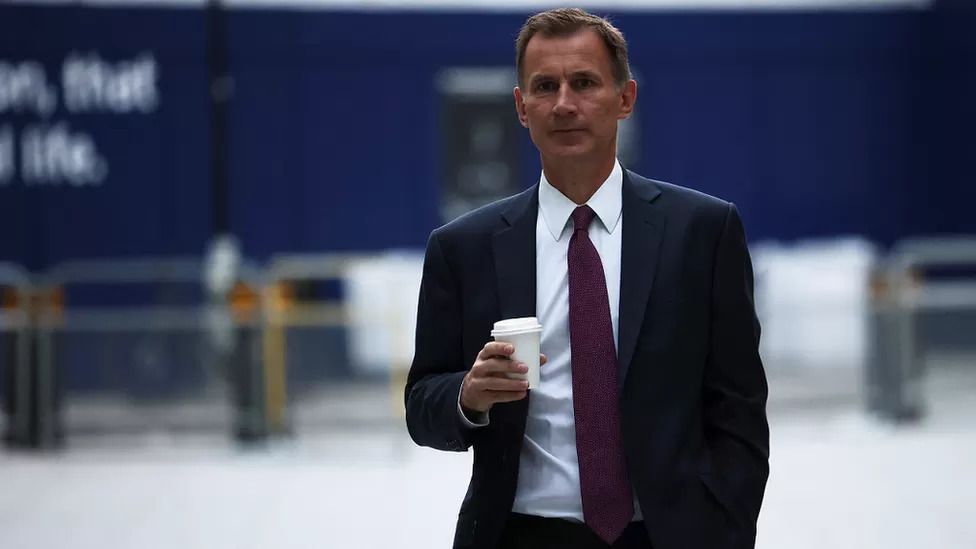 Jeremy Hunt arriving at the BBC on Saturday

Despite Mr Hunt's appointment, Ms Truss and her premiership remain under significant pressure.

One Tory MP described the party as being in a "state of despair," but Truss supporter Christopher Chope said "time will tell" if she had done enough to secure her position.

Labour leader Sir Keir Starmer accused the prime minister of "grotesque chaos" following the sacking of Mr Kwarteng and called for a general election.

During a speech in Barnsley a day after the upheaval in Westminster, Sir Keir said Ms Truss was "clinging on", arguing that there was "no historical precedent" for the current situation facing her government.

But Mr Hunt rejected suggestions of a general election, saying the country needs "stability".
Watch: Chancellor admits mistakes made and some taxes will rise