The Government has announced a scaled-back energy support scheme for businesses from the start of April.
The Treasury has said it will spend £5.5 billion to give businesses and other organisations discounts on their energy bills for 12 months from the start of April.

Announcing the plans, the Treasury said previous "unprecedented" levels of support for businesses throughout winter, estimated to have cost around £18billion, were only ever intended to be time limited.

However, it said new measures, under which firms will get a discount on wholesale prices rather than their costs being capped as under the current scheme, would still provide business with certainty over energy prices until spring 2024.

The change will come into effect when the current support package ends in March and will strike "a balance between supporting businesses over the next 12 months and limiting taxpayer's exposure to volatile energy markets," said ministers.

Non-domestic energy users will be given a discount of up to £6.97 per megawatt hour (MWh) of gas and £19.61 per MWh of electricity.

Companies paying less than £107 per MWh for their gas and £302 per MWh for their electricity will not get support.

There will be a special discount for some companies that use a lot of energy, predominantly based in manufacturing. These businesses are set to receive a maximum unit discount of £40.0/MWh for gas and £89.1/MWh for electricity.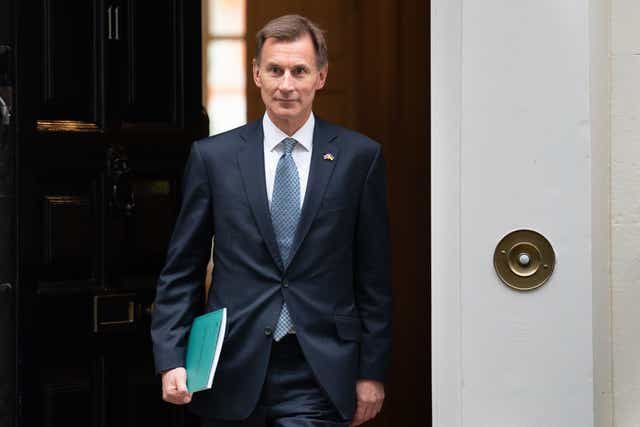 Chancellor Jeremy Hunt
"Wholesale energy prices are falling and have now gone back to levels just before Putin's invasion of Ukraine," said Chancellor, Jeremy Hunt.
"But to provide reassurance against the risk of prices rising again we are launching the new Energy Bills Discount Scheme, giving businesses the certainty they need to plan ahead."
He added that he was "concerned" that falling energy prices were not being passed onto businesses, saying he had written to the regulator Ofgem to ask whether more action is needed.
According to Treasury estimates, under the old scheme a pub could have been given up to £3,100 per month in support, depending on energy use.
Under the new scheme the same pub will get £190 per month.
The plan was welcomed by the Confederation of British Industry, which said it would "provide respite for many firms".
"It's unrealistic to think the scheme could stay affordable in its current form, but some firms will undoubtedly still find the going hard," said CBI director for decarbonisation policy Tom Thackray.
"The Government has done much to protect businesses through the energy crisis. It must remain open, flexible and pragmatic in its approach to volatile wholesale energy markets as the year unfolds."
Gareth Stace, director general of UK Steel, welcomed the announcement, but said the extra support for his industry might still not be enough.
"There will be concerns that the newly announced support falls short of that of competitor countries, including Germany," Mr Stace said.
He added: "The Government is betting on a calm and stable 2023 energy market, in a climate of unstable global markets, with the scheme no longer protecting against extremely volatile prices."