The CBI says it is suspending key activities until June after a number of firms quit the business group following allegations of rape and sexual assault.
Dozens of firms have announced they are leaving the group or pausing their membership after new allegations about misconduct at the organisation.

A second woman claimed she was raped by CBI colleagues in a Guardian article on Friday.

The CBI said it "shares the shock and revulsion" at the alleged events.

The board of the lobbying group said it wanted to talk to "colleagues, members, experts and stakeholders" to get their opinion on the CBI's future role and purpose.

"As a result, we have taken the difficult but necessary decision to suspend all policy and membership activity until an extraordinary general meeting in June," the board said in a statement.

The board will put forward proposals at that meeting "for a refocused CBI", it said, adding that "this work and the cultural reform will be the entire and urgent focus of the organisation over the coming weeks."

Despite membership operations being suspended until June, firms will still be free to quit if they choose, the BBC understands.

The City of London Police was investigating an alleged rape at a CBI summer party in 2019 before the Guardian reported the second incident.

Detective Chief Superintendent Richard Waight from the City of London Police said that no arrests had been made and investigations were continuing, and asked anyone with information to get in touch.

Firms leaving

On Friday, retailer John Lewis was among the high-profile firms to quit the lobbying organisation, which claims to represent 190,000 companies.

John Lewis said it made the decision to quit membership of the CBI "due to the further very serious and ongoing allegations".

Other firms that have quit include: BMW, Virgin Media O2, Vodafone, insurers Aviva, Zurich and Phoenix Group, banking firm Natwest, credit card company Mastercard; B&Q owner Kingfisher; media firm ITV; insurance marketplace Lloyds of London; investment firm Schroders; and auditor EY.

The Association of British Insurers has also left, as has Energy UK, which represents energy suppliers.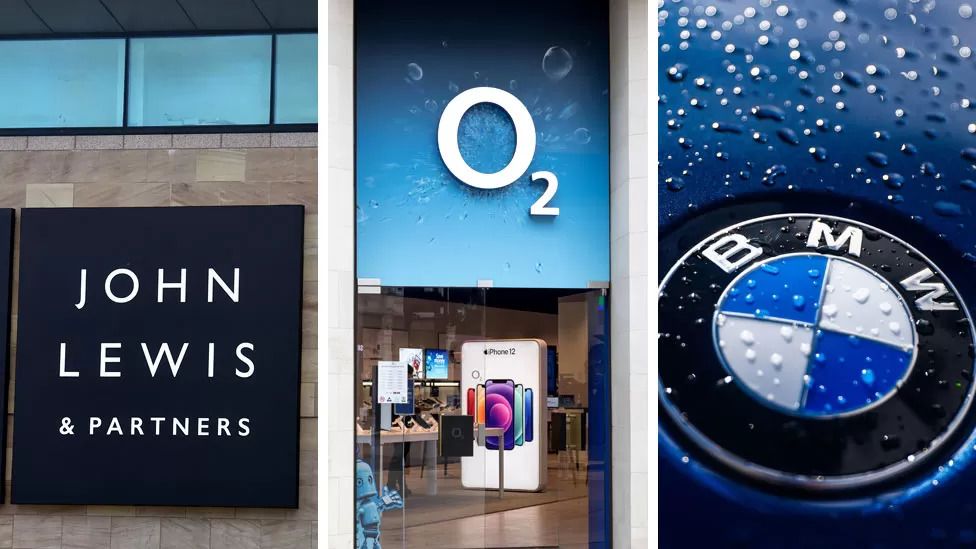 Several well-known firms have announced in recent days that they are quitting as members of the CBI

Organisations that have suspended membership include: pharmaceutical giants GSK and AstraZeneca; airports operator Heathrow; retailers Tesco, Sainsbury's, Asda, and Marks & Spencer; banking group Santander; National Grid, Octopus Energy and Scottish Power; drinks giant Diageo; Rolls Royce; Unilever; BT; property company British Land; accountancy giant PwC; Manpower Group; British Beer and Pub Association; and Shell and BP.

The government had already announced that it was pausing its engagement with the business group.

Last week the British Insurance Brokers' Association said it had withdrawn its membership "in light of recent reports".

The CBI which employs more than 300 people, has been in crisis since allegations of a rape at one of its summer parties in 2019 and other sexual misconduct at the organisation emerged earlier this month.

Three employees have been suspended pending the outcome of an investigation by law firm Fox Williams.

The group's director-general was dismissed over separate complaints.

Staff concerns

A source close to employees at the CBI said the crisis of the past few weeks had taken an "emotional toll" on staff.

"At first there was relief that people were talking about it," the source said. "It felt as though taking it public was holding management to account."

"But now, as darker allegations have come out, this has been hard on the staff."

The source said there had been "an avalanche" of members resigning and that staff are concerned about their jobs.

"They're worried about whether the business will still be here tomorrow," the source said.

Staff will continue to work and be paid as normal until at least June.