Ministers are facing a clash with opposition and Conservative MPs over their plans to scrap EU-era laws copied over to UK law after Brexit.
Under government proposals, thousands of laws are due to expire automatically after December unless specifically kept or replaced.

It has prompted concerns that important legislation could lapse by accident.

Labour wants to push the end-of-year deadline back to 2026, arguing it will ensure employment rights are retained.

And several Tory backbenchers, including former Brexit secretary David Davis, are backing an attempt to give MPs a greater say over what is scrapped.

The suggested changes will be discussed later when the Retained EU Law Bill, introduced under Liz Truss, returns to the House of Commons.

So far, the government has identified more than 2,400 EU laws that were copied over to UK law to minimise disruption to businesses when the UK officially left the EU in 2020.

Wide-ranging powers

This official estimate is expected to increase significantly, with a further 1,400 previously unidentified laws recently unearthed by the National Archives.

The total has prompted concerns at the workload required within the civil service to review all the legislation.

The bill would also give ministers wide-ranging powers to change or get rid of EU laws, prompting criticism that important changes in a wide range of areas could be made without proper scrutiny.

Labour has put down several amendments to exclude various EU laws from the December 2023 deadline, including rules on airline compensation, toy safety, transporting animals, and equal treatment for part-time employees.

Meanwhile, several Conservatives, including Mr Davis and former cabinet minister Sir Robert Buckland, are backing a move to give MPs more control over which EU laws are ditched.

'Power to Westminster'

Under their plan, the government would have until the end of September to draw up a list of laws it wants to scrap, with MPs then able to add or remove legislation from the list after a vote.

Mr Davis - a former Brexit secretary and leading figure in the campaign to leave the EU - said he wanted MPs to be in the driving seat, not government departments.

The aim of the Leave campaign had been to "give power to Westminster, not to Whitehall", he told the BBC.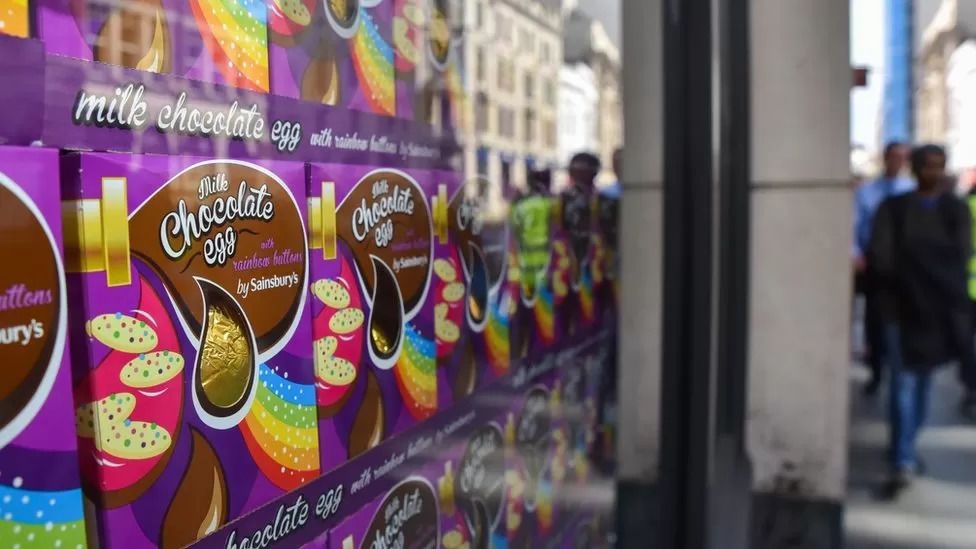 Retained EU law touches on various areas - including the labelling and marketing of chocolate products

Official estimates indicate that removing or replacing EU-era laws by the December deadline will require the government to pass around 1,000 new pieces of legislation.

The government says this process is an opportunity to make regulations more business-friendly, and rejects the suggestion that environmental or employment protections will be watered down.

But green groups in particular have warned about the difficulty of reviewing the large number of EU-era environmental laws, covering areas such as mollusc farming, border checks on imported salamanders, and rules for importing hay.

'Urgent problem'

EU laws covering financial services are exempted from the deadline as they have been carved out into another bill making its way through the Commons. The same is expected for EU legislation affecting VAT and customs.

Some of the EU laws affect areas areas governed by ministers in Wales, Scotland and Northern Ireland - but the UK government is yet to publish a breakdown.

The SNP-led Scottish government and Labour-run Welsh government have both expressed concerns about the bill, and recommended that their respective parliaments withhold their approval.

Prime Minister Rishi Sunak, who promised during his unsuccessful summer leadership campaign to review or scrap EU laws within 100 days of taking office, is facing pressure from some Brexiteers not to change the end-of-year deadline.

Former Brexit secretary Jacob Rees-Mogg, who introduced the bill, wrote recently that the "inheritance of the EU regulatory system is now an urgent problem across our economy".

The bill will go through its final stages in the Commons on Wednesday. It will then go to the House of Lords, where it is expected to face significant opposition.