Anti-poverty campaigners are calling for housing associations to stop tearing up carpets between tenants and leaving many with bare floors.
Most social landlords rip up flooring when a tenant moves out due to hygiene - but it's not always replaced quickly.

Some 1.2 million people in the UK have no carpet or flooring in their bedrooms and living areas, a survey suggests.

Lena and her son moved into a flat in Oldham months ago but the floors are still bare.

"It makes it really hard to keep either of the bedrooms warm," she said.

By law UK landlords only have to put flooring in kitchens and bathrooms. Campaign group End Furniture Poverty is calling for this law to extend to the rest of the house.

It is urging housing associations to inspect and reuse what is already there where possible.

The vast majority of people living without flooring in all rooms - 760,000 - were in social housing, according to the survey of 5,500 people carried out by The National Centre for Social Research.

It also found 4.8 million adults in the UK were living without at least one item of essential furniture, like floors, beds, fridges, curtains or blinds.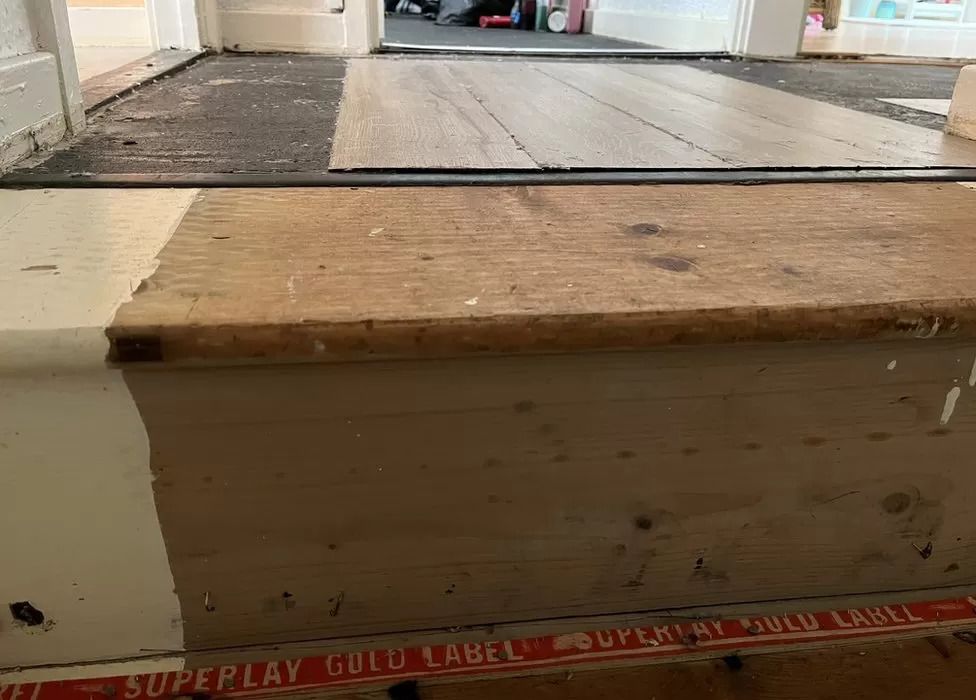 Lena's bedroom and stairs have no carpet and old grippers stick out around the edge

When Lena moved into her first floor flat she did not have a bed so spent the first few nights sleeping on top of a duvet on the concrete floor in her bedroom.

Research by The Leeds Sustainability Institute states that carpets can reduce air leakage by up to a third in some homes, making homes without carpet, lino, or laminate more expensive and difficult to heat.

Lena said it was unlikely that she would be able to afford to carpet the house herself before winter.

"You've got to get the carpet, get it fitted and then delivery, so how do you do that on a low income? I'm trying my best, but I can only do what I can," she said.

Kelly Webb, director of customer services at Lena's landlord, First Choice Homes Oldham said its approach was leave any good quality floor coverings in place.

"We also offer help to customers who are struggling to afford flooring and furnishings so they can settle into their home comfortably," she said.

Kate Henderson, chief executive of the National Housing Federations said: "In social housing, carpets have historically been removed as standard practice for practical reasons, to ensure hygiene between lets and to prevent any possible contamination."

But End Furniture Poverty called this a "terrible policy" and urged housing associations to inspect, clean and leave flooring in place if possible.

Claire Donovan head of policy at the campaign group said: "That's low cost, it's quick, it's easy and could help over three quarters of a million people who are living without flooring in social housing."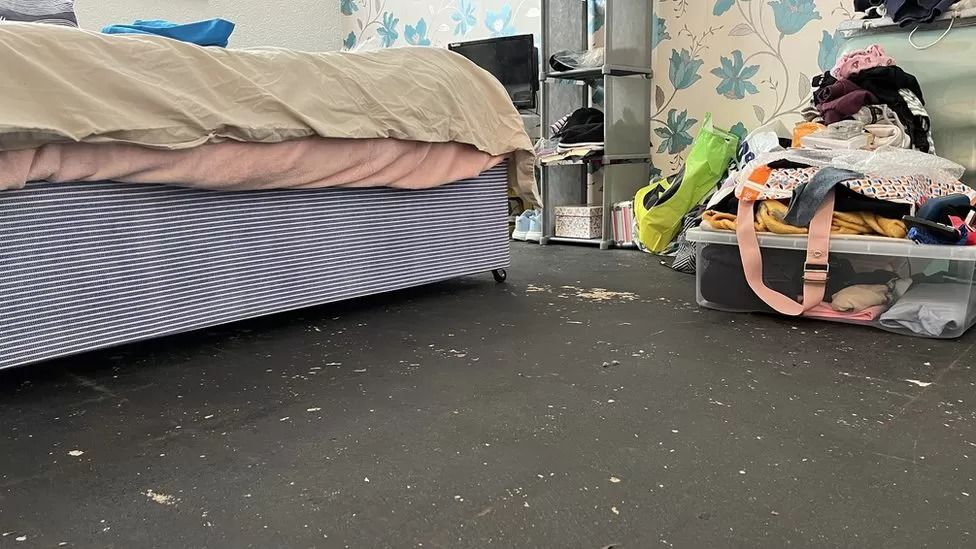 Lena's bedroom floor still has no carpet months after she moved in

Each country in the UK has responsibility for its own social housing under devolved powers from the government.

The Welsh Government is due to publish standards for social housing which require that all habitable rooms, including staircases and landings have suitable coverings. It told the BBC it expected this to become law in the Autumn.

End Furniture Poverty is calling on the governments in England, Scotland and Northern Ireland to do the same.

The Department for Housing in England said: "Landlords must ensure homes are of a decent standard and investigate and respond to complaints quickly. If residents are unhappy, they can contact the Housing Ombudsman."

The Scottish Government said: "Provision of floor coverings is the responsibility and personal choice of social housing tenants" and that the Scottish Housing Charter states homes must be in a good state of repair.

And in Northern Ireland the Department for Communities said there were "no plans to legislate on flooring" but that there is a support fund for those in crisis which could apply to flooring.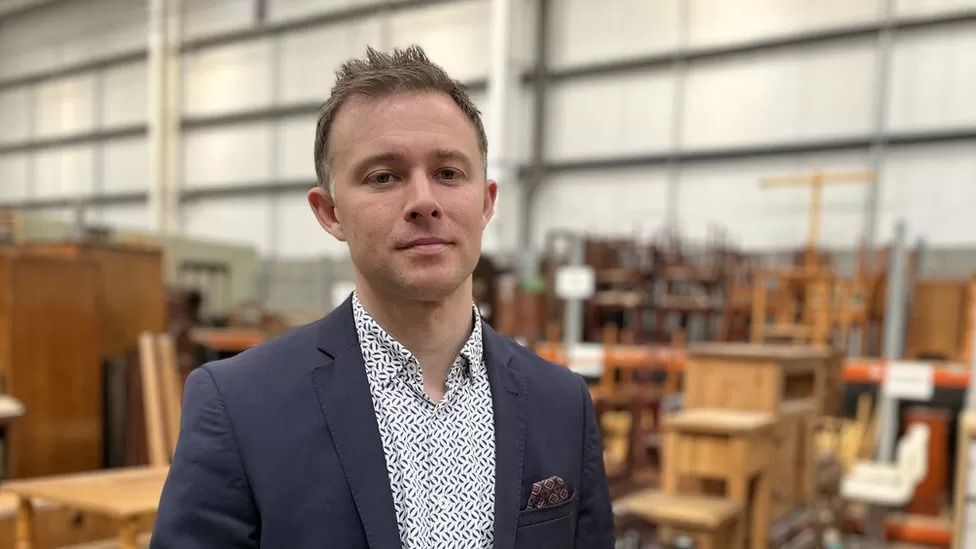 David Ripley said Thirteen Group Housing Association in Middlesbrough guarantees flooring for every tenant

A handful of social housing providers are already tackling the issue. In Middlesbrough, Thirteen Group Housing Association guarantee flooring for every tenant.

Chief executive David Ripley said: "We looked at our process and thought actually there's a different way to manage this risk.

"The use of disclaimers came in to enable us to leave existing carpets and flooring within properties."

He said the price of new carpets in some properties had not cost the business any extra as tenants had stayed in properties longer, looked after them better and been less likely to fall into rent arrears.

"That saves Thirteen Group £1.5m each year… which we reinvest back by putting the flooring in the properties when we let them," he added.

Some charities are also working to help put an end to families living without flooring.

The Church-based donation site ACTS 435 have managed to get hundreds of individuals funding for flooring in bedrooms and living rooms.

Greenstream Flooring in Porth give away re-used carpet tiles to people in need who have been referred. And No Floor No More based in St Albans gather up old carpets and laminate flooring to re-distribute to social housing tenants in need.

What should I do if I have no floor?

• Ask your Housing Association or landlord for help

• Check if your local council has any funding in its Local Welfare Assistance or Household Support Fund which could be used on flooring to help insulate your home

• Ask around to see if any charities in your area help with flooring

• Check re-use sites like Freecycle to see if any bits of carpet or laminate flooring are being given away.

• Even small rugs, draught-excluders and stick-on flooring will go some way to help keep the room warm.