Princes William and Harry were joined by Catherine and Meghan at Windsor as they viewed the tributes to the Queen and spent time talking to the crowd.
Thousands of people had gathered throughout the day outside the castle before the four arrived.

Amanda Goldsmith was one of many who had come to Windsor to lay flowers, where she met the new Prince and Princess of Wales.

"I shook William and Catherine's hands. She is so beautiful and was lovely. She spoke to me for ages.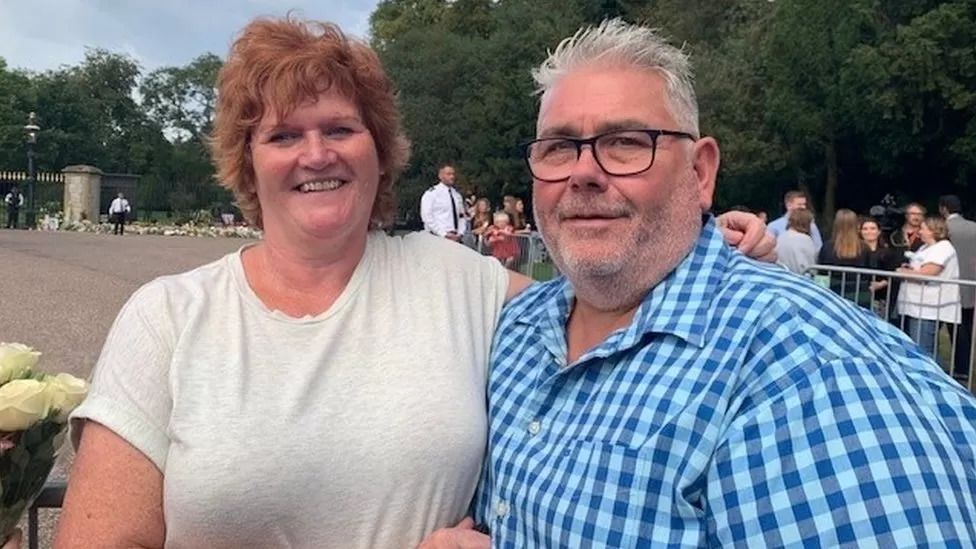 Amanda Goldsmith and husband Andrew Mitchell waited hours to meet the Prince and Princess of Wales

"I told them I was sorry for their loss and she said 'it's just not the same at the castle without the Queen'."

Ms Goldsmith, who had come from West Byfleet, in Surrey, with her husband Andrew Mitchell, said the Prince of Wales had commented on the flowers and cards left by children saying they were amazing.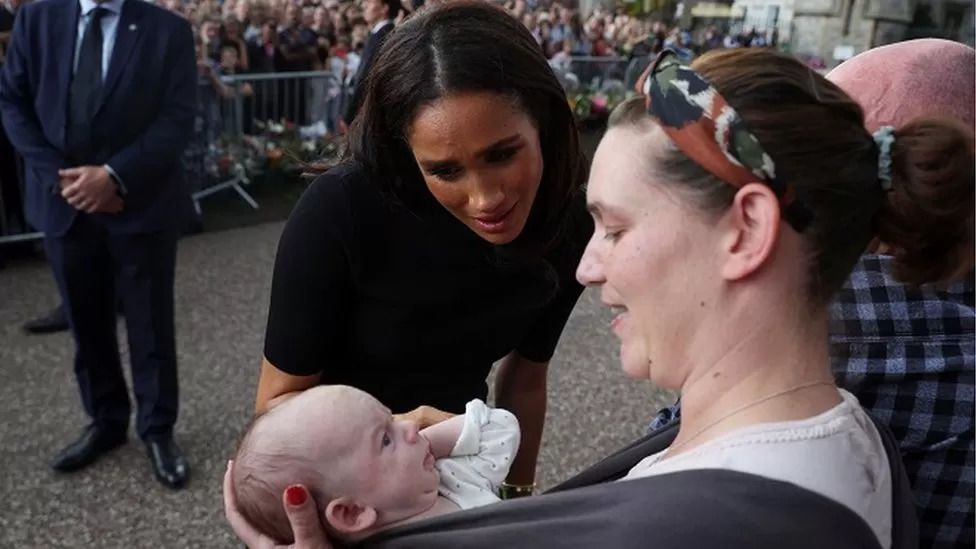 The Duchess of Sussex spent time speaking to those in the crowd

On Thursday Prince William and his brother Prince Harry had joined their father and other senior members of the Royal Family at Balmoral in Scotland as a statement was issued that the Queen was under medical supervision, before later that day it was announced that she had died.

Now on the day that King Charles III was proclaimed King in a grand ceremony at St James's Palace, his sons were together in public outside Windsor, meeting some of the thousands who have been gathering since Thursday.

For many within the crowd the first sign that the royals were about to appear was when security placed barriers around the Cambridge Gate entrance and on Long Walk.

Then suddenly there were cheers, children were raised on people's shoulders and everyone's phone was in the air to grab a picture as Princes William and Harry arrived with Catherine and Meghan..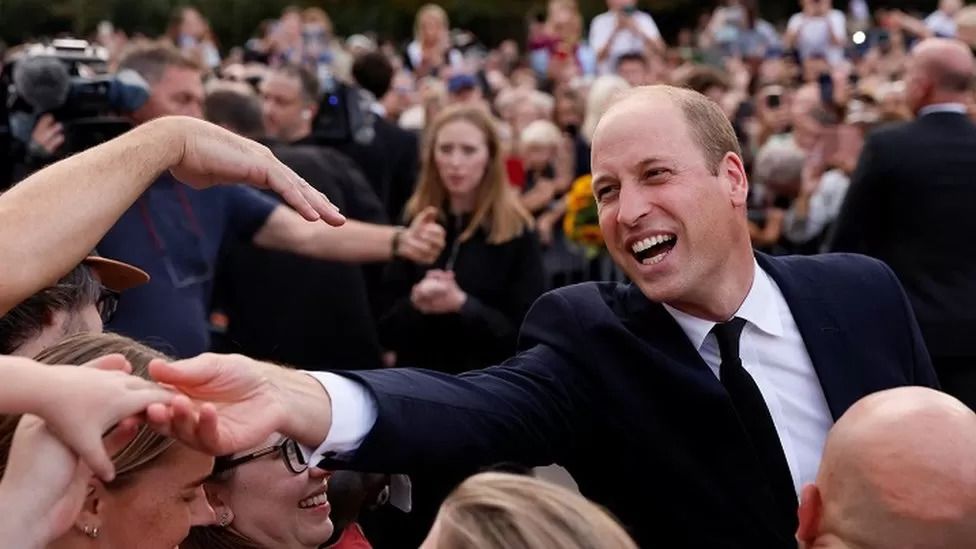 William was made the Prince of Wales by his father, King Charles III

The last time William was joined in public by his brother at Windsor Castle was at the funeral of their grandfather the Duke of Edinburgh in April last year.

Silence then fell as the couples, united in grief, stopped to read the tributes, pointing out particular messages.

The Duke and Duchess of Sussex held hands as they walked from the car and read the tributes, with Harry affectionately putting his hand on Meghan's back at one stage.

Applause broke out again as the four royals then made their way to greet the waiting crowd, where they received dozens of bouquets.

Priti Vyas, from Pinner, said she "felt both happy and very emotional" and was glad to have been able to speak to the Sussexes to give them her condolences.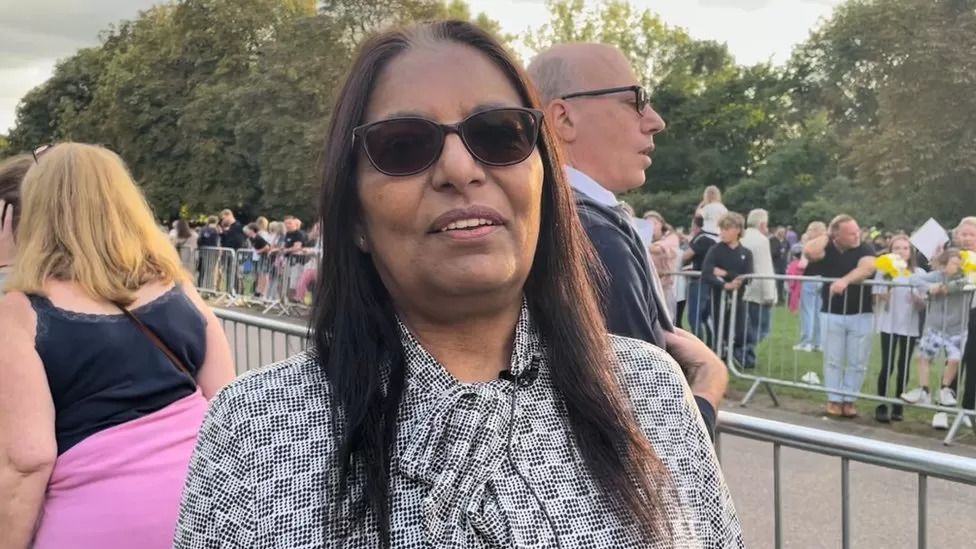 Priti Vyas said she could feel the "warmth from Harry and Meghan"

"We talked about the Queen, and Harry wanted to know if I had met her before," said Ms Vyas, adding that she had only seen her from a distance, once.

She said it had been lovely to speak to the couple, if only for a quick chat and that she had felt genuine "warmth from them".

"All four of them thanked me to be here waiting for them and I congratulated Kate and William.

"I just wish that their grandmother was here as well," she said.

Sukhjit Johal, came from Coventry, also came to pay her respects and was glad to see the royals.

"Kate was bending to see all the children, if she heard anyone say her name she would turn round and try to talk to them - like the Queen did.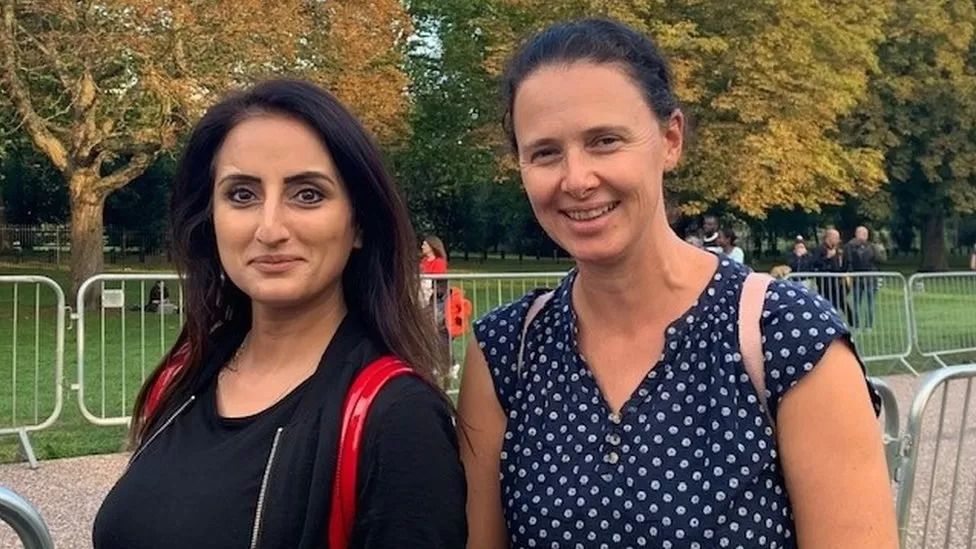 Sukhjit Johal and Julia were disappointed to not speak to the Royals

"They really seem to understand the nation has lost the Queen too - they're allowing us to grieve with them," she said, something she felt was "really heartfelt" when "all of them are going through a deeper level of grief than the public".

Julia, from London, was close enough to catch a glimpse of the Prince of Wales and his brother.

While William had appeared "very sombre" as his father was proclaimed King earlier in the day, she said he was smiling as he met the crowd.

"I could see Harry on the other side and he was reaching up high, trying to reach as many hands as possible."

Moments before Prince William had met the crowd he had issued a tribute to his "Grannie", saying: "She was by my side at my happiest moments. And she was by my side during the saddest days of my life".

The Prince and Princess of Wales, with their children Prince George and Louis and Princess Charlotte moved to Windsor last month. The Duke and Duchess of Sussex are living in the US, having left the UK in March 2020.
Watch: William, Kate, Meghan and Harry pay respects at Windsor