Tens of thousands of workers have downed tools this year to request pay deals that keep up with the rising cost of living.
It has left the public having to deal with train strikes, overflowing bins, gridlock in the courts and disruption to other services such as mail deliveries.

There could be further strikes through the winter and next year, as doctors, nurses and teachers are in dispute with employers over pay.

Why are the strikes happening?

Though most disputes involve a range of issues, the main one is pay.

Inflation - the rate at which prices rise - is close to 10 per cent, the highest level for 40 years.

That means workers are seeing their living costs rising faster than their wages, leaving them worse off.

Workers in many industries belong to trade unions, which are organisations that represent their interests to management and negotiate on their behalf about pay, jobs and conditions.

Where those unions have not been able to get a pay deal they feel is fair, and haven't been able to agree a compromise, they vote on whether to take industrial action.

At the most extreme, this means going on strike where workers refuse to do their jobs to try to persuade their employers to give in.

Workers can also take less drastic measures to put pressure on their bosses, such as refusing overtime. Doctors and nurses won't completely stop work as that would put lives at risk.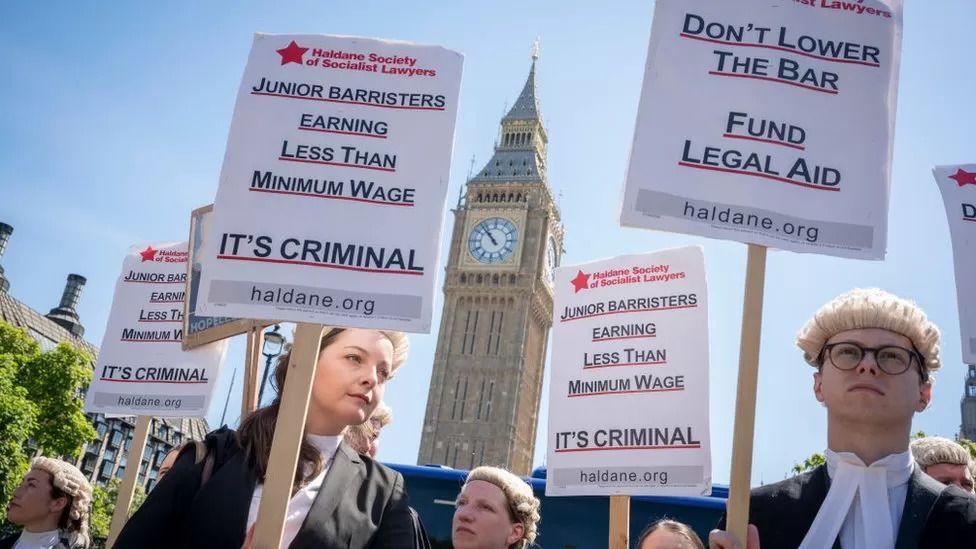 Barristers have been among those striking this year

Industrial disputes have definitely been rising since the pandemic. In 2019, on average 19,500 days a month were lost to strike action. In July, the figure was 87,600, according to the Office for National Statistics.

Who is striking?

The most high-profile strikes include:

* The railways have been disrupted by a series of strikes since June. Members of three rail unions - the RMT, the TSSA, and ASLEF - taking part in a series of one-day strikes which have brought parts of the rail network to a virtual standstill. The next strike is planned for 8 October.

* Workers at Royal Mail have held strikes since August, and have another 19 days of walk-outs planned between October and December. Around 115,000 members of the Communication Workers' Union will take part in the strikes.

* Around 40,000 workers at BT and Openreach went on strike for the first time in over 30 years in July, seeking a better pay deal, with further action plan for October.

* Criminal Barristers in England and Wales have been taking action since June to demand higher fees for representing clients, delaying thousands of trials. They are now voting on whether to accept an improved offer from government.

* Some 4,000 staff at 23 further education colleges are staging one-day walkouts over pay.

* Dock workers at Felixstowe and Liverpool are also in dispute over pay.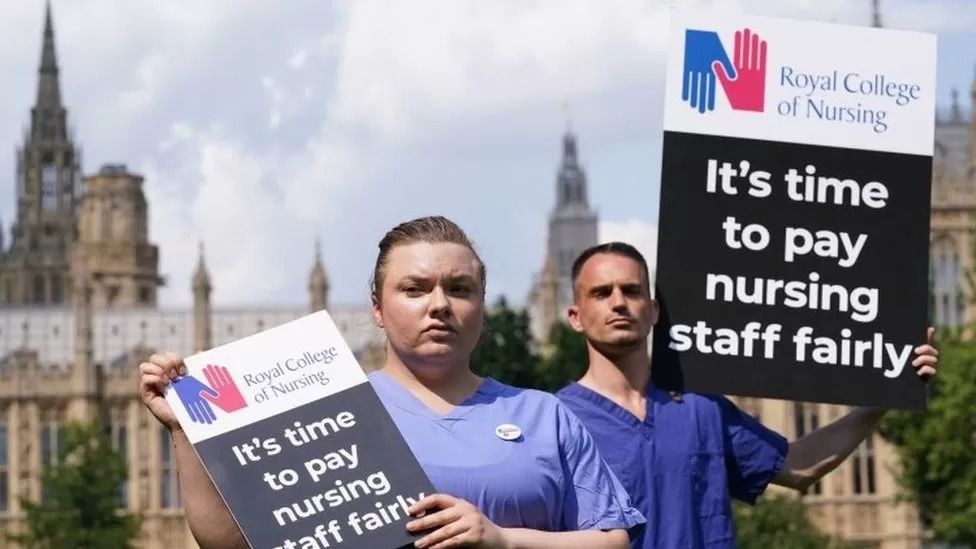 Who is considering going on strike?

* The Royal College of Nursing is balloting all of its members in the UK for the first time in its 106-year history. They are requesting a pay rise of 5% plus inflation.

* Junior doctors in England, represented by the British Medical Association, are planning to ballot on industrial action in January over a pay deal which will give them 2% this year.

* Some 400,000 health workers belonging to Unison are to vote on industrial action. Voting began on 3 October in Scotland, and will start on 27 October elsewhere in UK.

* The NASUWT and NEU teachers' unions are taking steps towards a vote on industrial action over pay.

* Around 70,000 staff at 150 universities have been balloted by the Universities and Colleges Union over pay and pensions.


What do employers say?

Staff wages are a major cost for most businesses and some of the companies which are in dispute with their workers say they do not have enough money to give pay rises.

Royal Mail and the rail companies say they want to agree new working practices alongside the pay award, which has proved another point of dispute.

Doctors, nurses, and the striking lawyers are paid by the government. Their salary is set by a review process which published its findings in July, presenting millions of workers with below-inflation pay rises.

The new chancellor, Kwasi Kwarteng, suggested on 3 October that he is reluctant to increase the money which has been made available to departments through the Comprehensive Spending Review process to allow them to pay more.

The government has unveiled a big package of tax cuts, which will make it harder to make bigger pay awards to public employees without borrowing extra money which it cannot afford.

The Bank of England worries that if workers win big pay rises, their employers will have to put prices up. That pushes up inflation, causing workers to request bigger pay rises, creating a 'wage-price' spiral which could lead to a sustained period of inflation.

However, workers are in a strong position as unemployment is extremely low. There are more vacancies than people looking for work and many employers are short of workers.

Has anyone managed to get big pay rises?

A number of strikes have been resolved this year, with some workers being awarded pay rises of 10% or more.

* Refuse workers in Eastbourne, negotiated a deal worth over 11% in January after going on strike.

* Train drivers in Scotland agreed a 5% pay deal in June.

* 2000 Bus drivers in North London won an 11% pay deal after threatening a strike.