Wales' Six Nations match against England will go ahead after the Welsh players decided against strike action.
Saturday's game in Cardiff was in doubt with players threatening not to play because of a dispute with Welsh rugby bosses over contracts.

But the Welsh Rugby Union (WRU) and Wales squad players have reached a compromise on some key issues.

Warren Gatland's players return on Thursday for his team announcement after a scheduled Wednesday off.

During it, the players and Welsh Rugby Union chiefs settled some differences.

A rule which stopped players who had not reached 60 caps from playing for Wales if they moved outside the country has been significantly changed.

Players will now be free to play for Wales if they are based elsewhere if they have won 25 caps or more.

Players and agents will also have the option of a fixed contract or a fixed and variable deal instead of the previous offer of 80% salary as basic pay with 20% made up in bonuses.

On Tuesday, head coach Gatland had said he was confident the matter would be resolved despite delaying naming his side and cancelling a scheduled training session.

Had the game been called off it would have cost the WRU almost £10m.

The Wales players wanted three issues resolved before they agreed to take the pitch at the Principality Stadium.

They were also seeking Wales Rugby Players' Association (WRPA) representation at Professional Rugby Board (PRB) meetings.

PRB chairman Malcolm Wall stated the players' demand for that voice on the committee that oversees professional rugby in Wales will be accepted with WRPA Gareth Lewis attending all PRB meetings with immediate effect.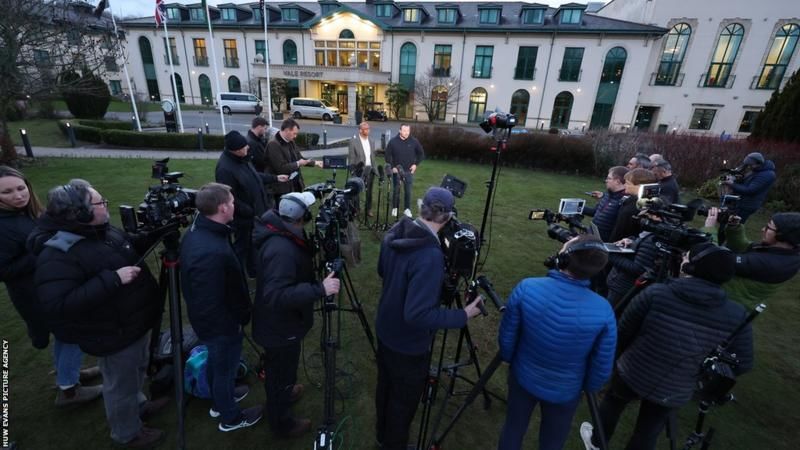 The media assemble to speak to Wales captain Ken Owens and acting chief executive Nigel Walker
What happened on Wednesday?

Gatland revealed a training session on Tuesday afternoon had been cancelled so players could continue negotiations and admitted the strike threat was genuine.

The Wales players had set a deadline of Wednesday for the issues to be resolved.

There was a meeting on Wednesday morning of the PRB which is made up of representatives from the WRU and four regions - Cardiff, Dragons, Ospreys and Scarlets.

The PRB, including Wall, WRU acting chief executive Nigel Walker and regional bosses, then met more than 100 of Wales' professional players in the Vale of Glamorgan hotel, which is the national squad's training base.

Walker and Wall attended a virtual WRU board meeting before a further meeting with Wales captain Ken Owens. After a day of negotiations, word of a deal finally arrived.

'A merry-go-round of crisis after crisis'

Owens admitted the reputation of Welsh rugby had been tarnished after the players had to resort to this situation.

"We are happy hence why the game is on Saturday," said Owens. "There has been huge frustration over the last number of months and it is disappointing that it got to this stage.

"We felt we had to make a stand, but the conversations that have taken place over the last 10 days or so have shown that some positive resolutions can be found.

"If we can continue to do that in the future, we don't end up in a position like this. It has been a difficult period and it has got to be a long-term solution.

"Welsh rugby can't keep going on this merry-go-round of crisis after crisis, because it is affecting everyone in the game.

"We need to pull together now and find the best way forward, and do it together to put Welsh rugby at the top end of world rugby, and not the laughing stock, which I think we are at the moment."

WRU interim chief executive Walker apologised to the players.

"Ken has used that phrase 'laughing stock', I'll let other people decide whether we are a laughing stock," Walker said.

"It's been an unedifying period for us, there are no two ways about it. It is my job over the next six months to make sure we're not having conversations like this in the future.

"I understand the position the players were in and we at the PRB shouldn't have put them in that position.

"So, once you recognise you put them in a difficult position and they responded the way they responded, you know you've got something wrong. We are going to make sure we don't get into this position again.

"There's a number of things we've got to do to ensure this dialogue continues from here on in and any issues are dealt with swiftly."

The WRU and regions are still to formally sign the six-year financial framework with Walker adding contracts will be start to be offered next week.

In the meantime the England game will go ahead and Owens insisted the threat to not play on Saturday was real but believes Wales will be ready to perform to their best.

"It has been a distraction with everything that has been going on, but I have got to commend the players' professionalism in this," added Owens.

"When we have crossed that white line at training, we've prepared well and done our work as professional players. We are ready for Saturday.

"We have fronted up in training and prepared as we would for any Test match and are looking forward to going toe to toe with England."