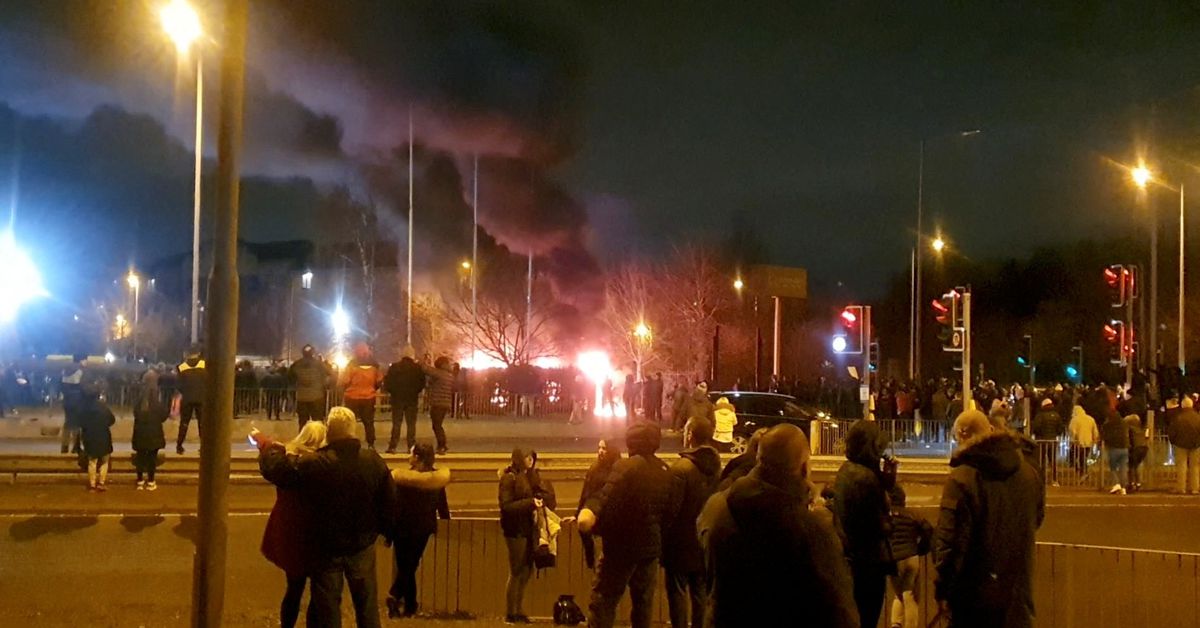 Violence outside British hotel for asylum seekers leads to 15 arrests
British police said on Saturday 15 people, including a 13-year-old child, had been arrested after a protest by crowds outside a hotel housing asylum seekers turned violent, causing injuries and a police van being set on fire.
Offenders threw missiles including lit fireworks at police officers following an initially peaceful protest and counter-protest on Friday evening in Knowsley near Liverpool in north-west England, police said.

Knowsley Council said the protests occurred outside the Suites Hotel, which has been providing refuge to asylum seekers since January last year under a British government contract.

One officer and two members of the public received slight injuries, police said, adding that a total of 13 men and two women had been arrested.

"A number of individuals who turned up at the Suites Hotel last night were intent on using a planned protest to carry out violent and despicable behaviour," Merseyside Police Chief Constable Serena Kennedy said.

Some individuals had turned up armed with hammers and fireworks to "cause as much trouble as they could," she added.

Rumours and misinformation had circulated on social media ahead of Friday's violence following an incident on Feb. 6 in Knowsley in which a man made inappropriate advances toward a teenage girl, Kennedy said.

"We know that those involved in the violent activity last night used this as an excuse to commit violence and intimidate members of the public," she said, adding an investigation into the incident involving the teenage girl was ongoing.

As the number of migrants crossing the English Channel to reach Britain rises, the government has been using hotels across the country as temporary accommodation while it processes their applications for asylum.

Prime Minister Rishi Sunak has made cracking down on illegal migration one of his government's top priorities and is planning new legislation to address the issue.

Migrants arriving on small boats has become a major political issue, particularly in working-class areas in the north and central England, where they are blamed for making it harder for people to find work and stretching public services.

Police said they would enforce a dispersal order in the area around the Suites Hotel for two days and extra officers will carry out high-visibility policing to prevent further incidents.