Vapes confiscated from school pupils contain high levels of lead, nickel and chromium, BBC News has found.
Used vapes gathered at Baxter College in Kidderminster were tested in a laboratory.

The results showed children using them could be inhaling more than twice the daily safe amount of lead, and nine times the safe amount of nickel.

Some vapes also contained harmful chemicals like those in cigarette smoke.

High levels of lead exposure in children can affect the central nervous system and brain development, according to the World Health Organization.

It is thought vapes are being used widely by secondary school children and Baxter College is not alone in trying to stop them vaping during school hours.

The Inter Scientific laboratory, in Liverpool, which works with vape manufacturers to ensure regulatory standards are met, analysed 18 vapes.

Most were illegal and had not gone through any kind of testing before being sold in the UK.

Lab co-founder David Lawson said: "In 15 years of testing, I have never seen lead in a device.

"None of these should be on the market - they break all the rules on permitted levels of metal.

"They are the worst set of results I've ever seen."

In "highlighter vapes" - designed with bright colours to look like highlighter pens - the amounts of the metals found were:

* lead - 12 micrograms per gram, 2.4 times the stipulated safe exposure level
* nickel - 9.6 times safe levels
* chromium - 6.6 times safe levels

The metals were thought to come from the heating element - but the tests showed they were in the e-liquid itself.

The lab tests also found compounds called carbonyls - which break down, when the e-liquid heats up, into chemicals such as formaldehyde and acetaldehyde, also found in cigarette smoke - at 10 times the level in legal vapes. Some even had more than cigarettes.

Manufacturers have to follow regulations on ingredients, packaging and marketing - and all e-cigarettes and e-liquids must be registered with the Medicine and Health Care Products Regulatory Agency (MHRA). But the agency is not required to check the claims made in paperwork and has no power to investigate unregistered products.

MHRA head of e-cigarettes Craig Copland said the results would be reviewed to assess whether the vapes posed a health risk.

BBC News showed the findings to Baxter College pupils Leon and Oscar, whose vapes had been confiscated. They admitted in a previous interview they were hooked on nicotine and struggled to give up vaping.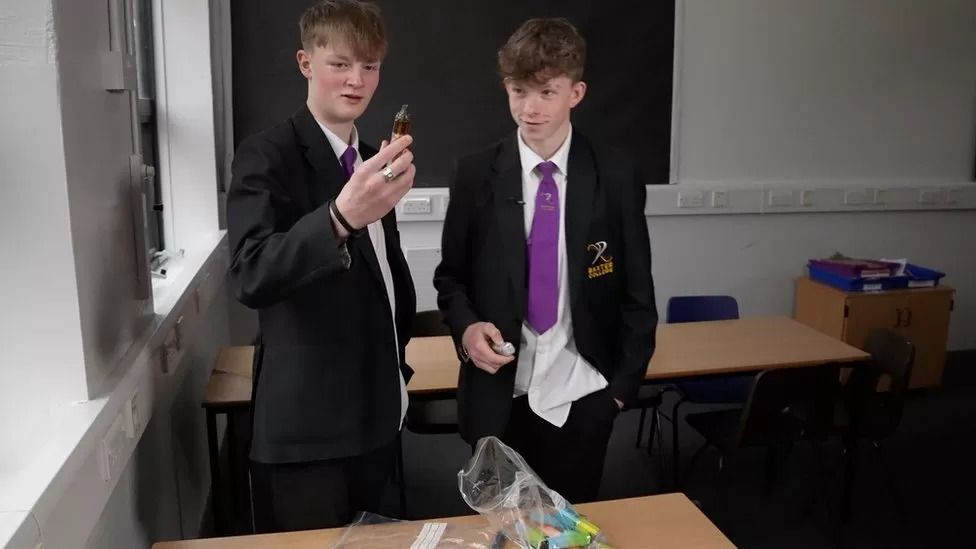 Baxter College pupils Leon and Oscar learning about their confiscated vapes

The boys say it is easy to ignore the risks.

"You won't really care, if you're addicted to it - you'll just forget about it," Oscar said.

Leon said regulation and policing should be doing more to tackle the problem.

"They're not really as bothered as they should be," he said.

Head teacher Mat Carpenter was horrified by the findings. He has installed sensors in the school toilets to try to reduce opportunities to vape.

"It's been part of youth culture for a long time and we are a long way behind the curve in influencing children's behaviour around this, which is why we need such a strong message," Mr Carpenter said.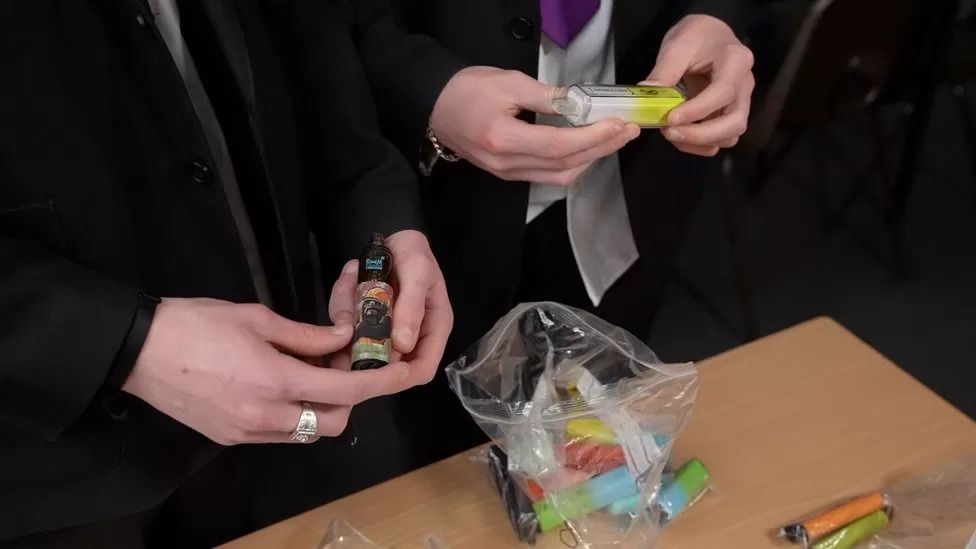 "As a society we are capable of holding two messages, one that if you smoke already vaping can have a positive effect on your health, but children should not be vaping."

University of Nottingham epidemiology professor John Britton, who sits on the Royal College of Physicians Tobacco Group, said inhaling metals could be dangerous.

"Lead is a neurotoxin and impairs brain development, chrome and nickel are allergens and metal particles in general in the bloodstream can trigger blood clotting and can exacerbate cardiovascular disease," he said.

"The carbonyls are mildly carcinogenic and so with sustained use will increase the risk of cancer - but in legal products, the levels of all of these things is extremely low so the lifetime risk to the individual is extremely small."

But Mr Lawson said there had been a much greater rise in illegal products recently and "some of these are hard to distinguish between the ones which are potentially legal".

The government has allocated £3m to tackle the sale of illegal vapes in England. It wants to fund more test purchases and have the products removed from shops and is calling for evidence to help cut the number of children accessing vapes.

It is illegal to sell vapes to under-18s. But a YouGov survey in March and April for Action on Smoking and Health suggests a rise in experimental vaping among 11- to 17-year-olds, from 7.7%, last year, to 11.6%.