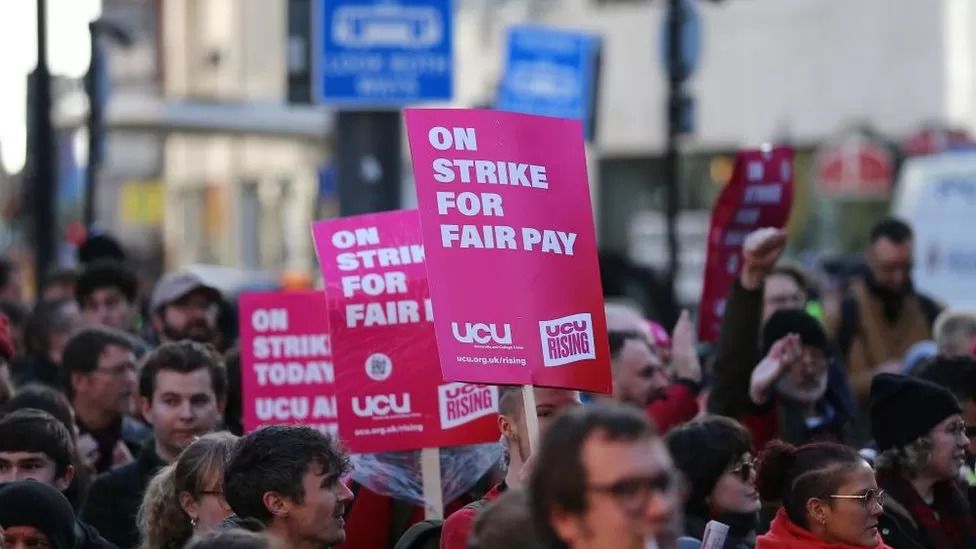 University staff join strikes on 1 February
Staff across 150 UK universities will strike on 1 February, the University and College Union has announced.
It is the first of 18 strike days planned in February and March. The UCU said it would confirm the other 17 next week.

A pay offer worth 4-5% made during talks with employers last week was insufficient, it said.

But the Universities and Colleges Employers' Association has said the offer is actually worth up to 7%.

UCU general secretary Jo Grady said staff would be walking out "alongside fellow trade unions".

Teachers, civil servants and train drivers will also be striking that day.

University staff held three days of strikes in November. Some academic staff and those in other professional roles, including administrators, librarians and technicians, also walked out earlier in 2022 and in 2021.

This year's 3% pay increase is far below the Retail Prices Index (RPI) rate of inflation, which currently stands at 14%.

But the dispute has also included calls to tackle "excessive workloads" resulting in hours of "unpaid work".

And many staff members are protesting at the use of short-term insecure contracts.

At the universities that have existed since before 1992, there is also a separate dispute, about proposed changes to the pension scheme.

National strikes by teachers in England and Wales are scheduled for 1 February, 15 and 16 March. There are several regional dates too.