Labour leader Sir Keir Starmer has said his party "stands steadfast in solidarity with Ukraine", as he visits Estonia.
He met Nato troops stationed in the country, which also shares a border with Russia, during a trip marking 15 days since the invasion of Ukraine.

Sir Keir also held talks with Estonian Defence Minister Kalle Laanet.

His visit comes as the Army says a small number of soldiers have disobeyed orders and gone to Ukraine to fight.

Estonia, which has a 183-mile (294km) border with Russia, is a full Nato member, but President Alar Karis has warned that Mr Putin's government could use hybrid warfare, including cyber attacks, against his people.

Sir Keir and shadow defence secretary John Healey met Colonel Dai Bevan, who commands Nato Enhanced Forward Presence in Estonia, at the Tapa base in the north of the country.

They had lunch with troops there and are returning to the capital Talinn to speak to MPs at the Estonian Parliament.

Sir Keir said: "We are talking to the troops about their operations and taking the opportunity to thank them for the work they are doing."

He added that Labour wanted to express its "unshakeable commitment to Nato".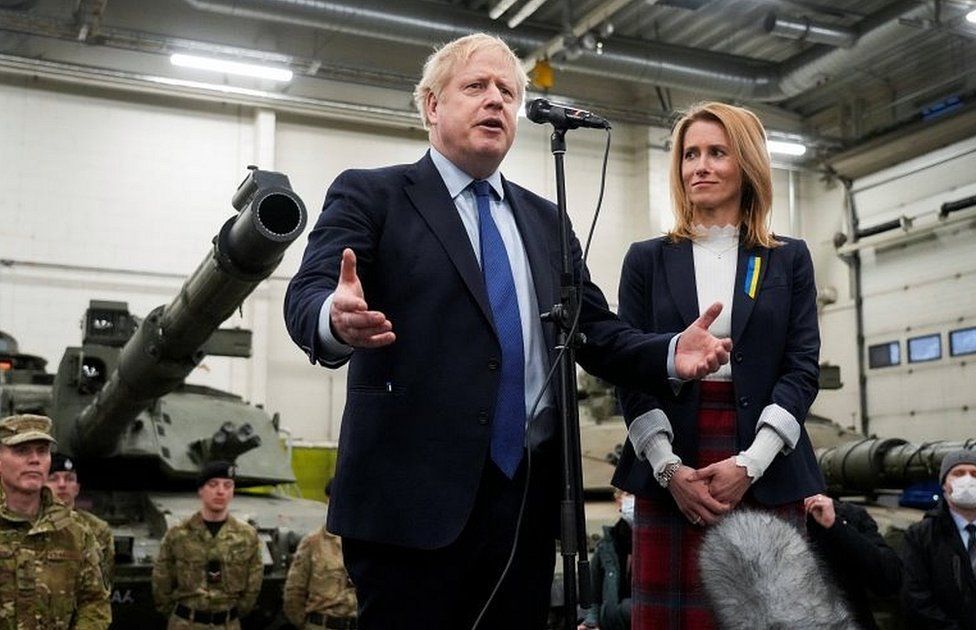 Boris Johnson visited the Tapa base last week

The British Army said a small number of soldiers had "disobeyed orders and gone absent without leave" and may have travelled to Ukraine "in a personal capacity".

There is no suggestion those involved were from the Tapa base.

Defence Secretary Ben Wallace has warned soldiers could face prosecution for desertion if they travel to Ukraine to fight the Russian army.

Sir Keir, while supporting the UK's military stance on Ukraine, called on the government to do more to help refugees.

Asked about Russia's air strike on a hospital in the city of Mariupol, in which Ukrainian officials say three people, including a child, were killed, Sir Keir said: "There are clearly international criminal offences being committed.

"There needs to be accountability and responsibility for that."

The White House says Mr Putin, who has nuclear weapons at his disposal, could be planning a biological or chemical attack in Ukraine.

Sir Keir warned against escalating tensions between Nato and Russia and said it was important to avoid discussing "hypotheticals" at the moment.