Dockers in Kent have refused to unload two tankers of Russian gas, forcing them to go elsewhere, a union has said.
The Boris Vilkitsky and Fedor Litke have been diverted from the Isle of Grain, the largest terminal in Europe for importing liquefied natural gas.

Unison head of energy Matt Lay said staff were "determined to support the Ukrainian people and uphold the sanctions imposed against Russia".

However, there are concerns over a loophole in the current sanctions.

UK Transport Secretary Grant Shapps announced on Tuesday that the UK had become the first country to pass a law banning ships with "any Russian connection" from entering its ports.

Mr Lay said: "Sadly, this doesn't seem to be the case."

"The Department for Transport rules only appear to cover the ownership and operators of vessels, not the cargo."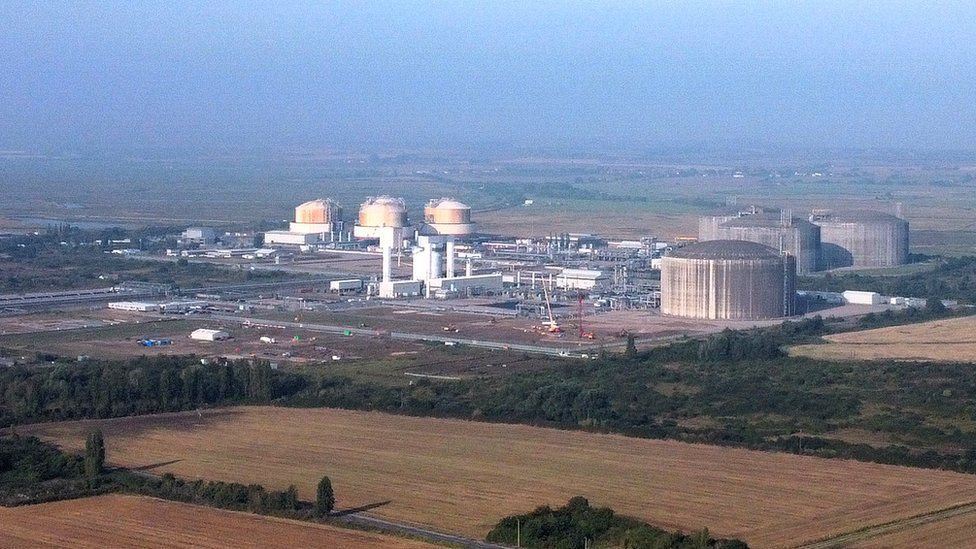 The Isle of Grain LNG is the largest terminal in Europe for importing liquefied natural gas

The two tankers contain enough liquid gas to supply the UK for up to 12 days.

The ships are sailing under the flag of Cyprus. Many ship owners opt to use a flag of another country for taxation or regulatory reasons.

Mr Lay added: "The government must act immediately to stop Russian goods continuing to arrive in the UK under the cover of another country."

A National Grid Spokesperson said: "In line with government policy, we do not expect any Russian-linked ships to dock at Grain."

Analysis
By Simon Browning, BBC News Business Correspondent

As the ground war in Ukraine continues, an economic offensive with Russia is under way.

Western governments have united during the last week to enforce broad sanctions on the Russian economy, its businesses and their leaders. Western retailers have pulled back too. But how effective are sanctions?

Blocking Russian vessels alone in this scenario may not be enough as many Russian businesses use transport that is licensed and registered in other countries, such as Cyprus, Hong Kong or The Bahamas. Experts say this is a loophole in sanction enforcement.

The rule of law is important here, because on what grounds would you block a vessel in line with Russian sanctions that is flagged in Cyprus or another country?

An enormous amount of due diligence would also need to be applied to every vessel movement and what the vessels are carrying. This would require huge amounts of enforcement, which sanctions experts say is substantial and complicated.

A spokesman for the Department for Business, Energy & Industrial Strategy said the sanctions apply to ships that are Russian owned, operated, controlled, registered or flagged.

He added: "Ministers are exploring options to further reduce the already small amount of imports we do get from Russia and we continue to urge Europe to put in place plans to end their dependence in Russian gas."

Julian Bray, editor-in-chief of international shipping newspaper TradeWinds, said: "While the cargoes themselves are not sanctioned, the ships are. And the number of ships is very wide, and can be added to ad hoc.

"The sanctions have effectively paralysed shipping to and from Russia. The legal uncertainties, risks to crews, insurance costs, and the potential financial and reputational risks means that very few ships and cargoes are moving."