With warnings about an unfolding humanitarian crisis following Russia's invasion of Ukraine - many people in the UK are searching to find out how they can help or offer assistance. So what are some of the ways they can do so?
Donations

A number of UK charities have launched appeals. The British Red Cross has launched a Ukraine Crisis Appeal to support the work of the Ukrainian Red Cross to fund food, water, first aid, medicines, warm clothes, and shelter.

Red Cross teams are also providing first aid training to people in metro stations and bomb shelters. And in the last few days, have delivered over 15,000 litres of drinking water to villages in eastern Ukraine.

The UNHCR refugee agency is collecting monetary donations for humanitarian assistance, emergency shelter and relief items like blankets. It will also fund psychological support for refugees.

Emma Cherniavsky, chief executive of UK for UNHCR, said "despite ongoing security challenges" relief is getting through to where it is needed, including essential relief items like sleeping bags and baby kits.

Unicef, the UN's children's charity, said it was accepting donations to help ensure child health and protection services are sustained and families have clean water and food.

The Association of Ukrainians in Great Britain, the largest representative body for Ukrainians in the UK, has raised nearly £850,000, which it said would fund immediate emergency and ongoing needs such as medicine and hygiene packs.

The Disasters Emergency Committee (DEC) has not yet launched an appeal for Ukraine, although it said it was continuing to monitor the situation closely.

It also directed people towards the British Red Cross, CARE International UK, the International Rescue Committee, and World Vision.

UK Defence Secretary Ben Wallace said donating money through the Ukrainian Embassy in the UK was one way of helping.

The embassy has set up a special fund called With Ukraine for people to send funds via PayPal or bank transfers.

The embassy said the money will be spent on providing humanitarian assistance to the civilian population and to purchase medical and military supplies for Ukraine's army.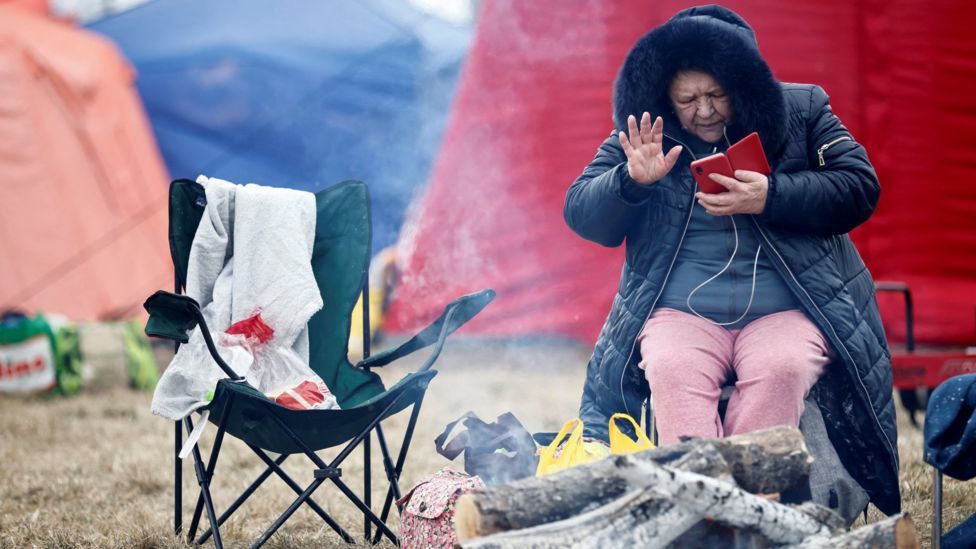 Hundreds of thousands of Ukrainians have fled the country to neighbouring Poland with little more than they can carry

As well as large organisations, individuals with connections to Ukraine are collecting money independently.

One Ukrainian mother, Inna Schorr, who lives in London, has raised thousands of pounds in just three days.

Ms Schorr told the BBC many of her family and friends are still in Ukraine and her husband has travelled to Poland to help. The family were originally asking for private donations before realising a crowdfunding page would be more effective.

She added that she felt inspired to help the mothers and children by collecting money for activities or support in the refugee camps. "It is as a support from mums to mums," she said.

With all financial contributions online, it is worth making sure you know where your money is going first - double check the organisation is real and is being shared by a trustworthy source.

Clothing and bedding

As well as financial donations, grassroot groups are collecting items to be taken to the frontline, including clothing, bedding, and sanitary items:

*  A family in Staffordshire who launched an appeal for essential items have also told the BBC they have been "inundated" and "overwhelmed" by the response

*  In Northern Ireland, a group of Polish people have organised a collection point at a Belfast warehouse for supplies

*  The Women of Newport community group in Wales has been accepting donations for refugees, asking people to only bring brand new toiletries and clothes or shoes that in good condition.

People intending to make a donation with any community group are advised to check which items are most needed and if they are still accepting donations.

Other ways to support

Some UK businesses have offered support, like chef Damian Wawrzyniak, who wrote on Twitter that he would pay for work visas and flights of two Ukrainian chefs looking for work in Britain.

Mr Wawrzyniak also said he could help with accommodation.

Currently temporary visa concessions for the family members of British nationals have been introduced.

Labour has said the failure to further relax visa restrictions is "immoral".

The Refugee Council told the BBC people living in the UK can help by volunteering with its organisation to support refugees and people seeking asylum and supporting its call on the government to "create more safe routes".

The UNHCR, meanwhile, has urged the government to automatically extend the visas of all Ukrainians with limited leave to remain in the UK.

Prime Minister Boris Johnson's official spokesman said: "We think the best way we can help Ukraine right now is by ensuring Putin fails.

"There are a number of ways Brits can show their support for that, and the Ukrainian embassy in London is putting out information about how British people can support."

It was not immediately clear what information, other than its crowdfunding page, had been published by the Ukrainian embassy.