Parts of the UK are braced for further flooding, as heavy rain and strong winds continue to sweep across Britain.
Yellow weather warnings for rain are in force across the north-east of England and eastern Scotland - while a more severe amber warning has been issued for north-east Scotland for Friday.

The "atrocious" weather has already seen widespread travel disruption - with some commuters stranded.

More than 175 flood warnings and alerts are in place in England and Scotland.

Met Office meteorologist Tom Morgan said amber warning areas such as Aberdeen would experience more than 100mm of rain.

On Thursday evening, the Met Office said more than half a month's worth of rain had fallen in some areas in the last 24 hours. Low Laithes in West Yorkshire saw 53mm (2.1in) of rain and 50mm (1.97in) fell in Tealby, Lincolnshire.

Travellers have already faced widespread disruption this week due to the weather, with some road and rail passengers stranded as routes were blocked by flooding.

Kate Priest, from Shoreham, a coastal town in West Sussex, did not get home until 02:50 GMT on Thursday morning - five hours later than expected, after severe flooding blocked the train line from London.

"It was completely miserable," she told the BBC. "At one point I thought I'm going to have to sleep on the train."

She said she and her fellow passengers spent three hours stuck at Haywards Heath station in the pouring rain, before the Southern train retraced its steps and eventually took a different line to the coast.

"People were kind of frustrated and resigned," she added. "Obviously there's not a lot you can do. One lady was really distressed, she had some kind of appointment. She was in tears but the train guard was lovely." The disruption has since cleared.

Under the yellow warnings - which stretch across Manchester, Leeds, Hull and Newcastle until 07:00 on Friday, and across Edinburgh, Perth and Dundee until 18:00 - forecasters say there could be flooding and delays to buses and trains.

The amber warning, which lasts until 15:00 on Friday for areas further north, says there could be a danger to life from fast flowing or deep floodwater, and some communities could be cut off.

Aberdeen City Council, which has cancelled its Christmas tree lights switch-on event because of the weather forecast, has urged residents in flood-prone areas to stock up on sandbags and other flood-prevention tools.

Motorists have already been urged to stay off roads in areas that faced heavy rain.

Some rail lines have been impacted and authorities in West Sussex have urged people to "only travel if necessary" after 20 cars became stuck on the A27.

Heavy rain has also flooded the railway in parts of Yorkshire causing disruption to routes between Pontefract Monkhill and Wakefield Kirkgate, as well as between Harrogate and Leeds.

ScotRail said it was putting 40mph speed restrictions on some services from Thursday afternoon as "over a month's worth of rain" is expected to fall across eastern Scotland over the next two days.

Lines affected include parts of the routes from Edinburgh to Aberdeen, Stirling to Dundee and Ladybank to Perth.

Fyvie Castle, a National Trust property in Aberdeenshire, has decided to close its grounds as a result of the "heavy rain and high winds forecast".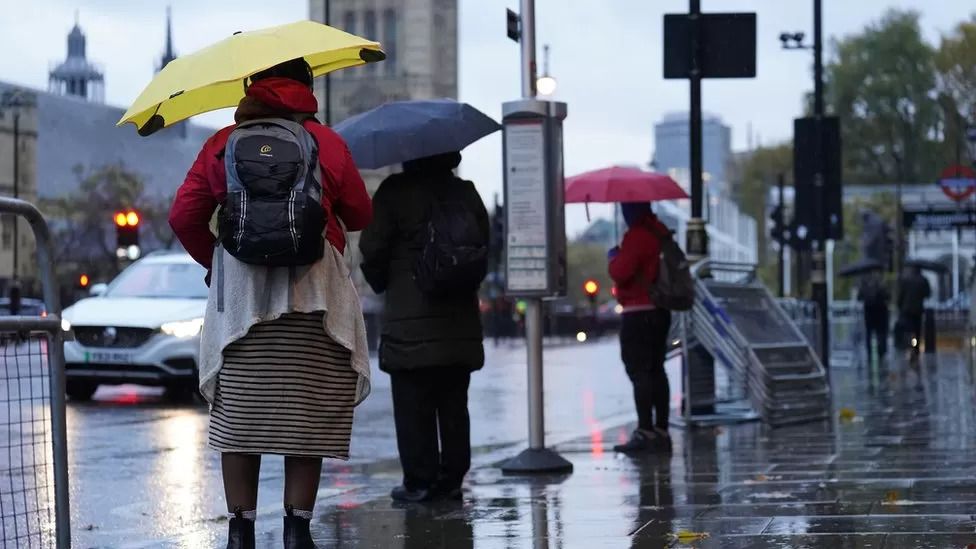 Commuters wait at a bus stop in the rain on Thursday in London
Craig Snell from the Met Office said many places in south-east England have already seen "more than their month's share of rain".
"The warning areas are where we are most concerned about the risk of flooding but it doesn't mean that the areas outside them are not going to see some pretty atrocious conditions."
He said Scotland could see "two days of persistent rain" and this may result in snow falling in the Scottish Highlands - although this is not unusual for November.
The Environment Agency said it had been closely monitoring the situation and advised people to stay away from swollen rivers and not to drive though flood water.
Flood duty manager Chris Wilding said the heavy rain across England was "expected to lead to minor surface water flooding and river flooding impacts".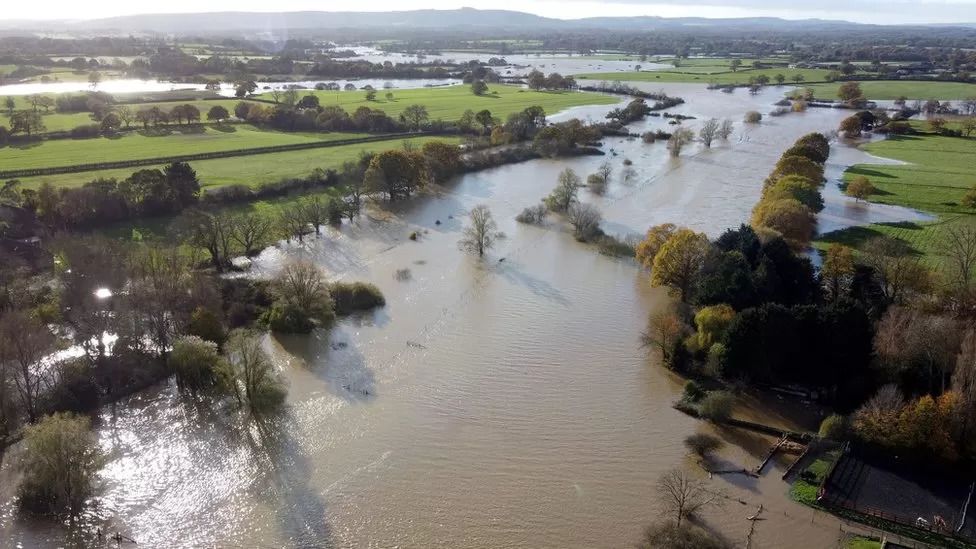 Floodwaters from the River Adur near Shermanbury in West Sussex

The M23 motorway in Sussex was closed after heavy rain caused disruption. The road between Junction 10 for Crawley and Junction 11 for Pease Pottage was reopened after several hours, but some lanes remain shut.

West Sussex Fire and Rescue Service said it responded to 70 incidents overnight and warned motorists not to drive through deep floodwater.

Flooding also caused disruption to Southern services between Lewes and Brighton and the cancellation of trains on the Isle of Wight on Thursday morning.

Police in Winchester, in Hampshire, warned the public about a large tree that had come down and blocked a road in Swanmore.

Services between Tonbridge and Hastings have resumed after a fault involving a blown fuse and a melted piece of signalling equipment was fixed.
Flooding across the South East has caused problems for commuters