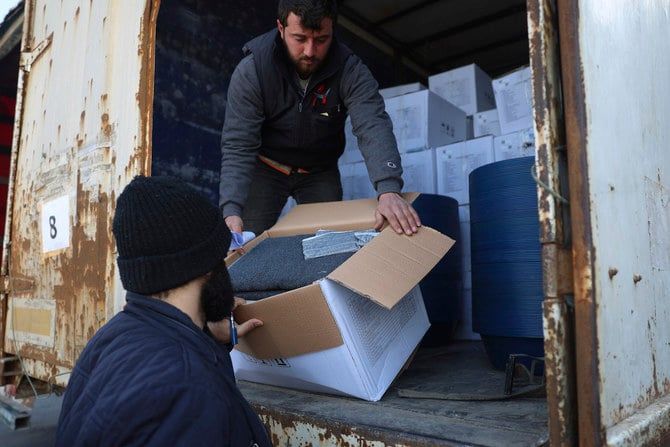 UK govt insists earthquake aid for Syria getting through
Aid from Britain meant for Syria in the wake of last Monday's earthquakes is reaching the country despite numerous difficulties, the UK government has said.
Development Minister Andrew Mitchell told the BBC that sending aid to Syria is "much more difficult than Turkey, because it's ungoverned space there," but the UK has been helping people in Syria from "the beginning."

His comments came after Martin Griffiths, the UN's emergency relief coordinator, tweeted on Sunday that people in Syria and Turkiye felt "abandoned" by the international community because so little aid had arrived. "My duty and our obligation is to correct this failure as fast as we can," he said.

Delays in shipping UK aid to Syria have been caused in part by the civil war that left the country crippled even before the quakes struck, with its economy and infrastructure weak, and the regime in Damascus under Western sanctions.

Mitchell said the UK plans to fund major rescue operations in Syria, but the UN is only permitted to use one route into the northwest of the country — via the Turkish border — which is hampering efforts to deliver supplies.

He added that the UK would consider following the US in temporarily lifting sanctions on the Syrian regime where they might affect aid deliveries, but that British supplies are getting through and ministers will "do everything we can to make sure aid gets through to people who are suffering …

"Where sanctions would hold us back in any way, we would seek to have them lifted," he said. "But at the moment we are able to get what we want through. And that's the key thing."

Last Monday's earthquakes have so far left over 28,000 dead and many thousands injured, with even more left homeless and without access to shelters, clean water, food, power or medical supplies.

The World Health Organization estimates that 26 million people have been impacted, with more fatalities expected in the days ahead as hopes for survivors fade and weather conditions drop below zero.

A UK public appeal for money for people in Turkiye and Syria has raised around £53 million ($63.9 million) in just 48 hours, including donations from the government and the royal family.

The government also announced that it would give an additional £8 million in emergency aid for both countries to purchase supplies, and £3 million for the Syrian volunteer rescue group the White Helmets.