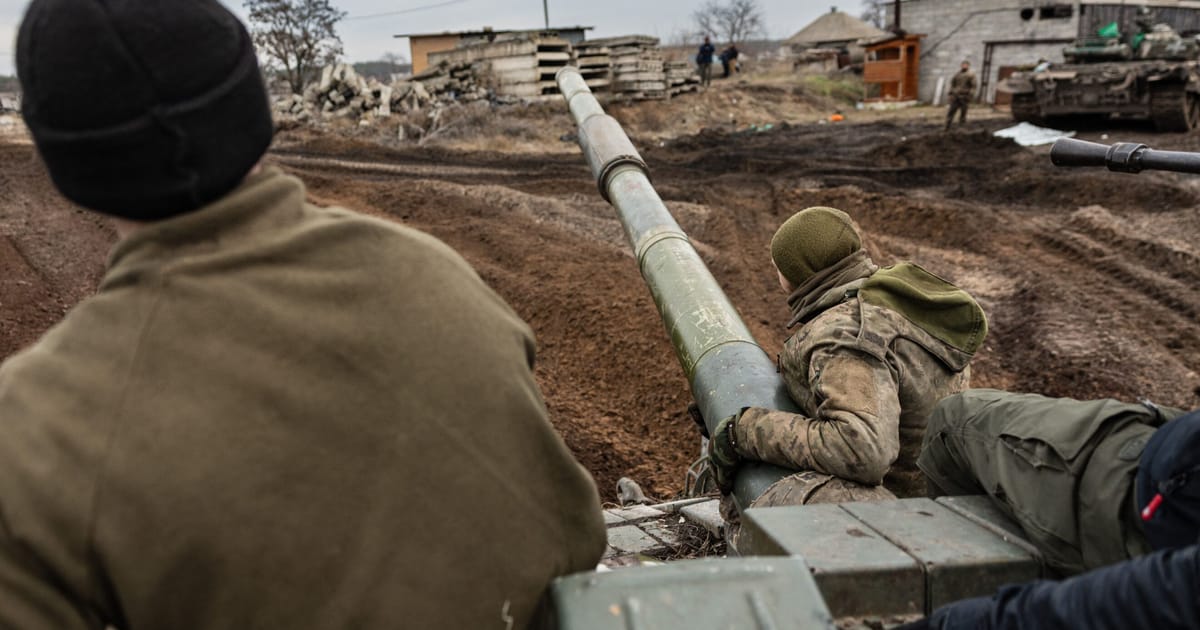 UK confirms it is considering supplying Ukraine with tanks
Move would make UK the first Western country to provide tanks to Kyiv.
The U.K. government is considering supplying Ukraine with British-made Challenger 2 tanks, officials have confirmed.

Prime Minister Rishi Sunak's spokesperson said Tuesday that the U.K. has not yet made any final decisions on the provision of modern battle tanks — but did not deny that the government is mulling the issue.

He said the Ukrainian government had been "pretty clear" in its demands for military aid from Western allies, "and that has included tanks."

"When it comes to further equipment to Ukraine, you'll know that for several months, we've been working with partners around the provision of tanks and armored vehicles, artillery, air defense, and the prime minister spoke to [Ukrainian] President [Volodymyr] Zelenskyy just last week … about what can be most effective in helping Ukraine continue their progress," the spokesperson said.

"Until decisions are made on these sorts of things, we don't comment on speculation around what further equipment may or may not be sent," they added.

A senior government official said the U.K. could take a decision on the supply of tanks "fairly shortly" — and "possibly" as early as this week.

"Clearly one of the elements which Ukraine is lacking in terms of capability is main battle tanks and armored personnel carriers in sufficient number to support offensive maneuver operations," a separate Western official said Tuesday. "And if the Ukrainians hope to take back territory held back by Russia, and particularly fortified territory, they need the ability and range of capabilities to allow the offensive maneuver."

If Britain sends tanks to Ukraine, it would become the first Western country to provide this type of heavy armor to Kyiv.

Such a move would pile pressure on Germany to authorize allies with German-made Leopard 2 tanks to shift some of them to Ukraine, ahead of a meeting of Western defense ministers on January 20 to coordinate military support to the war-torn country.

Berlin has so far resisted the move, fearing it could lead to an escalation and be seen by the Kremlin as a step too far for NATO in the war between Ukraine and Russia.

Central and Eastern European countries such as Poland and the Czech Republic have already sent Soviet-era T-72 tanks to Kyiv, but the Ukrainian government is making the case for modern heavy armor to complement its infantry and artillery operations in a bid to regain territory occupied by Russia.

Ukraine is seeking main battle tanks and an increased number of armored personnel carriers in order to win back Russian-occupied territory, the same Western official quoted above said. "The Ukrainians will look at all partners who might provide for tanks and aren't going to be particularly worried about where they come from — just as long as they come in sufficient volume."

A number of Challenger 2 tanks are in operation in Estonia, and were deployed as part of NATO's Enhanced Forward Presence in the Baltic region. Some have also been deployed in Bosnia and Herzegovina, Kosovo and Iraq.

Tobias Ellwood, chairman of the House of Commons defense committee, said Tuesday that the U.K. should "absolutely" supply Ukrainian forces with British tanks.

"This is our war, but we've left the Ukrainians to do the fighting," the Conservative MP told BBC Radio 4.

"It's not just the moralistic issue here, it's the fact that Russia is now pushing this against the wider West, so I very much welcome the fact that we're now thinking about sending main battle tanks."

Earlier Tuesday, Russian Security Council Secretary Nikolai Patrushev said Russia was now fighting NATO in Ukraine.

"The events in Ukraine are not a clash between Moscow and Kyiv, this is a military confrontation between Russia and NATO, and above all the United States and England, with Russia," Patrushev, an ally of Russian President Vladimir Putin, told the Argumenti i Fakti newspaper in an interview.