Cuts to the UK's aid budget will leave millions of people at risk of dying from "neglected tropical diseases", the World Health Organization has said.
Nearly 280 million lifesaving tablets are likely to expire and have to be incinerated due to the withdrawal of UK money, the United Nations agency said.

The UK's annual foreign aid budget has been reduced from 0.7% to 0.5% of national income, a cut of almost £4bn.

Ministers say £10bn will be still spent in 2021, with £1.3bn on global health.

The World Health Organization (WHO) has joined many other agencies in warning about the impact of the Treasury's decision to cut foreign aid this year.

In a submission to the International Development Committee - which is conducting an inquiry into the future of UK aid - the WHO said the cuts would leave millions of the world's poorest people at risk from so-called "neglected tropical diseases".

These include elephantiasis, trachoma and Guinea Worm and are among 20 disease groups that mainly affect people in the poorest countries.

They are preventable but without treatment the WHO said they "kill, blind, disfigure and maim".

The WHO said that prior to its aid cuts, the UK provided funding to 19 countries through its "flagship" health programme called Accelerating the Sustainable Control and Elimination of Neglected Tropical Diseases (Ascend).

Much of the UK's aid helped distribute lifesaving medicines but without that help, the agency said it was likely 277 million tablets would expire and have to be incinerated.

"No obvious alternative source of funding exists to fill the funding gaps that will be left by the exit of Ascend," the WHO added.

The Foreign Office said it had been forced by financial impact of the pandemic to take tough decisions to leave programmes that treated these diseases.

"The seismic impact of the pandemic forced the tough decision to temporarily reduce the aid budget and exit some programmes, including the Accelerating the Sustainable Control and Elimination of Neglected Tropical Diseases programme," a statement said.

"We will still spend more than £10bn this year to fight poverty, tackle climate change and improve global health, including £1.3bn on global health.

"We will focus on the UK's position at the forefront of the international response to Covid-19, and will continue to support programmes in countries affected by neglected tropical diseases."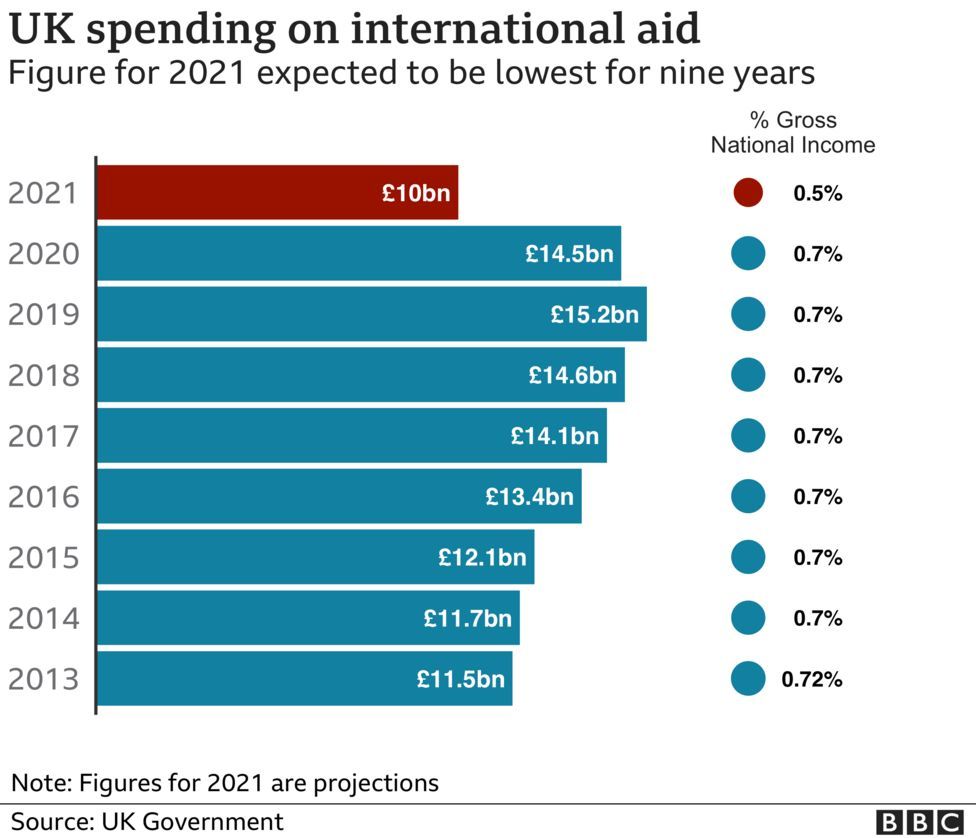 The Conservative Party committed to spending 0.7% in its manifesto for the 2019 general election - but last year ministers decided to reduce this year's spending, saying it was temporary and hard to justify given record levels of peacetime borrowing during the Covid pandemic.

The controversial move has drawn criticism from Tory and opposition MPs - who have tried to overturn the cuts, as well as dozens of charities government and the United Nations.