The Unison and GMB unions have called off ambulance strikes in England after what was described as a "huge shift" in the government's position.
Tens of thousands of staff were expected to walk out on 6 March and 8 March across large parts of England.

That action has been suspended after ministers agreed to reopen pay talks for both this and next financial year.

The government welcomed the move, but said it was "disappointing" a third union still planned to strike.

Unite, the smallest of the three ambulance unions representing approximately 3,000 workers, said its strike on 6 March would go ahead.

Industrial action has also been paused in Wales for further talks with the Welsh government.

In Scotland, all NHS worker strikes are on hold too.

Rachel Harrison, GMB National Secretary, said: "This is a huge shift from the government, who for months have refused to consider negotiations on pay. Now, they are saying they are willing to sit down and talk.

"The Government has given assurances of additional cash for both years above existing budgets and that any deal will respect the existing Agenda for Change structure.

"GMB's ambulance workers have agreed to suspend industrial action so talks can begin - however the strike will return with a vengeance should talks break down."

It is understood the negotiations will proceed on the understanding the government will discuss a one-off cost-of-living payment for the current financial year, which ends in April, as well as a brand new pay deal for 2023-24.

It is thought the Royal College of Nursing will also be brought back into wider pay discussions, instead of holding separate talks with ministers.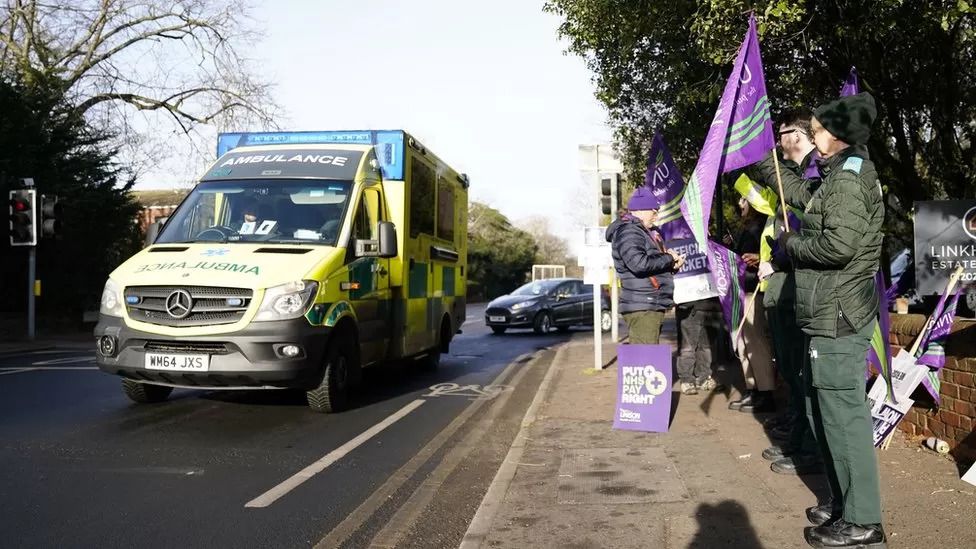 Ambulance workers on the picket line in Bournemouth, Dorset

Last week thousands of nurses in England suspended a series of strikes after health secretary Steve Barclay said he would meet leaders of the Royal College of Nursing for "intensive talks" over pay.

That angered members of other health unions who accused ministers of "playing a dangerous game" by pursuing a "divide and rule strategy".

Tens of thousands ambulance workers had vowed to escalate strike action as a result, with members of the GMB union saying they would start to cut back cover for "category two" 999 calls, including heart attacks and strokes.

The government signalled a change in its approach this week when it said it was prepared to negotiate through the NHS staff council - a body made up of representatives from all 14 major health unions, NHS trusts, NHS England and the Department of Health and Social Care itself.

Ministers said negotiations could only start if industrial action was suspended.

The decision by three unions - the GMB, Unison and the Chartered Society of Physiotherapy - to pause strikes planned for this month now means "intensive talks" are expected to start early next week.

"We're pleased that agenda for change unions representing the majority of ambulance workers, nurses, physiotherapists, porters, cleaners and other non-medical staff have agreed to pause strikes and enter a process of intensive talks,"

A Department of Health spokesperson said: "We want to start these talks as soon as possible and are ready to meet over the weekend.

"We want to find a fair and reasonable settlement that recognises the vital role of NHS workers, the wider economic pressures facing the UK and the prime minister's priority to halve inflation.

"It is disappointing Unite is going ahead with strikes next week. We urge them to call off strikes and join other unions at the negotiating table."

Tens of thousands of junior doctors are also expected to strike in England for 72 hours between March 13 and 15.