Prime Minister Liz Truss labelled Emmanuel Macron a "friend" as they announced plans to work together at the first meeting of a new political club of nations.
Ms Truss had declined to say whether the French President was a "friend or foe", during her leadership campaign.

The French President said he hoped for a "new phase" in post-Brexit relations.

The pair agreed to step up cooperation on "ending" small boat crossings in the Channel ahead of a summit in 2023.

Leaders from the EU, the UK, Turkey, Norway and the Balkans met at the first European Political Community in Prague on Thursday.

They discussed energy, migration and security, with a particular focus on the war in Ukraine. Ukrainian President Volodymyr Zelensky spoke via video link.

The summit, billed as a European Political Community beyond the EU, has been championed by Mr Macron, who told reporters on Thursday it sent a "message of unity".

It seems to have proved fruitful in terms of facilitating bilateral meetings for Ms Truss.

The prime minister and Mr Macron released a joint statement promising an "ambitious" package of measures aimed at "ending" small boat crossings on the Channel.

It is understood more details will be set out by the home secretary "in due course".

The two leaders also announced plans to hold a UK-France Summit in 2023 in France "to take forward a renewed bilateral agenda".

Mr Macron said: "We have values and history so I'm happy that we meet again.

"This is an island, but this island didn't move from the rest of the continent so we do have so many things in common."

The UK and France have clashed over several issues in recent years, including migrant boat crossings in the Channel, a military pact between Britain, the US and Australia, and Brexit measures involving Northern Ireland.

And during the Tory leadership campaign Ms Truss said the "jury was still out" on Mr Macron, adding she would be judging him on "deeds not words".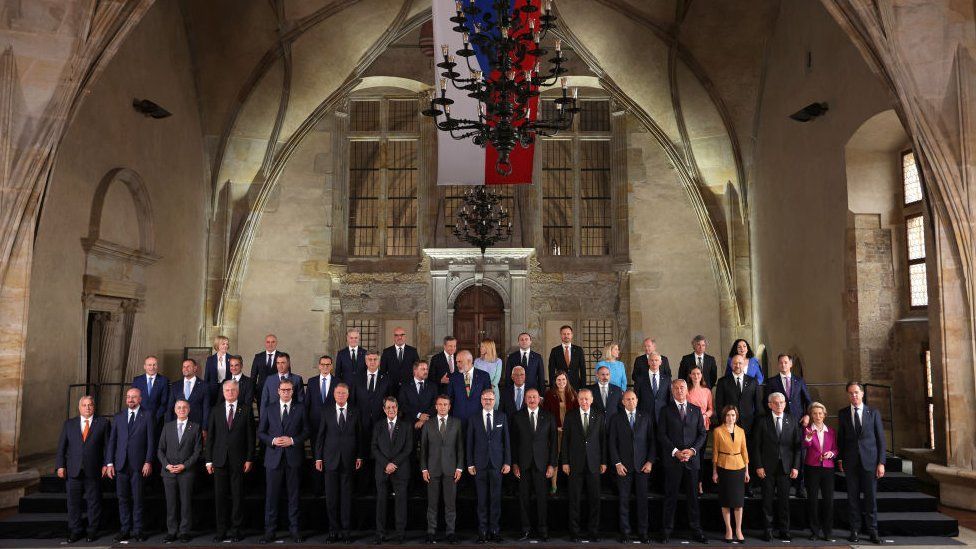 Among the European leaders taking part were Liz Truss (top left) and Turkey's Recep Tayyip Erdogan (bottom row, 7th from the right)

There had been scepticism, even within the EU, about the new forum with fears it could become a talking shop.

Ahead of the meeting, Ms Truss made clear it was "not an EU construct or an EU alternative".

She later told broadcasters the meeting was "not about moving closer to Europe" but "about working with Europe on issues that we both face".

Standing up to Russia

Ukraine's president told the summit: "You and I are now in a strong position to direct all the possible might of Europe to end the war and guarantee long-term peace for Ukraine, for Europe, for the world."

Following the meetings, Ms Truss said: "Leaders leave this summit with greater collective resolve to stand up to Russian aggression.

"What we have seen in Prague is a forceful show of solidarity with Ukraine, and for the principles of freedom and democracy."

Britain is now expected to host the fourth EPC meeting in 2024, with Moldova and Spain to hold the second and third respectively.

EU foreign policy chief Josep Borrell said in a blog that in the wake of Russia's invasion, there was a need to "rethink and reform the wider European order, beyond the work of the EU and Nato", but he added that the summit would be no more than an initial exchange.

As well as the UK, non-EU members Switzerland, Turkey, Norway, Iceland, Georgia, Azerbaijan and western Balkan countries took part in the first gathering of the EPC.

What is the European Political Community?

Critics see it as a vague regurgitation of old ideas. Its exact role is still evolving.

When he proposed the plan this year, Mr Macron said it would "offer a platform for political co-ordination" for countries, both those in the EU and those not.

Russia's invasion of Ukraine gave new impetus for co-operation among nations beyond the EU's 27 member states.

But the EPC has no institutions or dedicated staff. That has led to questions about how any decisions would be implemented.

So it is an unprecedented effort to bring leaders together from across the continent to discuss areas of shared interest. If it proves to be a success, it may continue to take place up to twice a year. If it's a failure, it could fizzle out.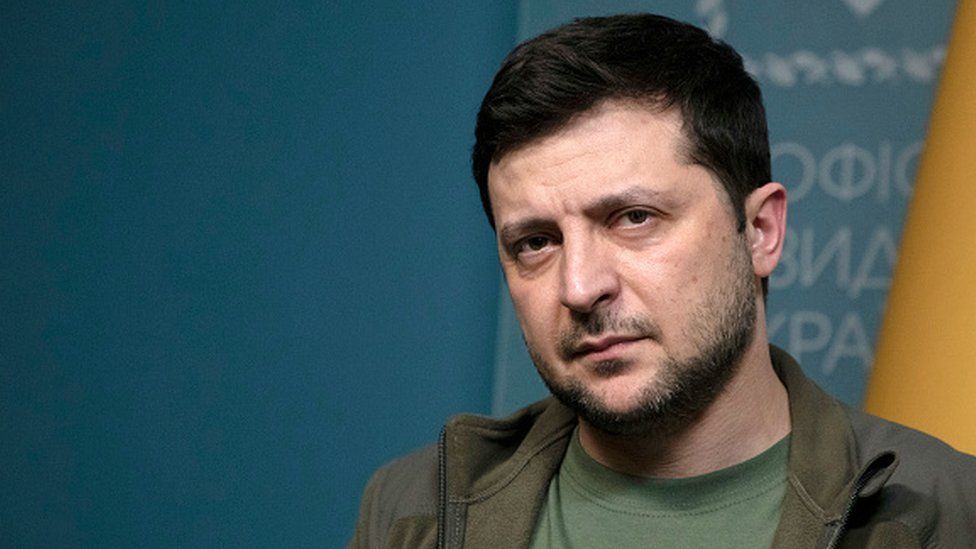 Ukrainian President Volodymyr Zelensky addressed the summit via video link

Another draw for the UK was the presence of Turkey's Recep Tayyip Erdogan, as well as the participation of Norway, a key supplier of energy to the UK.

The UK has been less keen to talk about security, with jitters that the EPC could be seen as somehow cutting across the Nato military alliance.

Turkey has talked of a "balanced" approach to Russia and has not signed up to Western sanctions.

Centre for European Reform Director, Charles Grant said one of the measures of success will be "does it persuade Serbia, Azerbaijan and Turkey to lean a bit more to the West and less towards Russia".

A sign of the uncertainty about what the EPC is really for is that there have been far clearer messages about what it is not.

It is not a substitute for Nato or the G7, we are told. It is also not a slightly comfier "waiting room" for countries eager to join the EU. Nor it is a forum that will be dominated by EU institutions.

That is despite invites having been issued by the president of the European Council, Charles Michel, while the meeting itself has been tacked on to the front of an EU summit.

Brussels insists it has merely been facilitating the forum - it is not "the EU plus plus", insisted one senior official.

British officials are keen to play it cool on the EPC, insisting they will walk away if it evolves in an undesirable direction.
Ms Truss said Macron is a friend, Putin is the foe