Transgender youth support charity Mermaids is under investigation by The Charity Commission over safeguarding concerns.
The regulatory body for charities in England and Wales says it has received complaints following reports in The Telegraph concerning the supply of chest-binding devices to teenagers.

It is investigating whether the charity has complied with regulations.

Mermaids said it would respond in "due course".

The NHS defines binding as "reducing the appearance of soft tissue by flattening your chest".

It can be used by transgender or non-binary people to help relieve the symptoms of gender dysphoria, which is a sense of unease because of a mismatch between biological sex and gender identity.

People who choose to bind their chest often use specifically-designed devices known as binders. Others may make their own using sports bras, compression clothing designed for use in the gym, or bandages and body tape.

There is little medical evidence of the risks or advantages of chest binding. An interim report into gender services for children in March raised concerns that some binding devices may be potentially harmful.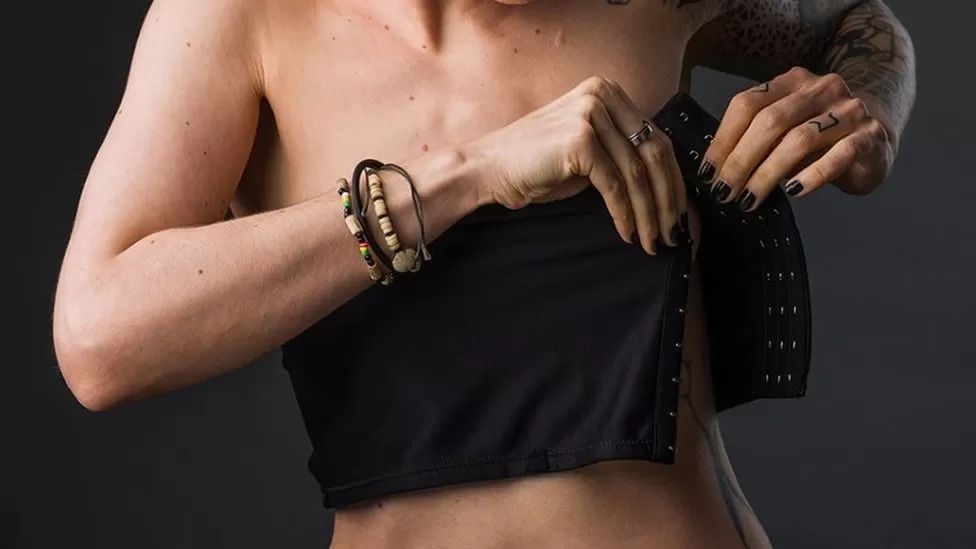 Breast binders are used to reduce the visibility of a person's breasts

The Charity Commission confirmed it was aware of concerns related to Mermaids following an investigation by The Telegraph into the availability of chest binders to children via the charity without parental consent.

In response to the article, Mermaids said it provided binders with "comprehensive safety guidance" from its staff.

The Charity Commission has launched a regulatory compliance case and has written to Mermaids' trustees.

A spokesperson for the regulatory body said: "Concerns have been raised with us about Mermaids' approach to safeguarding young people. We have opened a regulatory compliance case, and have written to the trustees. We now await their reply."

Mermaids, which was established in 1995, has said it will reply to the Charity Commission in "due course" but that it will not be commenting further at this stage.

In a response to the Telegraph article, the charity said it provided comprehensive safety guidelines to young people from an experienced member of staff.

Mermaids is the country's leading charity in services offering support around gender and identity to children and young people up to 25 years old.