Rail passengers are being warned to avoid travelling on Saturday unless "absolutely necessary" as further walkouts are set to cause disruption.
Network Rail said the Christmas Eve strike by its workers in a row over pay would have a severe impact on services.

Trains will finish at around 15:00 before RMT union members begin industrial action at 18:00.

In the latest strikes in the run-up to Christmas, postal workers and Border Force staff are also walking out.

The industrial action at Network Rail, which maintains the UK's rail system, will continue until 06:00 on 27 December.

Network Rail said there would be "significantly reduced services across the rail network on Christmas Eve".

Last trains on long-distance routes will depart much earlier, with some rail companies unable to run any services at all.

The last train times on major routes include the 09:45 from Leeds to London, the 11:22 from London to Edinburgh, and the 12:48 from London to Manchester.

"Only travel if absolutely necessary on Saturday 24 December," said Network Rail.

The rail strikes are expected to add to traffic on the roads, at what is already a busy time of year.

The AA said a recent survey showed just under a third of UK adults said they would be driving to see family and friends ahead of Christmas when they would usually use the train.

"The traffic nightmare before Christmas is getting worse," said AA president Edmund King.

The motoring group is advising drivers to check traffic on their route before they set off.

The railway strikes come at a time of widespread industry walkouts, as staff across a range of sectors are involved in disputes over pay, jobs and working conditions.

Workers are seeking wage rises as the cost of living soars. The rate at which prices are rising, known as inflation, is running at nearly 11%, which remains close to a 40-year high.

Other industrial action on Saturday includes:

* About 1,000 Border Force workers - many of whom check passports - are on strike at Heathrow, Gatwick, Manchester, Birmingham, Cardiff and Glasgow airports, as well as the Port of Newhaven, until the end of the year, with the exception of 27 December. Although passengers had been told to expect delays at airports, disruption on Friday was minimal, as military personnel and civil servants were drafted in to cover strikers.

* More than 115,000 Royal Mail workers from the Communication Workers Union are walking out on one of the busiest days for pre-Christmas deliveries. Letters won't be delivered, although some parcels are still being dispatched.

* Some National Highways traffic officers are on strike in London and south-east England. National Highways says no roads will be closed and it has "well-rehearsed resilience plans in place".

* Bus drivers for Abellio in London are walking out. The routes affected are mostly in south and west London.

Elsewhere, ambulance drivers, nurses and driving examiners are all set to strike at various points over the festive period and in to the new year.

The prime minister said he was "sad" about disruption caused by strikes, but insisted he had acted "fairly and reasonably" over public sector pay.

"I want to make sure we reduce inflation, part of that is being responsible when it comes to setting public sector pay. In the long term it's the right thing for the whole country that we beat inflation," Rishi Sunak said.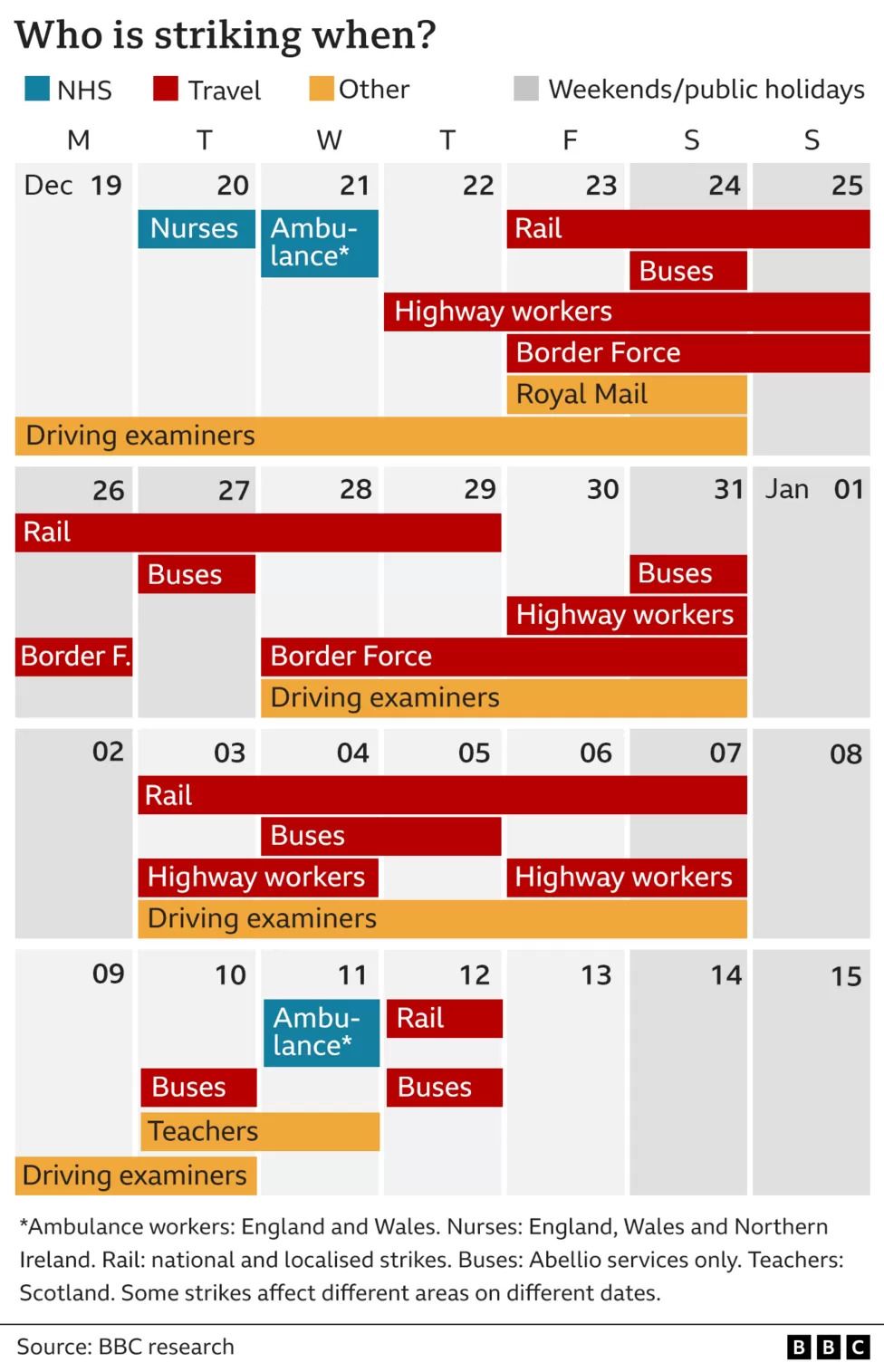 Previous strikes by the RMT have had a major impact on services throughout England, Scotland and Wales. The union is due to hold further walkouts on 3-4 January and 6-7 January.

Union members have rejected offers in a dispute over pay, job security and working conditions.

Network Rail said the deal it has put forward is "fair and affordable".

"That's why we urge the RMT to really think again about looking at what's on the table. And we'll look to see what we can do and sit around the table after the strikes finish in the new year," Kevin Groves, Network Rail's chief spokesman, told the BBC.

RMT general secretary Mick Lynch said: "The union remains available for talks to resolve this dispute.

"But until the government gives the rail industry a mandate to come to a negotiated settlement on job security, pay and conditions of work, our industrial campaign will continue into the new year, if necessary."

In a statement, the RMT added that it believed the government had "blocked" rail employers from making a deal with the union.

But a Department for Transport spokesperson said: "Far from blocking a deal, the transport secretary and rail minister have facilitated talks and ensured a fair and reasonable offer was put forward, which the RMT rejected despite a significant number of members voting to accept."