More than 50,000 workers are taking part in a strike resulting in the worst rail disruption of the year so far.
Members of four unions are staging a 24-hour walkout in a long-running dispute over pay, jobs and conditions.

It means only 11% of usual train services are running, with large areas of the UK with no services at all.

Unions say there has been little progress in resolving disputes, while rail bosses want pay to be linked to modernisation.

It is the first time the four unions - RMT, Aslef, Unite and the TSSA - have walked out on the same day. The co-ordinated action involves about 54,000 members, meaning services are more disrupted than on previous strike days when only one or two unions were striking.

Large parts of the network have virtually ground to a halt with only about one in 10 services running, and trains starting later and finishing earlier than usual.

No trains are running between London and major cities including Edinburgh, Brighton and Newcastle.

Some operators including Northern, Avanti West Coast and Southeastern are not running any trains for the entire day. Heathrow Express is also suspended.

In Scotland, ScotRail is running only 20% of services between 07:30 BST and 18:30 in the central belt, Borders and Fife, with no trains running elsewhere on the network.

Many who had planned journeys to the capital for the London Marathon are having to rethink their plans. Those running the major charity fundraising event have to collect their event pack at ExCel London by the end of Saturday.

Most services on Sunday will start later than usual following Saturday's disruption, but London Marathon has said Southeastern trains would get passengers to the start line on time.

The strike will also affect delegates travelling to and from the Conservative party conference, which begins on Sunday, as well as thousands of people heading to football matches and other events.

'It's hitting normal people'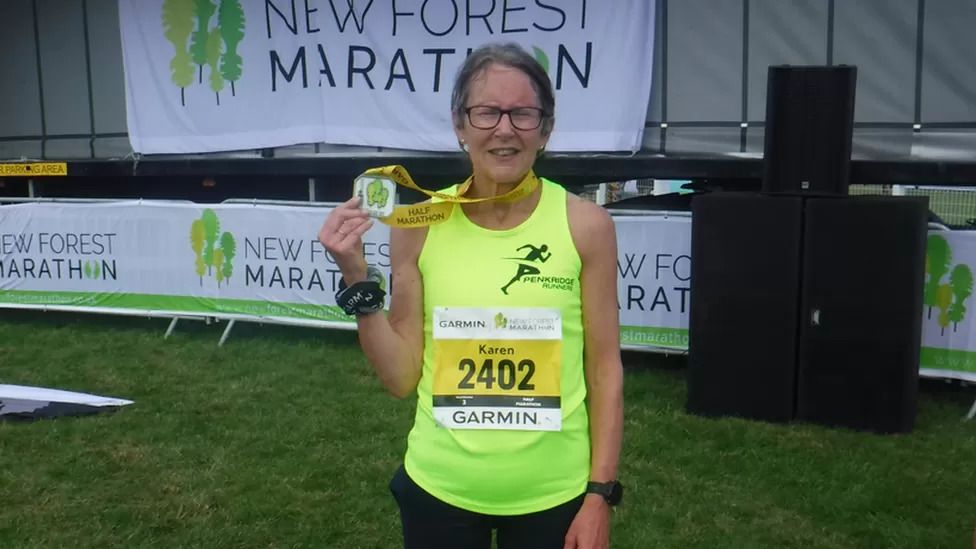 Karen Andrews received a ballot place in the London marathon after 6 years' of trying to secure a spot

Karen Andrews, from Staffordshire, is raising money for her local hospital's breast care unit, where she was treated for cancer.

When the strike was announced, she says all her plans were "thrown into disarray": "Every morning... I've thought how are we going to work this out."

In the end her husband had to travel to London during the week to collect Karen's race pack and is driving her to the capital for the race.

"I understand people wanting pay rises, of course, but it's hitting normal people"," she says.

"I had to come to London a day earlier, and I will stay until Monday - so all this costs," says fellow runner David Wright, who lives in Dover.

"I'm very disappointed in Mick Lynch," he tells BBC News. "Strikes don't work."

"I'm also angry with the government - they are not doing enough," he says.

Speaking from a picket line at London's Euston Station, RMT general secretary Mick Lynch said: "We haven't targeted the London Marathon, we've more targeted the Tory conference, if we're honest with you - because they're the people responsible for this mess."

He apologised for the inconvenience caused to people, adding that they would much rather have a settlement.

But he said members had to keep going with the dispute, which has lasted nearly six months. He said he believed workers had the public's full support.

He said on Saturday that members will be balloted again on further strikes. The six-month mandate for strikes runs out at the end of November.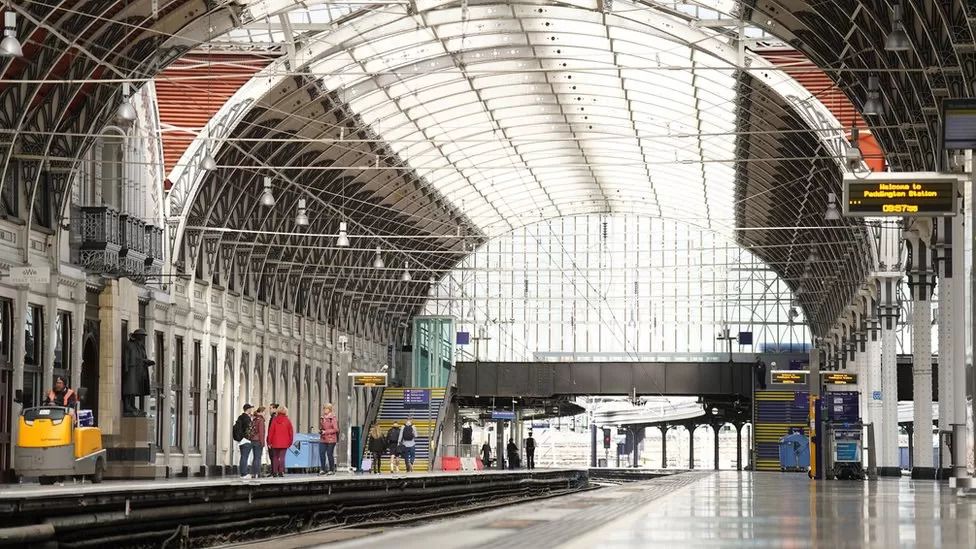 Mainline stations such as London's Paddington were empty on Saturday

Eli Skipper, an ambulance responder based in Leicester, is among the many shift workers affected by the action. She told BBC News she has had to cancel her scheduled work as she is unable to get to the event in Nottingham. Further strike action on 8 October means she has also had to cancel next Saturday's shift.

"This is a large loss of earnings for me, particularly in the current crisis - with rising cost of living - and on top of two shifts cancellations due to the Queen's funeral." says Eli, 27

But she adds: "I support the strikes. I understand what people are standing for. The government needs to listen to the unions.

"Some of their concerns are about safety, so it's not just about wages."

The RMT union expects more than 40,000 of its members who work at Network Rail and 16 train companies will not show up for work on Saturday. Joining them are 9,000 train drivers who are members of Aslef, working at 12 train companies.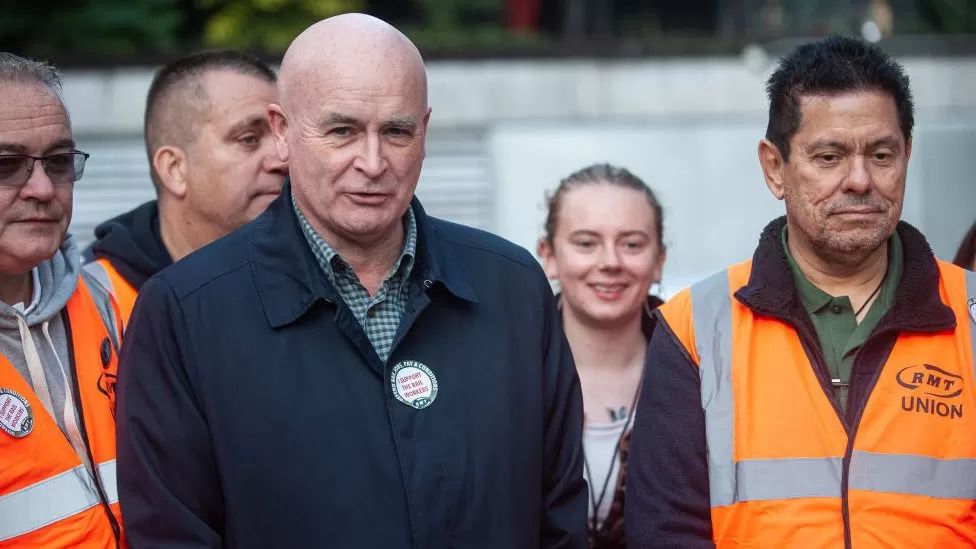 The RMT's Mick Lynch says members will be balloted again next week

The TSSA also expects about 5,000 of its staff to walk out, alongside a few hundred members of the Unite union.

Aslef is planning a further train drivers' strike on 5 October, and another RMT walkout is scheduled for 8 October.

The Department for Transport said disruption over the weekend would "push passengers further away" and called on union bosses to reconsider.

The new Transport Secretary, Anne Marie Trevelyan, has so far met the general secretaries of both Aslef and the RMT, which has been described as a "good start".

Mick Whelan, general secretary of Aslef, said the train drivers' union would continue with talks and remained optimistic. He told BBC Breakfast: "We're not very close at all - but again, every time we meet there's an opportunity for something else on the table."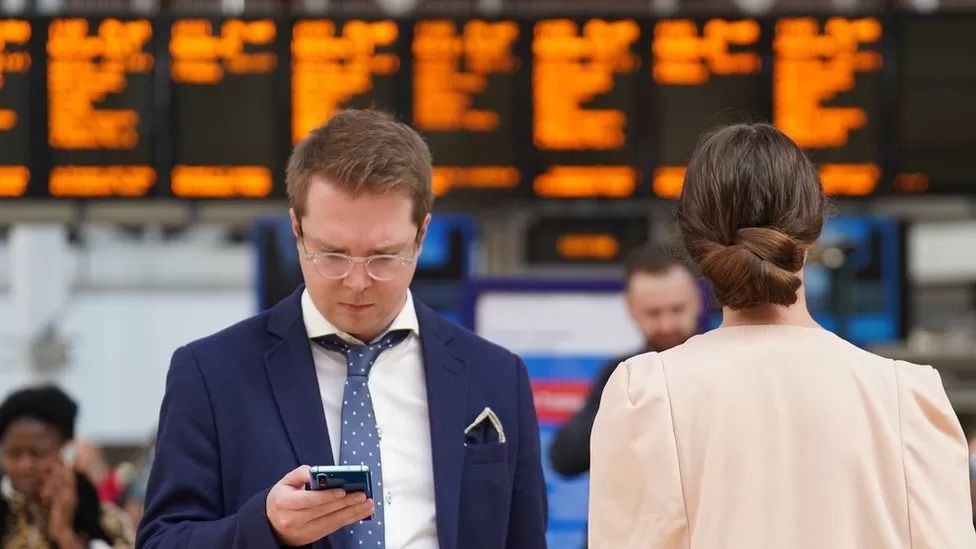 Members of the public arriving at train stations on Saturday have been left with few travel options

Aslef maintains many drivers are effectively being given a pay cut because of the rising cost of living.

Rail bosses have consistently said they want to give employees a pay rise, but there is pressure to save money after the Covid pandemic when the rail service had to be propped with taxpayers' money.

The industry argues reforms are necessary to make the service more cost efficient, but the RMT rejected the latest pay offer of 4% in the first year, plus another 4% in the second year, which was conditional on reforms.

Network Rail has repeatedly called on the union to allow members to vote on the offer, which it has called "a decent package".

Royal Mail workers are also on picket lines outside delivery and sorting offices on Saturday, on the second day of their 48-hour strike, in a dispute over pay and conditions.

Communication Workers Union members also plan to strike for 24 hours from 04:00 on 13, 20, and 25 October and 28 November. The union said it reflects the "level of anger" workers feel.

The Royal Mail Group said further strikes would make its financial position worse and threaten workers' job security.