Rail Delivery Group says offer is contingent on 'vital and long overdue changes' to working arrangements
Train drivers have been offered a pay rise of 8 per cent over two years in a bid to end strikes on the railways - as the country braces for further industrial action over the weekend.

The Rail Delivery Group said it was offering a "landmark outline proposal" that would deliver more reliable services for passengers, in exchange for a back-dated pay increase of 4 per cent for 2022 and 4 per cent for this year.

Aslef, the union representing train drivers, has not yet responded to the offer.

The RDG said the offer also includes a commitment to no compulsory redundancies until at least March 31 2024.

A statement said: "The offer is contingent on common sense, vital and long overdue changes to working arrangements across the industry.

"Many of these are already best practice in parts of the railway and are designed to avoid disruptive gaps in services.

"If accepted, the proposal would mean the base salary for the average driver would increase from £60,000, to almost £65,000 by the end of 2023."

Steve Montgomery, chairman of the Rail Delivery Group, said: "This is a fair and affordable offer in challenging times, providing a significant uplift in salary for train drivers while bringing in common-sense and long-overdue reforms that would drive up reliability for passengers and allow the railway to adapt to changed travel patterns.

"With taxpayers still funding up to an extra £175 million a month to make up the shortfall in revenue post-Covid, these changes are also vital for us to be able to fund the pay rise our people deserve.

"Instead of staging yet more damaging strike action and holding back changes that will improve services, we urge Aslef to work with us to bring an end to the dispute for our people, our passengers and the future of Britain's railways."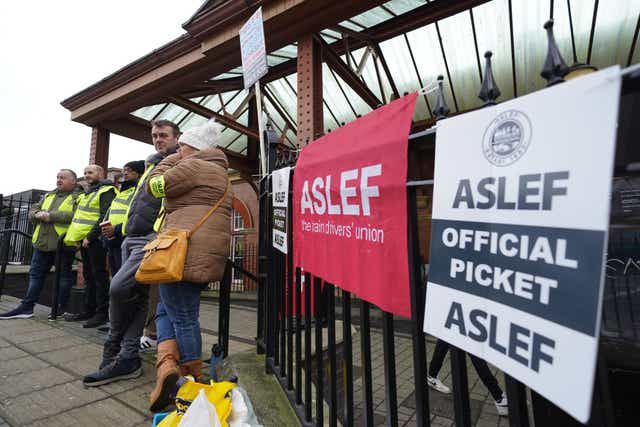 The Aslef picket line at Birmingham Moor street station
Aslef's General Secretary Mick Whelan said that further strikes were "inevitable" unless the deadlock is broken.
He accused rail employers and the Government of "playing games" rather than making any serious attempt to resolve the pay dispute.
"The situation is getting worse and my members now want to go harder and faster because of the lack of progress," he said.
Ministers deny they are interfering in negotiations.
Separate industrial action on the railways staged by the RMT union will continue over the weekend with just a fifth of trains expected to run on Saturday and Sunday.
Passengers have been advised to travel only if absolutely necessary, with services running between the hours of 7.30am and 6.30pm on main intercity and urban lines.
Talks are expected to be held early next week, but unions continue to accuse the Government of blocking a deal.
Unions, including those representing railway workers, reacted with anger to a Government announcement on Thursday on proposed legislation to ensure minimum levels of service during strikes in industries including the railways.
The RMT's General Secretary Mick Lynch described the legislation as a "symbol" that the Government is "losing the argument".
Speaking from the picket line at Euston station on Friday, Mr Lynch told BBC Breakfast that the Government is trying to "close down" the unions with the new legislation.
"What this is a symbol of is that the Government are losing the argument," he said.
"They've lost the argument on austerity and pay, and the state of our national public services.
"And instead they want to close that argument down by closing down the unions and stopping us from campaigning against poverty."
Union officials said any laws would be unworkable and might lead to even more industrial action as a response to the controversial move.