The Conservative MP accused of watching pornography in the House of Commons chamber has been named as Neil Parish.
He has been suspended from the parliamentary party and is under investigation by Parliament's standards commissioner.

Two female colleagues complained earlier this week after allegedly seeing him looking at adult content on his phone while sitting near them.

Mr Parish said he had referred himself for investigation.

If the standards commissioner, Kathryn Stone, finds that he has violated the code of conduct for MPs, possible sanctions range from having to make an apology to the Commons to suspension or expulsion.

Questioned by the BBC, Mr Parish said he would co-operate fully with the inquiry and would await Ms Stone's findings before commenting on the allegation.

When asked if he made a mistake and opened something on his phone in error, he said: "I did, but let the inquiry look at that."

"Of course it's embarrassing and it's embarrassing for my wife and family and that's my main concern at the moment," he said, "I have a very supportive wife and I thank her for that."

Mr Parish said he had told his wife that the reports concerned him on Friday afternoon and said he would "not remain" an MP if he was "found guilty".

For the time being, Mr Parish said he would "continue to perform my duties as MP for Tiverton and Honiton" while the investigation was ongoing, in a statement on his website.

In an interview with the Times, Mr Parish's wife, Sue Parish, said the allegation was "very embarrassing" and described her husband as "quite a normal guy" and "a lovely person".

She said she did not see the attraction of pornography and understood why the women who made the allegation were upset.

"I'm a woman," she was quoted as saying. "Hence why the women were so cross. It's degrading. It's demanding. But on the other hand it takes two to tango. There must be women posing for all this."

But veteran Labour MP and former deputy party leader Harriet Harman told the BBC the allegations marked a "new low for the House of Commons".

She said Mr Parish should stand down as an MP immediately if he watched porn in Parliament, adding: "It's not right for him to go through the investigation processes if that's what he's done."

And Liberal Democrat deputy leader Daisy Cooper said: "If Boris Johnson had any shred of decency left, he would tell Neil Parish to resign immediately.

"In any other workplace this would count as gross misconduct and the person responsible would lose their job."

Who is Neil Parish?

*  The 65-year-old, an MP since 2010, was a Member of the European Parliament for South West England from 1999 to 2009

*  He left school at 16 to manage his family's farm and, in 2000, was an election monitor during Zimbabwe's parliamentary election

*  He opposed Brexit in the 2016 referendum and voted against the introduction of same-sex marriage by David Cameron's government

*  Mr Parish is married and has two children and two grandchildren

It emerged on Wednesday that a female minister had reported seeing a male Tory MP viewing pornographic material while sitting beside her in the Commons chamber.

A second female Tory MP said she had tried but been unable to capture video proof of him doing so.

A Conservative spokesperson said Mr Parish has been suspended from the party whip pending the outcome of Ms Stone's investigation.

Conservative chief whip Chris Heaton-Harris has already asked for the matter to be referred to Parliament's Independent Complaints and Grievance Scheme.

Mr Parish, MP for Tiverton and Honiton, in Devon, chairs the Commons Environment, Food and Rural Affairs Committee.

The investigation does not prevent him from continuing in that role.

Environment committee member, the SNP's Kirsty Blackman, said she was "shell-shocked" and that Mr Parish "absolutely shouldn't remain as chair".

"I hope this does not detract or distract from the good work the committee has done and continues to do," she added.

Conservative MP Pauline Latham also suggested Mr Parish should be removed as chairman of the select committee.

Meanwhile, fellow Conservative MP and former Home Office minister Karen Bradley said she hoped Mr Parish would "do the right thing and not come into Parliament" now an investigation was under way.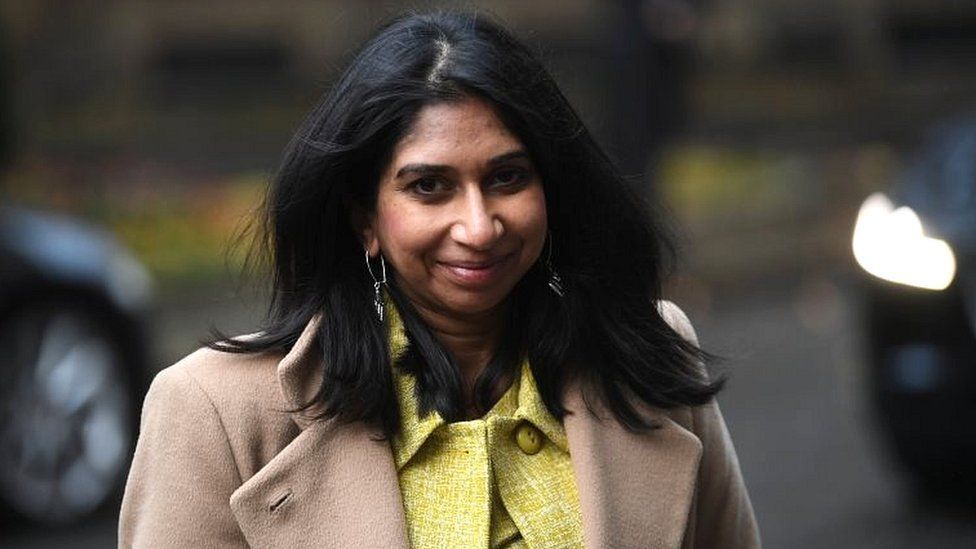 Suella Braverman has called for a debate on Parliament's moral standards

Mr Parish was quizzed by GB News earlier this week about allegations an MP had been caught watching porn.

"I think the whips' office will do a thorough investigation, and we will wait and see that result," he told the channel.

"I think from that then the decision will have to be made what action to be taken."

The claims against Mr Parish follow a series of allegations about other MPs' behaviour.

International Trade Secretary Anne-Marie Trevelyan said on Friday that she had once been "pinned up against a wall" by a male colleague and subject to misogyny and "wandering hands" on numerous occasions.

Attorney General Suella Braverman told BBC Radio 4's Woman's Hour there had to be a discussion about "moral standards", complaining that a minority of men in politics "behave like animals".

And a Welsh MP alleged that a member of Labour's shadow cabinet had made lewd remarks to her.
Tory MP Neil Parish on porn allegations: 'Of course it's embarrassing'