Liz Truss has received a boost in her bid to become the next prime minister after her candidacy was backed by former leadership rival Penny Mordaunt.
The trade minister was knocked out of the race after finishing third behind Ms Truss and ex-chancellor Rishi Sunak.

Ms Mordaunt gave Ms Truss her support, calling her the "hope candidate", as she appeared at a leadership hustings.

Party members will "short-change the country" and "may lose an election" if they get the decision wrong, she added.

Mr Sunak and Ms Truss are vying to win over Conservative Party members, whose votes will determine which of them will become the next Tory leader and British prime minister.

The party's roughly 160,000 members started receiving ballot papers on Monday, with the result due on 5 September, when Prime Minister Boris Johnson will leave office.

Mr Sunak and Ms Truss attended their second hustings - a live debate in front of voters - in Exeter, after several heated clashes on TV in recent weeks.

Tax policy has become the main battleground, while both have announced a string of competing policy proposals to woo Conservative members.

Ms Mordaunt is the latest cabinet minister to back Ms Truss, joining Defence Secretary Ben Wallace and Chancellor Nadhim Zahawi in endorsing her candidacy.

Meanwhile Mr Sunak has received the support of senior Tory MPs, including former cabinet ministers Liam Fox and Damian Green.

Ms Mordaunt said at the event - along the south coast from her own Portsmouth North constituency - that choosing between the two candidates was hard but it was "too important" to "leave this to chance".

She said: "At the start of this final phase of this contest, I didn't know the answer to those questions, but I've seen enough to know who the person I'm going to put my faith in is - and that is Liz Truss."

Tory members cheered the announcement, before Ms Mordaunt heaped praise on Ms Truss and said: "She for me is the hope candidate."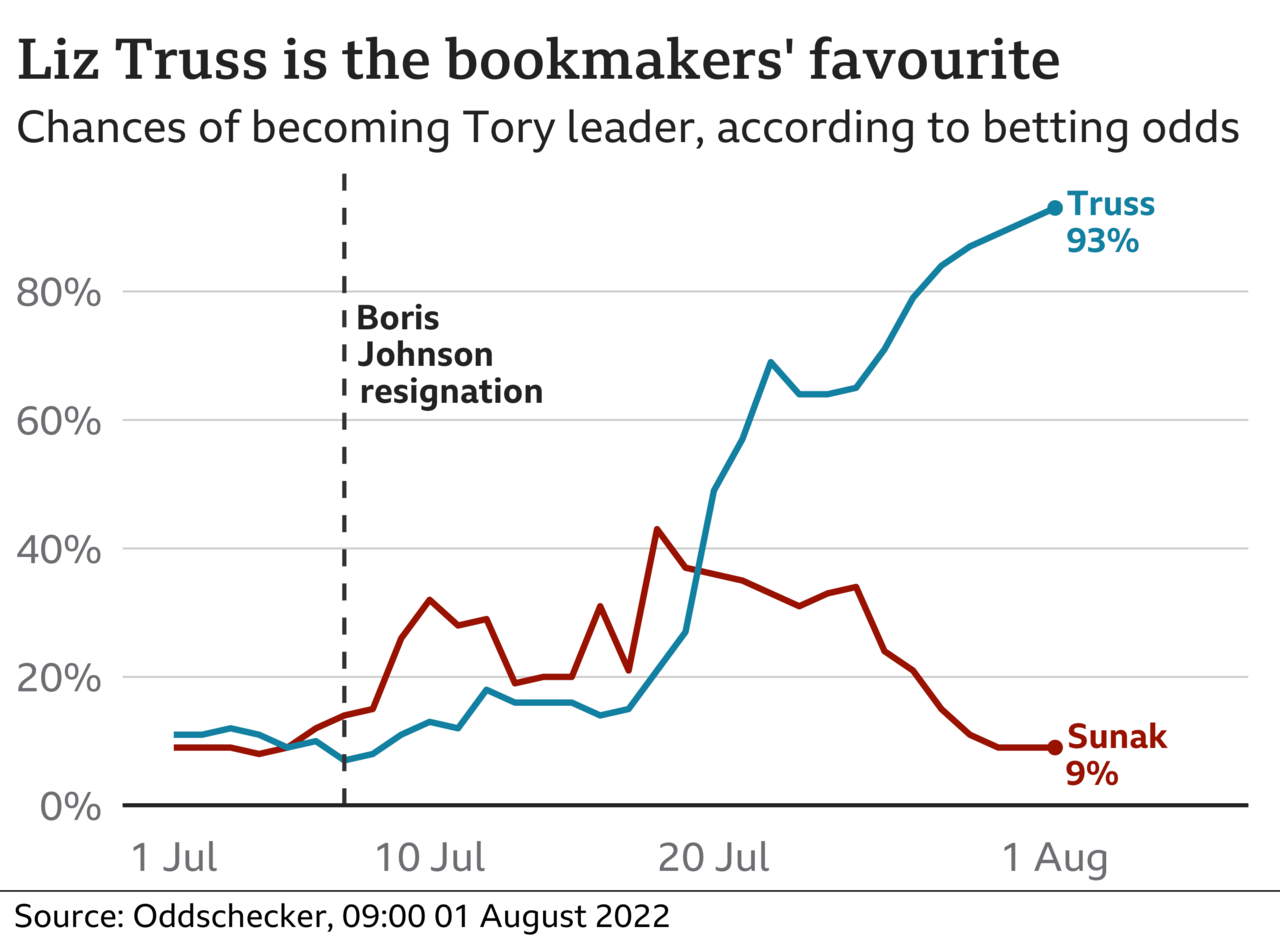 In her opening speech, Ms Truss said Ms Mordaunt was "a great patriot and I'm proud to call her my friend".

The warm words marked a change in tone, after allies of Ms Mordaunt accused Ms Truss's team of a dirty-tricks campaign to block her from reaching the final stage of the leadership contest.

Mr Sunak had his own Tory big hitter to introduce him on stage - in the form of Liam Fox, the former international trade secretary who has himself stood twice to be party leader.

Mr Fox said Mr Sunak had the ability to win over swing voters and stop a Labour-SNP coalition "tearing our nation apart".

"We will need a leader and a prime minister, with the right policies, yes, but with character, with courage, with experience and with intellect, and the downright decency to swing those voters behind us and get them to vote Conservative," Mr Fox said. "I believe that leader, that prime minister, will be Rishi Sunak."

He said character was shown by Mr Sunak's performance during the pandemic, making "difficult but vital decisions", including the introduction of the furlough scheme.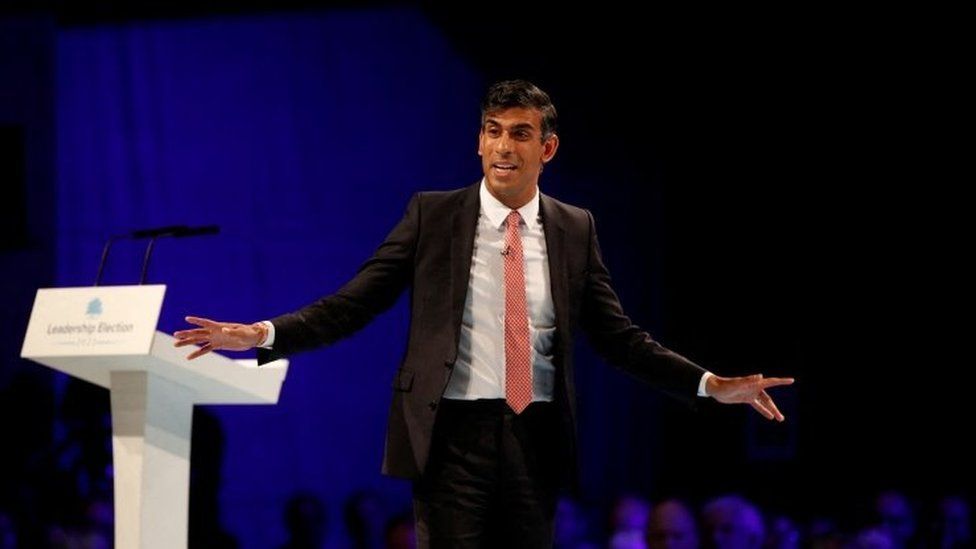 Mr Sunak insisted he could beat Labour at the next general election

When Mr Sunak spoke, he said he would focus on three priorities if he became PM - "restore trust", "rebuild the economy" and "reunite our country".

He once again attacked Ms Truss's plans to slash taxes and reiterated his belief that he had not taken the "easy path" in setting out his vision for the country.

He said he would "cut taxes", outlining his plan to cut the basic rate of income tax from 20% to 16% by the end of the next parliament.

But he added: "We are going to do that responsibly. We are not going to ask our kids to pay for it. We are going to do it by being tough on public spending, reforming public services, and by growing the economy."

In a hustings covering a wide range of topics, Ms Truss:

* suggested she would not repeal the fox hunting ban in England and Wales, warning it could "make the situation worse" for country sport enthusiasts

* said it was best to "ignore" Scottish First Minister Nicola Sturgeon, calling her an "attention seeker", when asked what she would do to avoid the break-up of the UK

* said she would be a food critic if she wasn't a politician

And Mr Sunak:

* was applauded by Tory members after saying Ms Truss's policies on corporate taxation were "exactly the failed Treasury orthodoxy of the last 10 years"

* insisted he was loyal to Boris Johnson, but resigned as chancellor because the PM's government was on the "wrong side" of serious ethical questions

* on what he would do if not a politician, said: "If I could run Southampton Football Club, I'd be a very happy man."