Tory leadership hopeful Liz Truss should be investigated over allegations she did not declare thousands of pounds spent on wooing MPs at a dinner event, Labour has said.
Labour says a so-called "Fizz with Liz" event at a London club last year may have breached spending rules for MPs.

The Independent said £3,000 was spent and paid by club owner Robin Birley.

MPs must declare hospitality worth over £300, but Ms Truss's team says she did not organise the event.

A spokesperson for Ms Truss said: "A declaration would only need to made if there was a benefit to Liz, or it was above the threshold for individual declarations for MPs register of interests."

A source added the foreign secretary was one of a number of MPs in attendance at the event, which was hosted at the 5 Hertford Street club in Mayfair, London.

The event was first reported by the Independent newspaper, which said about a dozen Tory MPs attended the "champagne dinner" at the private members' club.

Ms Truss's campaign told the paper the event was "put on" by the club's owner Mr Birley, who has previously donated to the Conservative Party.

The BBC has attempted to contact Mr Birley to request his comment on the event.

A copy of an invitation to "a dinner at 5 Hereford Street on Tuesday 26 October", which came from Ms Truss's office and was apparently printed on parliamentary paper, has been shared with the BBC.

Parliament's code of conduct says MPs must register "any gifts, benefits or hospitality with a value of over £300 which they receive from a UK source".

This includes "benefits which relate in any way to their membership of the House or political activities, if provided by a UK source either free or at concessionary rates".

Questions raised

An ally of Ms Truss's Tory leadership rival, Rishi Sunak, said there were questions to be answered "about who organised the event, who paid for it and why nothing was declared".

In a letter, Labour said Ms Truss had "serious questions" to answer about spending on the event and asked the Cabinet Secretary Simon Case to investigate the matter.

The letter - written by Labour deputy leader Angela Rayner and shadow Commons leader Thangam Debbonaire - said the £3,000 reportedly spent on the event had "not been declared either on the foreign secretary's ministerial gifts declaration, October to December 2021, or in her Register of Members' Financial Interests, as at 1 November 2021".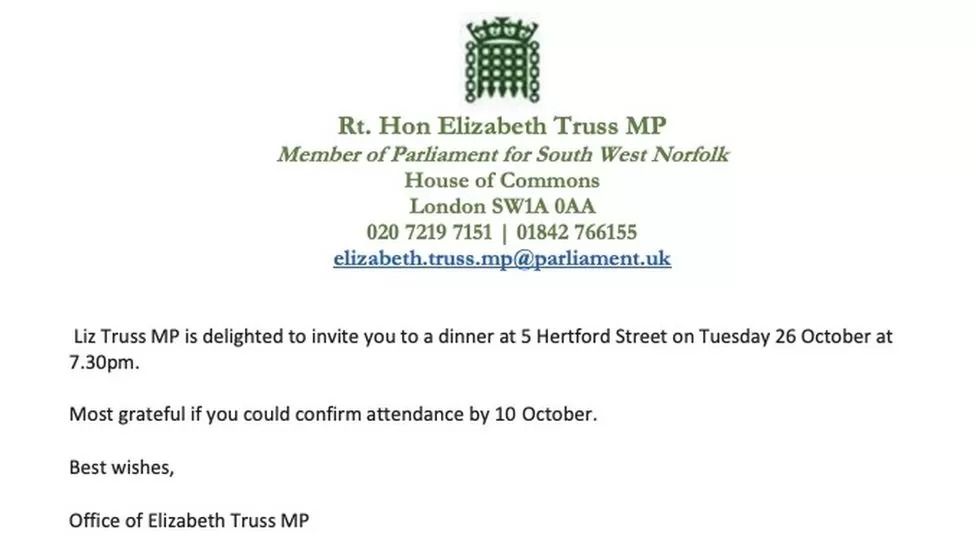 The letter says there are "questions about whether the foreign secretary was acting in her ministerial capacity, or her capacity as a member of Parliament" at the event.

"The public has a right to know why such a significant donation for hospitality was not properly declared by the foreign secretary," the letter says.

The Liberal Democrats have called on Parliamentary Commissioner for Standards Kathryn Stone to open an investigation into the matter.

Located on the corner of Shepherd Market in Mayfair, 5 Hertford Street is reported to be one of London's most exclusive clubs.

The club made headlines earlier this year when the Sunday Times reported Ms Truss had used the venue to host receptions with Tory MPs in preparation for a possible leadership bid.